Established in 1862 as an autonomous Company responsible for postal and telegraphic services on behalf of the State,today Poste Italiane S.p.A. is a listed Company and leader of the largest Italian group in the service sector, having thehighest number of employees among all Italian Groups.1With 136,555 employees
1
and a network of 12,822 PostOffices, the Company is equipped with the most extendedservice infrastructure in Italy and it represents a key referencepoint in local communities for families and enterprises. Todate, in fact, the mail and parcel distribution network covers100% of the Italian territory, with more than 2,000 distributioncentres, sorting over 3 billion items of mail and morethan 100 million parcels every year for a customer base of34 million users. A part from the solidity of its distributionnetwork, the Group is also the largest operator in Italy in thepayments and digital sector thanks to an integrated approachregarding physical and digital distribution channels ableto ensure the management of card payments for over 100billion Euros in 2017.

1 Data expressed as Full Time Equivalent (FTE).
The Poste Italiane Group in Figures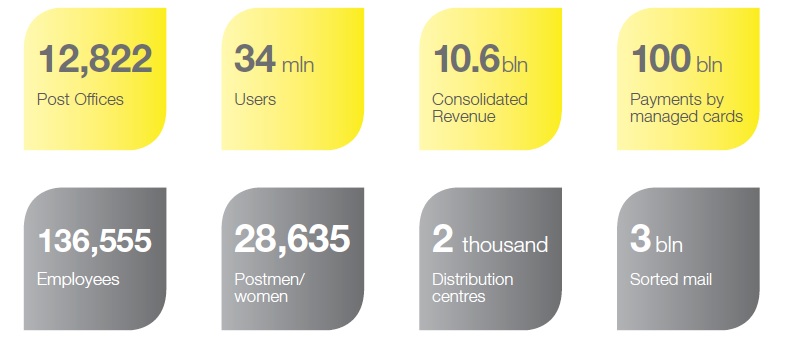 The vicinity and established roots in the territory constitute fundamental elements, not only for the success of the Group, but also the Company's ambitious objective of contributing to keeping and reinforcing the national social fabric.The capillary nature of the network, having coverage percentages in Italian municipalities ranging from93% to 100% in different geographic areas, allows Poste Italiane to offer its products to private parties,enterprises and several entities of the Public Administrationby means of innovative, transparent services that are user-friendly and designed to improve the lives of citizens and competitiveness among companies. It is important to stress that the Group is equipped with a multi channel, integrated distribution platform that is able to serve the entire Italian population, not only by means of the Post Office network, but also by means of operators and a virtual infrastructure having avant-garde multimedia channels.
So that it may reach this objective, Poste Italiane isset on continuously observing its own core values. In particular, customer satisfaction, ethics, integration,professionalism, creative drive and innovation are not only the values inspiring people working in Poste Italiane, but they also represent a reference point for the birth of a culture consistent with the tradition and history of postal service in Italy. Over its 155 years of history, Poste Italiane has managed to evolve and innovate itself whilst holding its key values firm, such as territorial proximity, attention to people and an inclination to innovation. Thanks to its ability to always put Customers' needs at the centre of its strategies, Poste Italiane has been able to anticipate the main development trends in Italy in recent years, providing services that stay current and actively contributing to the nation's economic and social development.
In particular, the outstanding elements of the Group's competitive placement can be identified in the following factors:
its trademark, a synonym of trust, reliability and customer proximity;
the availability of a multi-channel, integrated, extended and capillary platform;
the Group's multi-business operations;
a wide and diversified range of offered services, conceived to meet the requirements of each category;
focus on innovation and attention to new customer needs;
the sense of belonging and dedication of Poste Italiane people.
The blend of these elements, confirmed over time, has allowed Poste Italiane to transform itself from a pure postaloperator to a company having an infrastructure of services supplied daily and for the entire Italian population.
Poste Italiane S.p.A. is the parent company of the Poste Italiane Group and its seat is in Italy3. At organisationallevel the Parent Company holds, directly or indirectly, stakes in 25 subsidiaries all operating in the respective sectorsof The Group activity (as shown below). In relation to the Group's corporate simplification process, the followingoperations were completed in 2017:
partial demerger of Postecom S.p.A., in favour of Postel S.p.A. and in particular the Corporate branch associatedwith Postecom's stake in PatentiViaPoste ScpA and in the Poste Motori consortium and merger by incorporation ofthe remaining part of the Company into Poste Italiane;
approval of the project for merger by incorporation of Poste Tutela (100% Poste Italiane S.p.A.) into Poste Italiane.Poste Tutela is a company which carries out - mainly for the Group - transport, counting, deposit and safekeeping ofvalues services, as well as armed surveillance and security, by means of coordinating a capillary network of specialisedthird party operators throughout the national territory;
transfer in favour of the National Agency in order to attract investments and support Corporate development of the100% shareholding in Banca del Mezzogiorno-MedioCredito Centrale held by Poste Italiane.
The Group's organisational structure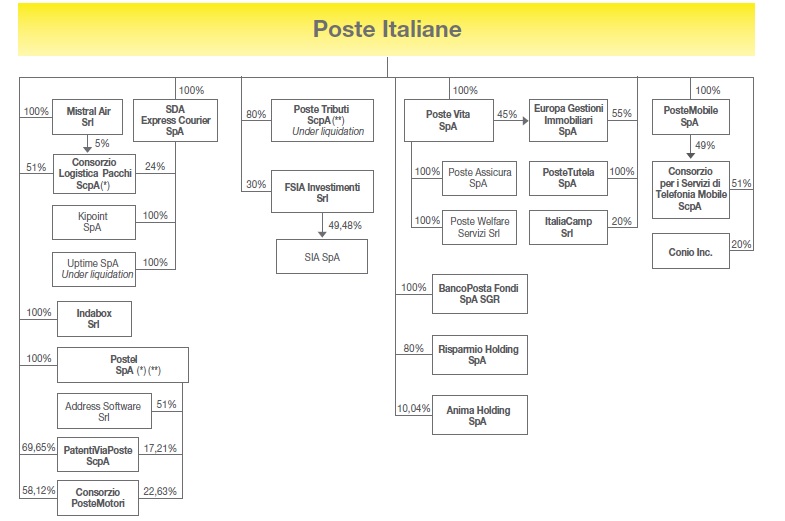 1 In relation to the capital holding, 29.3% of the Company is controlled by the Ministry of Economy and Finance, 35% by Cassa Depositi e Prestiti S.p.A. and the remainder by the institutional and individual shareholders.