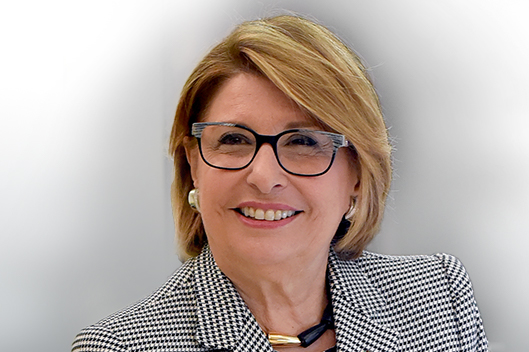 Born in 1941, Maria Bianca Farina graduated with a degree in Economics and Business from the University of Rome "La Sapienza".
She dedicated her career almost entirely to the insurance and financial sectors. For over 20 years, she held senior management roles in the INA-Assitalia Group company and then in the Generali Group. In Poste Italiane, as CEO of Poste Vita and Poste Assicura, she has led the Group's life insurance company for over 10 years, achieving in a few years the leadership on the Italian market.
Since December 2015, she has been the Chairwoman of Ania, the association of Italian insurance companies, and of the ANIA Foundation. She is also Vice President of the FEBAF Board of Directors (Italian Federation of Banks, Insurance and Finance).
Since 2014 she has been a member of the Board of Directors of the AIF, the Financial Information and Supervisory Authority of the Holy See, with the appointment of Pope Francis.
In the same year, she received the honor of Commendatore dell'Ordine al Merito of the Italian Republic from the President of the Republic.
In 2017, she joined the Board of Directors of the Bambino Gesù pediatric hospital of Rome.
Since June 2019, she has been a member of the COMI (Market Operators and Investors Committee), a consultancy body of CONSOB, and a member of the Advisory Board of the Biomedical University Foundation.
Since June 2020, she joined the advisory board of the Scuola di Formazione Politica, established in collaboration with the Nuovo MIllennio Foundation, aiming at enhancing young people skills in the fields of politics, management, economics, professions and society.
Actively engaged in social care initiatives, she is a member of the Advisory Board of Save the Children, (where she has also held the position of member of the Board of Directors for many years), the Advisory Board of the Onlus Frontier Healthcare and the Honorary Committee of the Leonardo Vaccari Institute for the neuro-physical rehabilitation and the social inclusion of persons with disabilities.
She regularly participates, as a speaker, in conferences organized by the main trade associations, companies or sector newspapers, on economic, industrial and welfare insurance issues.
She is the author of numerous articles in the most important Italian and international financial periodicals.
Since April 2017 she has been Chairman of the Board of Directors of Poste Italiane. Her mandate was renewed for three years in May 2020.
No. of shares held at end of 2020: 5,255
Shareholdings held in Poste Italiane