Digitalisation is a key driver for the modernisation and sustainability of the nation. The digital transformation is also having a significant impact on the business, operating and service models adopted in the various sectors in which we operate.
Building on our leadership of the sector, we have launched a major group-wide digitalisation programme, with a view to:
raising the customer-driven focus of our strategies, by developing new tools to interpret and anticipate changing customer needs;
unlocking the value of our post office network;
developing multichannel access gateways;
emerging as the key service provider for the Public Sector;
promoting inclusion and the spread of the digital economy.
1.5 million
Daily post office visitors
1.3 million
Daily website and app visitors
| | |
| --- | --- |
| 15.6 m | Mobile apps downloaded1 |
| 15.2 m | Online Registred Users1 |
| 25% | Market share in e-commerce payments2 |
| 30% | Market share in e-commerce parcels delivery |
| 1.7 m | Active e-wallets |
| 1.8 m | Electronic identifications (eID) |
1 31 January 2018
2 Internal estimation based on Netcomm reports

Mail digital services
Digital collection of registered letters: where letters cannot be delivered due to the absence of the addressee, the latter can collect the registered letter through the SPID-accredited PosteID Digital Identity service (see below).
Electronic postman: to pay utility bills "from home" directly to delivery personnel, to top up mobile phone accounts and reload Postepay prepaid cards, and to arrange appointments for the collection of registered letters or a PosteMobile SIM card.
Hybrid mail: receipt of mail in electronic format, electronic sorting, printing, enveloping and delivery in hardcopy.
Financial and Insurance digital services
Payments portal accessible through the website poste.it: a single environment for the easy payment of utility and other bills and dues owing to enterprises and the Public Sector.
New home banking platform for the website poste.it/consumer.
Poste Vita retirement simulator: a digital platform enabling users to assess their future pension position and build the return on their supplementary pension fund.
Insurance: the Internet of Things (IoT) is unlocking new service models for e-Health, Home Insurance and Third-Party Liability Car Insurance. Big Data analysis additionally offers the potential to monitor the behavioural data of insured persons, which will lead to innovation in insurance policies and services designed to improve customer experience.
Across-the-board digital services
Postepay, BancoPosta, Ufficio Postale and PosteID apps: the apps offer numerous features, including the ability to manage BancoPosta current accounts and PostePay prepaid cards, make mobile phone top-ups and pay utility bill payments, make appointments at the post office, send cash P2P in Italy and around the world, access online government services in complete security, track parcels and mail sent, and send telegrams, registered letters, mail and parcels on the go.
Free Wi-Fi available in 4,119 post offices (32% of the total network).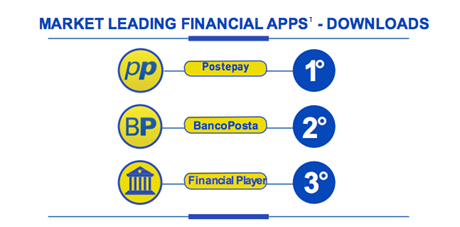 1) Source: App Annie December 2017
Digitalisation of access to the Public Sector
We are a key facilitator, enabling people to access Public Sector services by operating as an "Identity Provider" through the PosteID digital identity service, accredited by the Public Digital Identity System (SPID). The service enables people to create a digital profile to access all the online services and apps of Poste Italiane, as well as government services and those of private service providers that have joined the SPID.
The Sportello Amico network, installed in 5,734 post offices around the country (45% of the total), offer services such as health service payments, the print-out of registry certificates, the issue of land registry records and the issue or renewal of electronic residency permits.
Digital services in numbers
| Category | 2016 | 2017 |
| --- | --- | --- |
| Customers registered on Poste Italiane's digital channels (websites and apps) (millions) | 12.5 | 15 |
| Digital identities issued (millions) | 0.6 | 1.8 |
| Postepay apps downloaded (*) (millions) | 4.4 | 6.1 |
| Bancaposta apps downloaded (*) (millions) | 2.1 | 3 |
| Post Office apps downloaded (*) (millions | 0.8 | 1.8 |
| PosteID apps downloaded (*) (millions) | 0.7 | 1.4 |
| PosteMobile apps downloaded (**) (millions | 2.0 | 2.7 |
| Transactions carried out via consumer digital channels (websites and apps) (***) (millions) | 33 | 39 |
| Focus - Poste Vita customers | | |
| Poste Vita Insurance Group customers registered in the reserved area (no.) | 316,436 | 417,657 |
| Customers who use Poste Vita and Poste Assicura services via mobile devices (%) | 28.1 | 31.6 |

(*) App downloads refer to iOS and Android users who have downloaded the app from the launch of the first version until the date indicated (31 December 2016 and 31 December 2017).
(**) App downloads refer to iOS, Android and Windows users who have downloaded the app from the launch of the first version until the date indicated (31 December 2016 and 31 December 2017).
(***) Including SEPA and overseas bank transfers and certified transfers qualifying for tax relief, giro transfers, the electronic payment of bills, tax returns, Postepay top-ups, Moneygram, money transfers, telephone top-ups.

For more information on our cyber-security policies, see the
Annual Financial Report