Our sustainability themes
An awareness of our strategic role and listening to our stakeholders are at the core of our sustainability programme.
Poste Italiane plays a leading role in Italy's progress in achieving general sustainability goals thanks to our business lines, our presence in local communities and our technological infrastructure. 
Being aware of our responsibility is translated into adopting and promoting values and actions that are attentive to the needs and expectations of our stakeholders: honesty, transparency, a sense of responsibility, and trustworthiness.
That's why we took a step towards greater transparency and decided voluntarily to publish our Sustainability Report 2017 following international standards: the GRI Global Reporting Initiative Standards ("in accordance - Core" and the supplement dedicated to the financial services sector). Poste Italiane, moreover, has published a Non-Financial Consolidated Statement along with its
Financial Statement 2017
, in compliance with the Decree Law 254/2016, legislation that intends to make it easier to access and compare non-financial information in order to map and monitor risks connected to company business lines and therefore facilitate greater access to this information for investors. 
Poste Italiane intends to include sustainability policies in its corporate strategy in an integrated and structural way, in accordance with the
United Nations Sustainable Development Goals
. Therefore, we are committed in the near future to outline our strategic sustainability goals and include them in a Group Sustainability Plan with medium- to long-term objectives.
Listening to stakeholders
We started our process of becoming more aware of sustainability themes by identifying the most "material" ones (and therefore significant to our business) that could substantially influence the evaluations and decisions made by stakeholders and impact company strategy.
In order to do that, we carefully considered the economic, social and environmental impact of our business, evaluating the significance in relation to our company goals and priorities, and to the principal expectations of our stakeholders. The "materiality matrix" below identifies the most important themes and the ones most vital to creating awareness about our company activity, its performance and its economic, social and environmental impact.

The Poste Italiane Materiality Matrix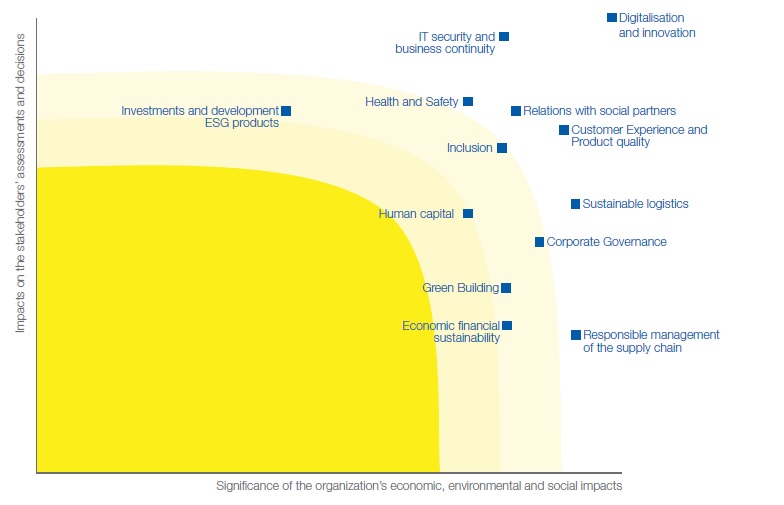 Ethics and integrity
We pay close attention to guaranteeing a structured and continuous dialogue with our stakeholders by means of various ongoing instruments (for example, internal communication with employees) or adopting ad hoc projects. Among these, the Multi-Stakeholders' Forum in early 2018 represented an important moment of discussion to set the basis for a new future Group sustainability strategy.
The event created an opportunity for dialogue and debate about significant sustainability issues in the sector with the intention of sharing ideas and useful projects aimed at creating shared value with the main representatives of institutions, associations, partners, employees and other key stakeholders with which Poste Italiane interacts when carrying out its activities.  
22 stakeholders attended the Forum;
15 sustainability issues discussed;
3 working tables (Quality of products and services, Local social and economic development, Green Strategy);
30 stakeholders participated on line.
We support ethics and correctness in the running of our business, development and support of the local community, valorisation of people and reduction of environmental impact. Actions taken to bolster our ethical commitments and governance standards include: