The development and valorisation of people's skills represent fundamental strategic levers supporting the growth of the Group's business and are based on a meritocratic logic, in observance of corporate values and the leadership model broken down into all organisational levels.
The development goal in Poste Italiane is to build a virtuous company in which everyone is able to access a path to professional enrichment, skill and experience.
The Company offers fair and transparent instruments and methodologies which consider, in their application, the heterogeneity of various segments of business and function.

The integrated development model
The development of people in Poste Italiane is managed by means of an integrated model aimed at valorising the merit and growth of human capital during the entire professional lifecycle.
The architecture of the model takes form from the wider lines of People Strategy which define the contribution of the Human Resources and Organisation function to the implementation of the Strategic Plan.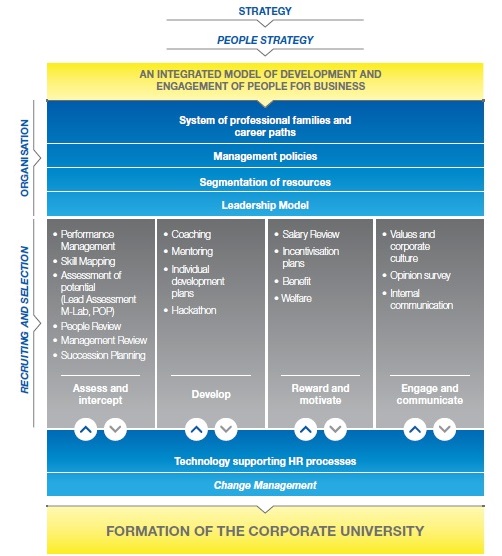 The strategy is conceived and structured in order to lay down the phases of the development process over bearing axes, transversal to the entire corporate population. The mission is precisely that of sustaining business growth by means of valorising human capital, capturing its potential, developing its talent, sustaining the motivation thereof and consolidating its experience by means of growth opportunities.

Mission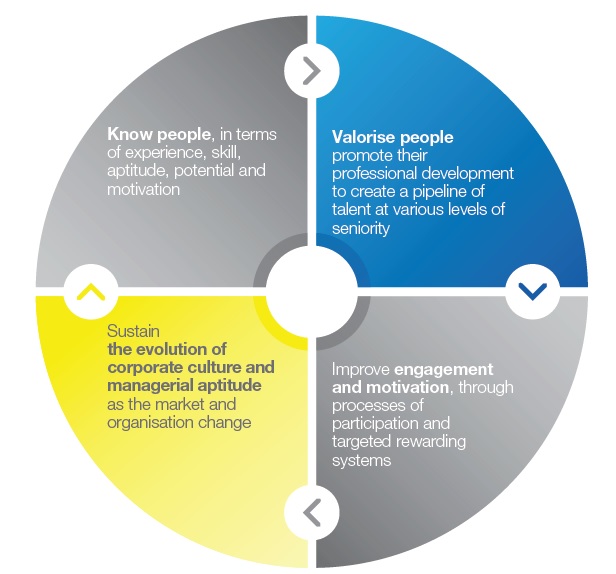 In the last two years the main Poste Italiane people development processes were redesigned and implemented. The general architecture of the new development system is structured into three main macro processes:
scouting: aimed at detecting potential and intercepting the best resources;
management planning: to identify development priorities with a view to succession and "management risk" containment;
development: aimed at sustaining individual growth of resources with potential and accelerating their development.
The Development System is strongly integrated with Change Management activities that affect corporate culture and collective aptitudes.

Development system and Change Management