The development and valorisation of people's skills represent fundamental strategic levers supporting the growth of the Group's business and are based on a meritocratic logic, in observance of corporate values and the leadership model broken down into all organisational levels.
The development goal in Poste Italiane is to build a virtuous company in which everyone is able to access a path to professional enrichment, skill and experience.
The Company offers fair and transparent instruments and methodologies which consider, in their application, the heterogeneity of various segments of business and function.
The integrated development model
The development of people in Poste Italiane is managed by means of an integrated model aimed at valorising the merit and growth of human capital during the entire professional lifecycle.
The architecture of the model takes form from the wider lines of People Strategy which define the contribution of the Human Resources and Organisation function to the implementation of the Strategic Plan.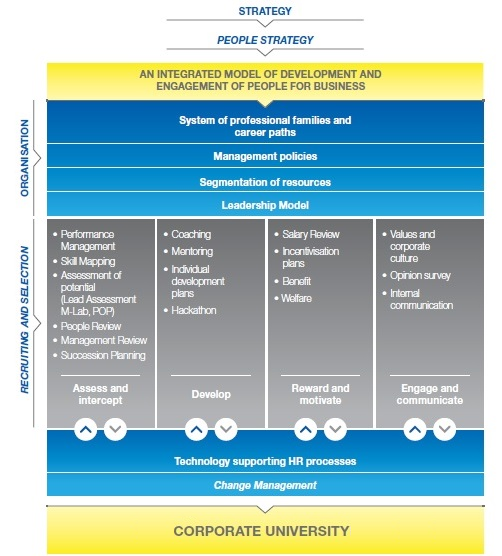 The strategy is conceived and structured in order to lay down the phases of the development process over bearing axes, transversal to the entire corporate population. The mission is precisely that of sustaining business growth by means of valorising human capital, capturing its potential, developing its talent, sustaining the motivation thereof and consolidating its experience by means of growth opportunities.

Mission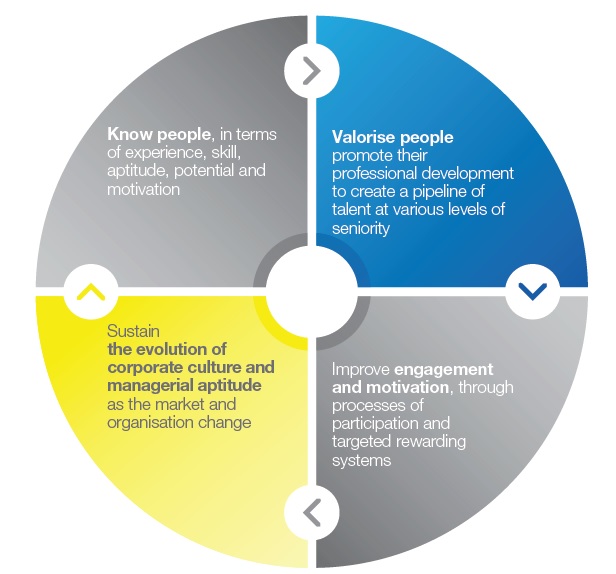 The general architecture of the development system is structured in three main macro processes:
scouting: aimed at detecting potential and intercepting the best resources;
management planning: to identify development priorities with a view to succession and "management risk" containment;
development: aimed at sustaining individual growth of resources with potential and accelerating their development.

POSTE ITALIANE DEVELOPMENT SYSTEM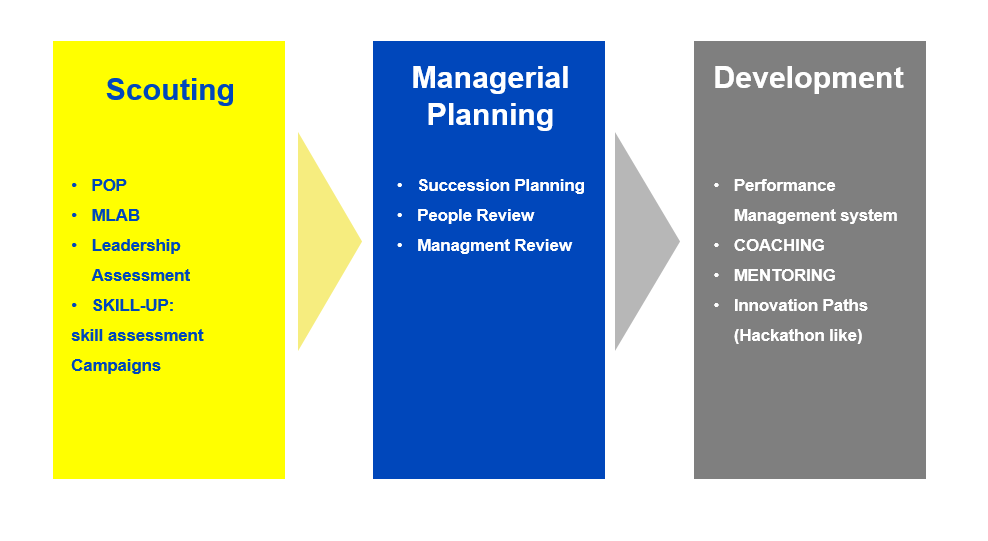 Scouting processes allow the best talents to be intercepted and:
development levers to be directed and applied to individuals, development levers meaning a set of instruments, methodologies, approaches and supports that improve the managerial and professional efficacy of each person;
the talent resource base to be mapped and its development planned in relation to the different level of readiness/availability for target positions.
The characteristics and criteria of access to scouting processes envisaged in Poste Italiane are specific and differentiated in relation to the target population and level of professional maturity expressed by the participants.
SCOUTING PROCESSES BY INTERESTED TARGET

Within these processes, Poste Italiane uses various types of Assessment:  
Process
Description
       Numbers of 2018
 
POP
Assessment of Professional Orientation (POP), dedicated to the youngest corporate population and aimed at identifying best performers in whom to invest primarily in terms of development

52 editions
309 participants
309 skill development plans
300 feedback docs returned to heads
307 cases of follow up for participants

 
MLAB
Assessment of Managerial Potential (MLAB) for senior professionals aimed at identifying persons to develop for middle management roles

12 editions
118 participants
 96 skill development plans
 79 feedback docs returned to heads
314 hours of individual coaching to improve skills

LEADERHIP
ASSESSMENT
Assessment, dedicated to expert managers and aimed at identifying possible successors, or leaders, for the Group's key positions.
 
SKILL-UP
Assessment aimed at mapping and/or certifying technical-specialist skills in the Company and the degree of role coverage. Such assessment involves the Company in a transversal manner, addressing specific professional families
This is a process aimed at identifying development priorities with a view to succession in order to reduce "managerial risk". Poste Italiane periodically reviews the process through meetings between the Human Resources Department and Organisation and the department heads.

The criteria for accessing Review processes in Poste Italiane are specific and differentiated in relation to the target population to which they are directed and have the objective of guaranteeing supervision and turnover over time of organisational positions, as well as the activation of consistent actions supporting the development of people.
In particular, also in 2018, The Management Review and Succession Planning processes supported the definition of succession plans for first and second level organisational positions.
Development actions are a comprehensive set of interventions, structured and coordinated, which allow people to be accompanied in their growth in relation to corporate necessities on the basis of evidence from scouting and planning processes.
In this context, during 2018, programmes like coaching and mentoring courses were initiated in order to develop soft skills and leadership.
A new format was also developed for the engagement of the company population around innovation issues (Hackathon like).
Poste Italiane has also enhanced and strengthened the Performance Assessment Process (VdP) which represents one of the main instruments supporting management, development and personnel training policies.
Performance
Management system
The VdP process has evolved over the last 2 years to become a path oriented towards the development of people. It involves the entire company population and is divided into three phases:

Assignment of objectives
Interim feedback
Annual assessment

128 thousand assessed overall
100% of the population
of which 1200 managers involved in the 180° assessment
of which about 140 managers involved in the 360° assessment

COACHING
Individual Business Coaching processes are initiated with certified external professionals to support the growth of managerial skills among potential resources.

Approximately 400 hours of coaching

MENTORING
A Mentoring programme was initiated, which involved internal staff in the roles of both mentor and mentee.

163 people involved (1st and 2nd wave)
24 group coaching initiatives
365 total meetings between mentor and mentee

Innovation path (hackathon like)
initiative dedicated to Digital Transformation, with the aim of supporting the spread of a digital mindset through the generation of ideas for change , fully consistent with the Strategic Plan.

701 candidacies
310 participants
51 innovative projects
7 editions
6 sponsor functions