Poste Italiane is Italy's largest and most recognized companies. Since its establishment, it has been
synonymous with trust and proximity to the general public, businesses and public and government entities.
Mail & Parcel – Poste Italiane is the only network with total coverage in Italy, making it the ideal partner for those looking for widespread geographical reach and distribution. In 2019 we delivered 148 million parcels and 2.7 billion pieces of mail, and have a 35% market share in B2C.
Payments, Mobile & Digital – We have a 25% market share in e-commerce payments with 28.7 million cards issued and  in 2019 we processed over 1.4bn in customer transactions (15.6% market share). Our mobile apps have now been downloaded more than 30.8 million times.
Financial & Insurance products - We have the biggest customer base in Italy at 34.4 million customers (over half the Italian population). We have the largest network and the most visited branches, with an 18% Life Multiclass (GWP) market share.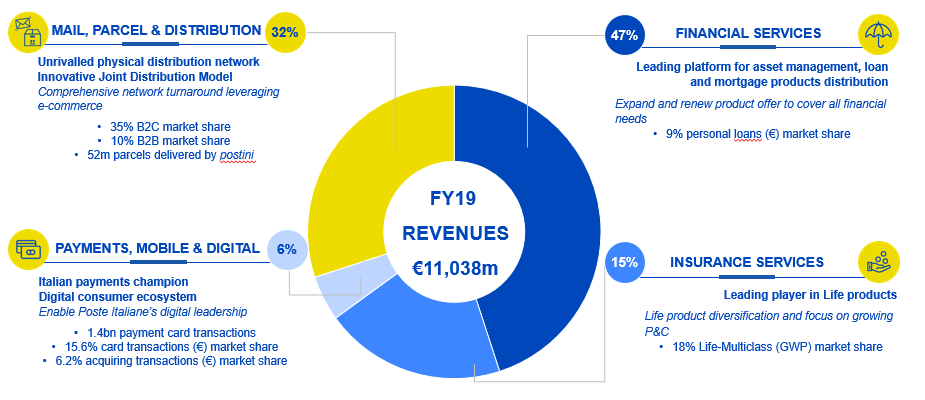 FY19 REVENUES €11,038m
MAIL, PARCEL & DISTRIBUTION 32%

Unrivalled physical distribution network Innovative Joint Distribution Model.
Comprehensive network turnaround leveraging e-commerce.

•35% B2C market share
•10% B2B market share
•52m parcels delivered by postini

PAYMENTS, MOBILE & DIGITAL 6%
Italian payments champion Digital consumer ecosystem
Enable Poste Italiane's digital leadership
•1.4bn payment card transactions
•15.6% card transactions (€) market share
•6.2% acquiring transactions (€) market share
FINANCIAL SERVICES 47%
Leading platform for asset management, loan and mortgage products distribution.
Expand and renew product offer to cover all financial needs.
•9% personal loans (€) market share
INSURANCE SERVICES 15%
Leading player in Life products
Life product diversification and focus on growing P&C
•18% Life-Multiclass (GWP) market share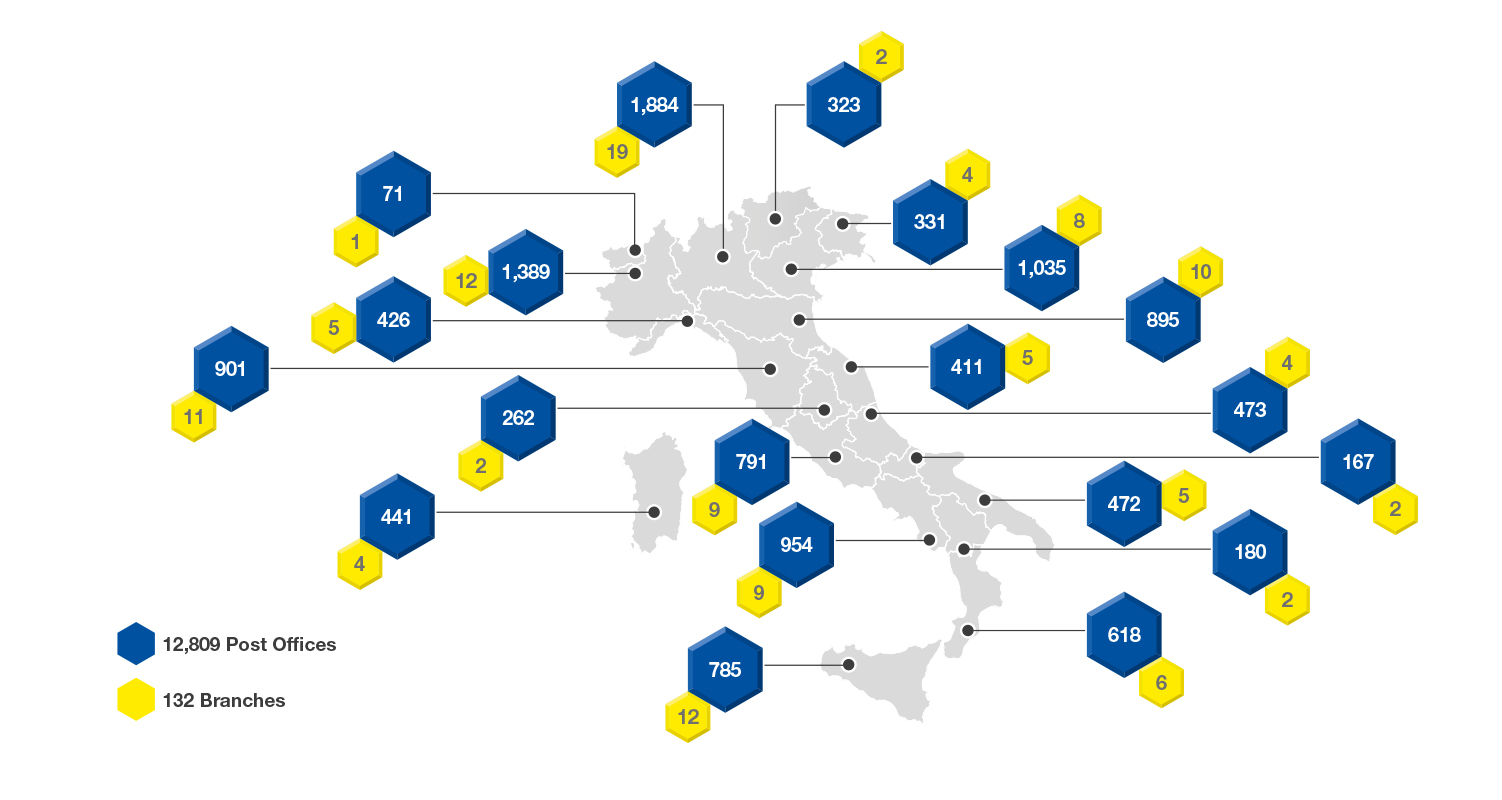 Below you can find comparisons with listed European postal operators (Poste Italiane, Boost, PostNL, Austrian Post, La Poste, CIT, Deutsche Post-DHL, Royal Mail) on operating data by business (express courier and parcel services and mail services).
EUROPEAN POSTAL OPERATORS: PARCEL VOLUME TREND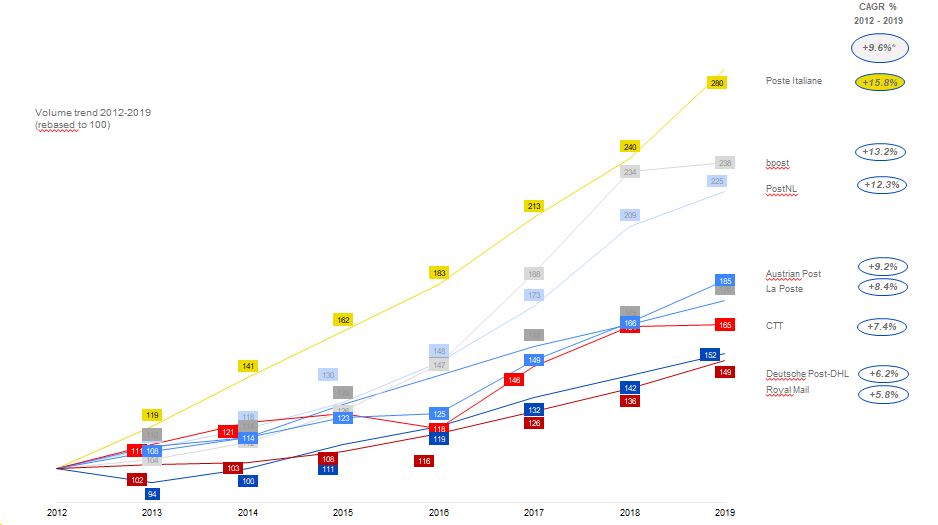 | EUROPEAN POSTAL OPERATORS: PARCEL VOLUME TREND | CAGR % 2012-2019 |
| --- | --- |
| Poste Italiane | + 15.8% |
| bpost | + 13.2% |
| PostNL | + 12.3% |
| Austrian Post | + 9.2% |
| La Poste | + 8.4% |
| CIT | + 7.4% |
| Deutsche Post-DHL | + 6.2% |
| Royal Mail | + 5.8% |
EUROPEAN POSTAL OPERATORS: MAIL VOLUMES TREND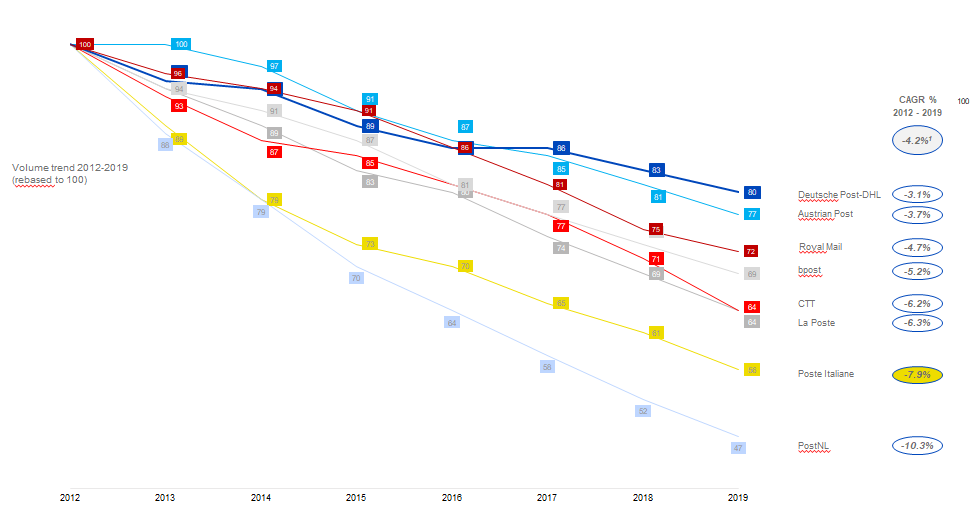 | EUROPEAN POSTAL OPERATORS: MAIL VOLUMES TREN | CAGR % 2012-2019 |
| --- | --- |
| Deutsche Post-DHL | - 3,1% |
| Austrian Post | - 3,7% |
| Royal Mail | - 4,7% |
| bpost | - 5,2% |
| CIT | - 6,2% |
| La Poste | - 6,3% |
| Poste Italiane | - 7,9% |
| PostNL | - 10,3% |