Alongside our historical business as a mail and logistics service provider, underpinned by the most widespread distribution network in Italy, we have now become a major national player in the financial services and insurance market. Our
Deliver 2022 strategic plan
additionally identifies a new business area for the group, dedicated to Payments, Mobile and Digital, based on the growing convergence of these sectors.
The unified and integrated management of the group means we are able to develop synergies and ensure a uniform, coordinated approach to the market, building on the strength of our brand and our multichannel distribution platform. All four of our business areas revolve around the central focus we place on the customer and on building long-term relationships of trust with households, enterprises and the public sector, offering them a wide range of simple, transparent services.
Breakdown of revenues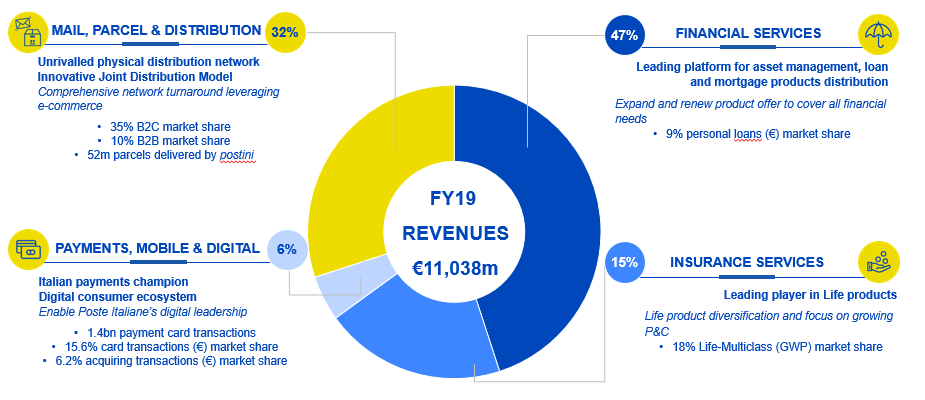 Mail, Parcel and Distribution
This segment is where our roots lie. We are the number-one mail service provider in Italy, awarded exclusively with the task of providing Universal Postal Service throughout the country.
We provide mail and parcel delivery services through a proprietary multichannel distribution platform. We are the leading service provider for hybrid mail management — a service enabling digital documents to be printed, enveloped and delivered in hardcopy to the addressee — and have developed hi-tech solutions for secure digital communications.
In recent years, the spread of e-commerce has driven major growth in the parcel delivery market.
Payments, Mobile and Digital
This new business division is the outcome of our
Deliver 2022 strategic plan
, which groups together:
the e-money and electronic payments sector;
our Poste Mobile mobile telephone operations;
all new initiatives tied to the digital world.
The new division is also tasked as an internal competency centre for driving digital transformation.
Financial Services
We provide financial services through the separate operations of
BancoPosta
, one of the biggest players today in the Italian financial services market.
In particular, our services include:
current accounts;
promotion and distribution to the public of loans provided by banks and financial intermediaries;
collection of postal savings.
And we are expanding our collective asset management operations
.
Insurance Services
We offer a full range of insurance, retirement and investment products.
We lead the Life insurance market in Italy through
Poste Vita
, established in 1999. Since 2010, we have also provided Casualty insurance through
Poste Assicura
, and we are a growing player in the Welfare segment, thanks to our investments in the health insurance market.

Data source: Annual Report 2019