In 2017 we started our transformation journey building on our historical competitive advantages with a clear strategy of growth and transformation.
A transformation to benefit all our stakeholders: our community, our shareholders and our people.
Today, Poste Italiane has consolidated its role of strategic pillar for the country we are here for our communities, delivering some 30 million vaccine-doses and enabling the vaccine-booking platform for a third of Italians. We are here supporting the country's digitalization through our 22 million digital identities, which enable citizens to access a growing number of services leveraging on our state-of-the-art IT and digital properties.
Our people are key in implementing our strategy. Since 2017 we have renewed the workforce, with over 15 thousand new employees, circa 45% of whom are women, and invested heavily in training and upskilling programmes.
Finally, our shareholders can appreciate our steady increase in operating profitability, up by a strong 64% since 2017, allowing us to increase shareholder remuneration, with over 3.1 billion euro in dividends distributed between 2017 and 2021, and a total shareholder return over 100%.
SIGNIFICANT ACHIEVEMENTS FOR ALL STAKEHOLDERS SINCE 2017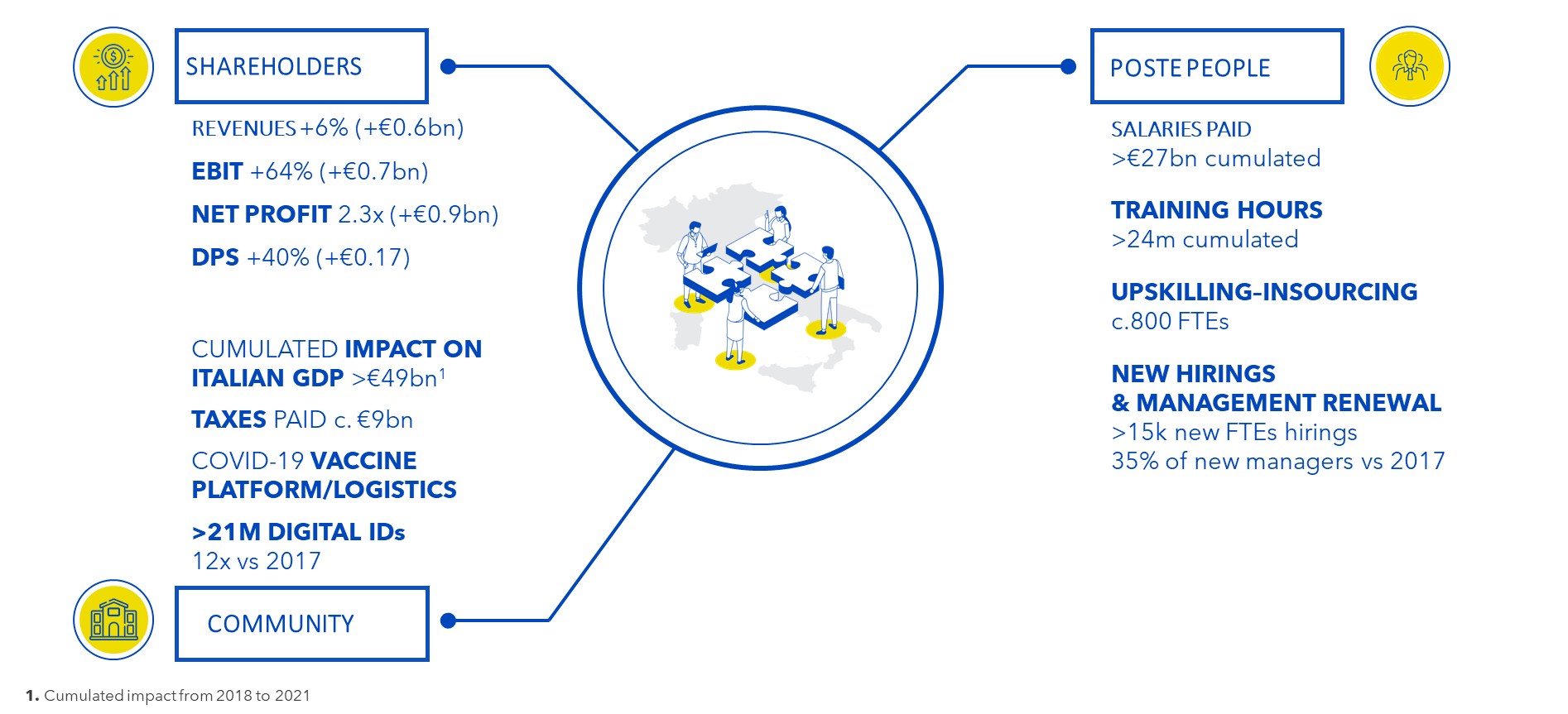 Group results 2015-2021
| | 2015 | 2016 | 2017 | 2018 | 2019 | 2020 | 2021 | CAGR (2021 vs 2015) |
| --- | --- | --- | --- | --- | --- | --- | --- | --- |
| Revenues (€m) | 30,739 | 10,643 | 10,629 | 10,864 | 11,038 | 10,526 | 11,220 | +1.1% |
| EBIT (€m) | 880 | 1,041 | 1,123 | 1,499 | 1,774 | 1,524 | 1,846 | +12.1% |
| Net Profit (€m) | 552 | 622 | 689 | 1,399 | 1,342 | 1,206 | 1,580 | +20.5% |
| Investments (€m) | 488 | 451 | 467 | 538 | 734 | 680 | 754 | +10.8% |
| Total Financial Assets (€bn) | 476 | 493 | 506 | 514 | 536 | 569 | 586 | +3.5% |
| DPS (€) | 0.34 | 0.39 | 0.42 | 0.44 | 0.46 | 0.49 | 0.59 | +8.6% |
€bn unless otherwise stated
KEY FINANCIAL TARGETS
Profitability trajectory supporting enhanced dividend policy

2021
2022
2024
CAGR 2019-2024
Revenues
11.2
11.6
12.7
+3%
EBIT
1.7
1.9
2.2
+5%
Net Profit
1.4
1.3
1.6
+6%
Investments
n.a.
Total Financial Assets
c. 3%
DPS (€)

c. 0.55

+14% VS. 2020 60% PAYOUT 1


+7%
1. Corresponding to 60% of underlying net profit of €1.2bn (excluding the revaluation of SIA stake of €0.3bn)
2. For 2022, 2023 and 2024
Segment results 2016-2021
€m unless otherwise stated
|   |  2016 | 2017  | 2018 | 2019 | 2020 | 2021 |  CAGR 2016 - 2021    |
| --- | --- | --- | --- | --- | --- | --- | --- |
| Net Operating Revenue | 10,643 | 10,629 | 10,864 | 11,038 | 10,526 | 11,220 | +1.1% |
| Mail, Parcel & DIstribution | 3,822 | 3,631 | 3,580 | 3,492 | 3,201 | 3,685 | -0.7% |
| Payments Mobile & Digital | 570 | 586 | 592 | 664 | 737 | 882 | +9.1% |
| Financial Services | 5,009 | 4,956 | 5,221 | 5,213 | 4,945 | 4,783 | -0.9% |
| Insurance Services | 1,242 | 1,456 | 1,470 | 1,669 | 1,643 | 1,870 | +8.5% |
| EBIT | 1,041 | 1,123 | 1,499 | 1,774 | 1,524 | 1,846 | +12.1% |
| Mail, Parcel & DIstribution | (436) | (517) | (430) | (347) | (588) | (305) | -6.9% |
| Payments Mobile & Digital | 213 | 195 | 204 | 241 | 259 | 282 | +5.7% |
| Financial Services | 660 | 646 | 859 | 874 | 866 | 747 | +2.5% |
| Insurance Services | 604 | 799 | 866 | 1,006 | 988 | 1,123 | +13.2% |
| Net Profit | 622 | 689 | 1,399 | 1,342 | 1,206 | 1,580 | +20.5% |
| Mail, Parcel & DIstribution | (379) | (502) | (372) | (306) | (419) | (230) | +32.5% |
| Payments Mobile & Digital | 144 | 146 | 153 | 272 | 194 | 425 | +1.4% |
| Financial Services | 465 | 499 | 617 | 640 | 647 | 556 | +7.3% |
| Insurance Services | 392 | 546 | 1,001 | 737 | 784 | 828 | +39.3% |