Poste Italiane is unique in Italy in terms of its size, recognition, capillarity and customer trust, and it is an integral part of the economic, social and productive fabric of the country. Its role in relation to the entire nation makes the Group responsible for the well-being of the communities in which it operates, in the conviction that in such a critical period of Italian history its contribution can represent a valuable tool at the service of citizens and institutions.
Investing in Poste Italiane means investing in Italy's largest service distribution network.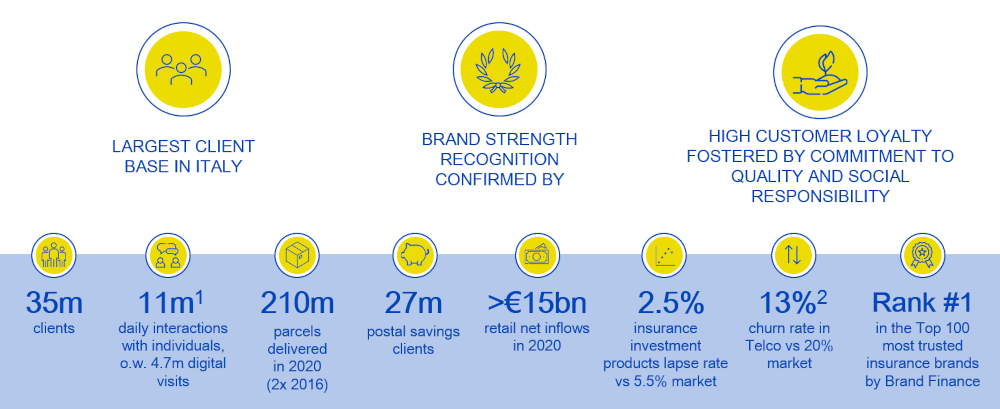 1. Based on estimated digital daily visits on App/Web, Post Offices, third parties, contact centre, including daily visits related to Mail & Parcel deliveries.
2. As of 2019.


Poste Italiane Goup - THE MOST EFFECTIVE AND TRUSTED DISTRIBUTION NETWORK

Mail & Parcel

Financial & Insurance

Payments & Mobile

Unrivalled distribution network
Comprehensive platform for all clients' financial needs

Unique digital ecosystem

- Successful restructuring of mail network to exploit e-commerce opportunities
- Consolidating mail market to address ongoing mail decline
- A controlled open platform for savings, insurance and investment products to meet evolving customers' financial needs
- Optimised customer and sales coverage with 8k financial advisors and 30k tellers
- Key player in the Italian payments market
- Distinctive platform integrating payments and telco
B2C Market share (r. #1) 36.7%

Market share in mail (r. #1) 89%

Life insurance market share (r. #1) 14.7%

Total financial assets 569 € mld

Cards issued (r. #1) 28.9 mln

Digital wallets (r. #1) 7.4 mln

Market share e-commerce transactions (r. #1) c. 25%
Figures as of December, 2020.
The engine of innovation and digitalisation
Connecting Italy in the new hybrid world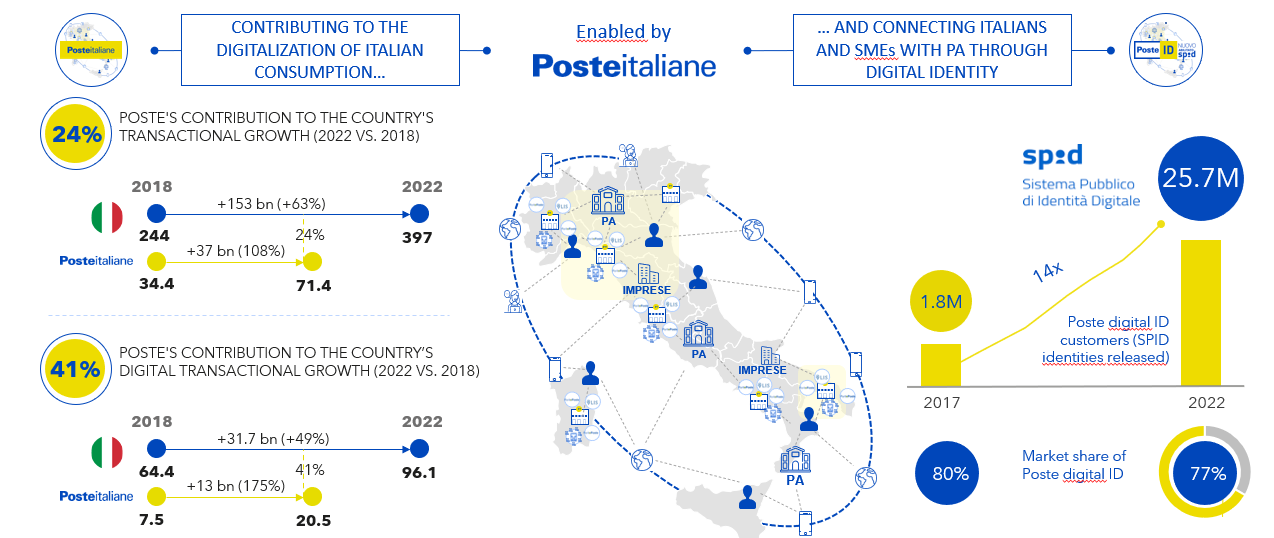 1. Mail & Parcel.
2. PostePay.
3. Update as of March 2021.
ESG Strategy 2024 - Sustainable value creation
Delivering responsible growth - driving Italy's sustainability and social integrity through innovation and digitalisation

Delivering a greener future

Investing in a thriving workforce 

Protecting our customers, building an inclusive society

Fighting against climate change, innovating throughout
the business to minimise our environmental impact, managing risk and achieving long-term resilience.

Rights, safety and wellbeing of our people come first in everything we do.

Providing vital support to the individuals and communities around us.

 

Driven by good corporate governance
Leading with integrity and transparency, committed to a code of business ethics and remuneration. Striving to manage our business sustainably and invest responsibly.
 
Environmental strategy
Targeting carbon neutrality by 2030

Decarbonisation of real estate and logistics