Poste Italiane is unique in Italy in terms of its size, recognition, widespread reach and customer trust, and it is an integral part of the economic, social and productive fabric of the country. Its role in relation to the entire nation makes the Group responsible for the well-being of the communities in which it operates, in the conviction that in such a critical period of Italian history its contribution can represent a valuable tool at the service of citizens and institutions.
Investing in Poste Italiane means investing in Italy's largest service distribution network and a platform company in action.
THE VALUE CREATION PROCESS FOR POSTE ITALIANE'S EMPLOYEES
During 2022, the path of shared value creation undertaken by the Poste Italiane Group generated excellent results at system level, through the significant investments in the six forms of capital which underpin the Company: financial, human, physical-structural, intellectual, social-relational and natural, and in line with the United Nations Sustainable Development Goals framework.
HUMAN
6 million hours of training provided in 2022
Over 6,900 initiatives in Active Labour Policies during 2022
2022 performance bonus: 5% increase y/y
Poste Italiane is a Top Employer for the 4th consecutive year
Poste Italiane receives Equal Salary certification for its pay equity policy
SOCIAL-RELATIONAL
Polis Project - Digital Service Houses (NRRP) to foster social and territorial cohesion and overcome the digital divide in small towns
Disbursement, through post offices, of the support contribution for Ukrainian refugees
Poste Italiane is among the 200 Sustainability Leaders in the ranking of Italy's 200 pioneers (Sole24Ore) and in the top 25 of economic sustainability rankings
Poste Italiane joins the Stoxx Global ESG Leaders Index and the Euronext Equileap Gender Equality Eurozone 100 Index
NATURAL
The Poste Italiane Group enters the energy sector with a 100% green omnichannel offer
23,000 low-emission vehicles in the company fleet, of which ~3,600 electric
Full green delivery: zero-emission delivery in 28 city centres
PROVEN TRACK RECORD - GROWTH PATH CONFIRMED IN 2023
We are providing a new 2023 guidance, which is now targeting an EBIT of 2.5 billion euro, confirming our steady growth path, successfully managing inflationary headwinds.
We are confident in our ability to deliver healthy profitability, and as such we have increased the dividend for 2022 and 2023.
Later in the year, with the new Strategic Plan the medium-term dividend policy will also be revealed.
Revenues will continue to steadily increase, excluding the impact of the new IFRS17 accounting standards on Insurance revenues, but this will only impact reported revenues, while EBIT will not be affected.
CONSISTENT DELIVERY SINCE 2017
Our 2022 EBIT at 2.3 billion is a record high, more than doubling the 2017 level of 1.1 billion when we started our journey and up 24% compared to last year.
The impressive progression is fully supported by positive underlying contributions from all businesses.
Confident of our consistent delivery since 2017, today we can confirm our 2023 growth path. Our targets have always been achieved in different market conditions, highlighting the validity of our strategic choices and tactical cost management.
From 2017 to the end of 2023, we will have distributed almost 5 billion euros of dividends to our shareholders.
A PLATFORM COMPANY IN ACTION
LEADING D2C DISTRIBUTION PLATFORM SERVING 35M CUSTOMERS (>50% OF THE ITALIAN POPULATION)

Mail & Parcel

Financial Services

Insurance Services

Payments & Mobile

Unrivalled distribution network
Comprehensive offer for all clients' financial needs

Fully-fledged insurance company

At the core of group omnichannel strategy

From a mail to a fully fledged logisticoperator, developing excellence on prifitable segments

More volumes, better quality
Investing in people

Life Policies: focus on capital-light products
Increase P&C penetration

Leader in B2C payment market with a fully integrated platform and the ambition to cover the energy market

Fully-automated parcel hubs
4

Total
financial assets

€562bn
(-4.1% Y/Y)
Multiclass GWP (%)
44%
Cards transactions


Mobile & land-line stock (#)
2,8 bn
(+16% Y/Y)

4.8m
UNMATCHED OMNICHANNEL SERVICE MODEL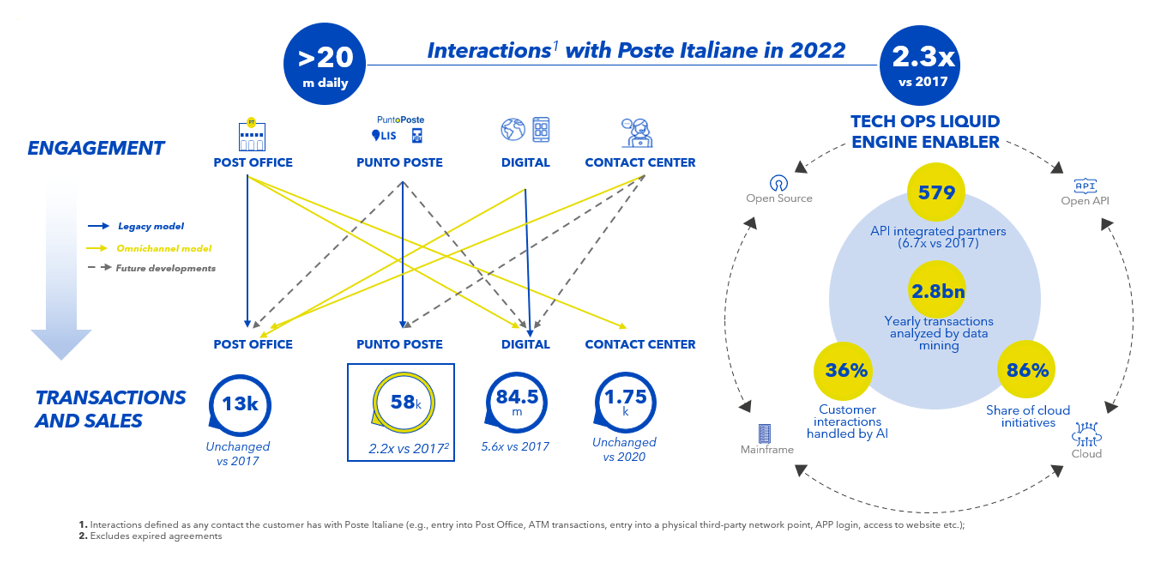 The engine of innovation and digitalisation
SUPPORTING THE DIGITALIZATION PROCESS CONNECTING THE COUNTRY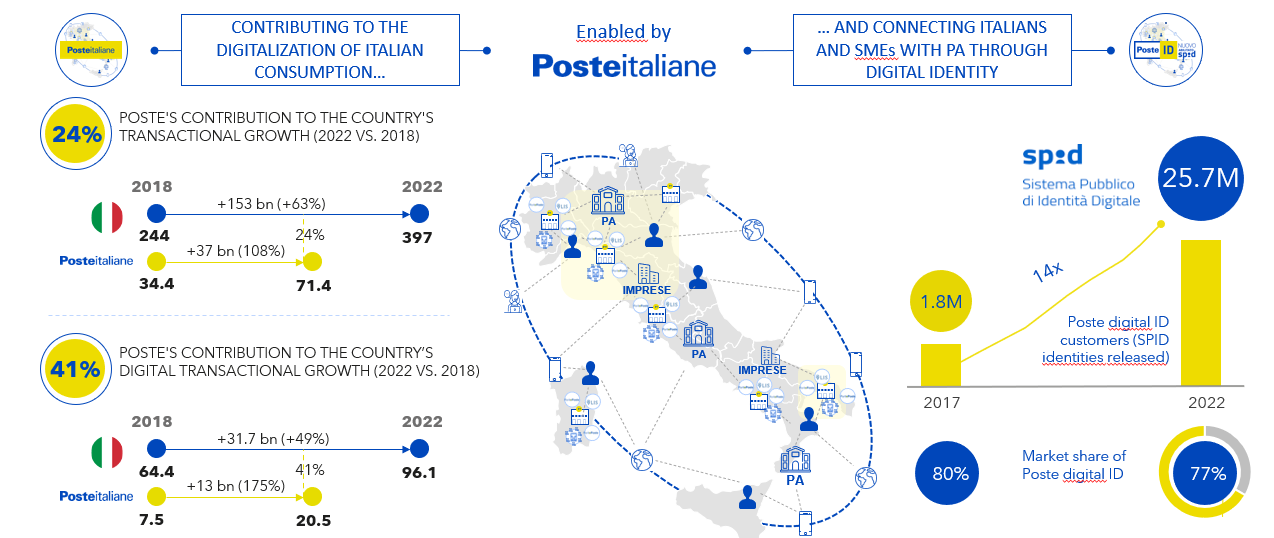 ESG Strategy 2024 - Sustainable value creation
Delivering responsible growth - driving Italy's sustainability and social integrity through innovation and digitalisation

Delivering a greener future

Investing in a thriving workforce

Protecting our customers, building an inclusive society

Fighting against climate change, innovating throughout
the business to minimise our environmental impact, managing risk and achieving long-term resilience.

Rights, safety and wellbeing of our people come first in everything we do.

Providing vital support to the individuals and communities around us.

Driven by good corporate governance
Leading with integrity and transparency, committed to a code of business ethics and remuneration. Striving to manage our business sustainably and invest responsibly.

Environmental strategy