Deliver 2022 - the five-year strategic plan of Poste Italiane which aims to maximize the value of the largest distribution network in Italy.
Investing in Poste Italiane means investing in Italy's largest service distribution network. Since its establishment in 1862, it has been synonymous with trust and proximity to the general public, businesses and institutions. With 158 years of experience behind it and a future that it intends to build around the pursuit of sustainable, innovative and profitable growth for communities, clients, employees and shareholders. The Group's activities range from mail and parcels delivery to financial and insurance services, digital and card payment systems, mobile telecommunication services. In 2018, Poste Italiane presented Deliver 2022, a five-year strategic plan. At the core of the strategy there is a deep understanding of the evolving needs of our customers and a transformation program focused on our people, innovation and technology. The five-year strategy is built on clear and pragmatic financial targets and KPIs leveraging on our strengths:
as the most effective and trusted distribution network in Italy, with a vast and loyal customer base of 35 million people
a uniquely diversified business model, made up of four different but highly complementary segments, adaptable to macro environment, delivering sustainable revenue and operating profit growth
a strong platform for innovation and customer experience driving growth
a Group benefitting from a strong balance sheet and sound liquidity position coupled with a negligible debt leverage and wide, unexploited debt capacity
our five year targets are to deliver a 5% increase in revenues, a 60% increase in EBIT and doubling of net profit
a commitment to a 5% per annum increase in the dividend for 2018, 2019 and 2020 and to a minimum pay-out of 60% leading to a dividend growth of more than 5% a year over the course of the plan
the execution of our strategic plan is supported by three key enablers: our people, our brand and a focus on sustainability
our Deliver 2022 vision is "To be Italy's most effective and trusted distribution network"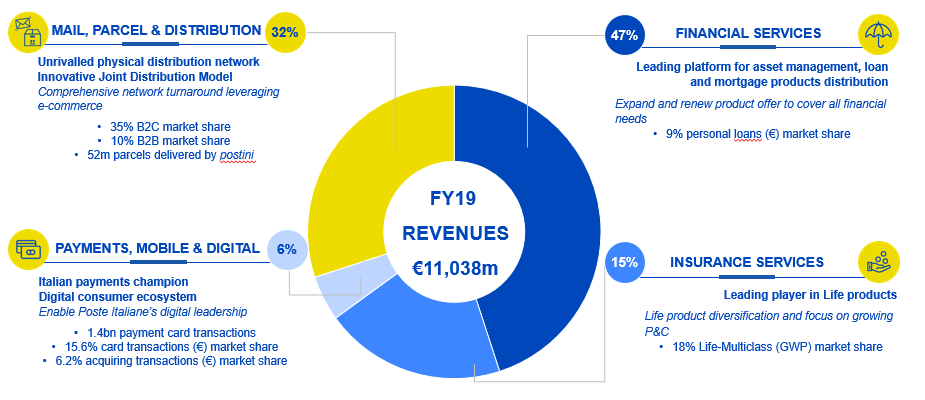 Fonti: Banca d'Italia, Ania, AGCOM, CRIF
I dati relativi a Posta, Comunicazione e Logistica sono a fine 2019. Le altre quote di mercato si riferiscono a 9M 2019. I dati sono estrapolati sulla base di calcoli interni.
1. Forza lavoro media permanente + flessibile per l'esercizio 2019;
Poste Italiane's sustainability path
Over the last three years, Poste Italiane has undertaken an important sustainability path aimed at promoting the distinctive elements of its corporate strategy, transforming market challenges into opportunities for the creation of shared value and contributing to the development of the company's reputation.
To support the achievement of the objectives set along this path, the Company has undertaken specific actions with the aim of promoting and disseminating, at Group level, a corporate culture oriented towards sustainability throughout the entire value chain. These actions, taken along three main lines - Reporting, Strategy and Governance - have led to important evolutionary transformations that in a short time have led the Company to achieve numerous goals and awards; emblematic, is the entry into the prestigious international sustainability indices.
Intended as a key element to support business strategy, today sustainability is considered an integral component of the company's activities, processes and strategy, being embedded in all components of the Company and an essential element for the definition of future strategic and financial choices undertaken by the Group.