ACHIEVABLE TARGETS THANKS TO BUSINESS RESILIENCE
The activities of the Poste Italiane Group set within the Italian macro-economic context. For Mail and Parcel, the long-term decline in mail is offset by the accelerating opportunity in B2C Parcels, driven by rapid e-commerce growth.
E-commerce now represents 7% of total retail sales, up from 4% in 2017. The average Italian now receives 3.4 parcels per year, almost 1 more than 2017.
In Financial and Insurance Services, growing Italian wealth, low personal debt levels and low P&C insurance penetration creates opportunities for our improved product range and service offer.
MIFID 2 and IDD also creates opportunities for Poste given our reputation as a cost effective and transparent service provider.
Finally steady growth in card payments and faster growth in the innovative digital payments arena is supported by higher than European average penetration of smartphone and mobile data usage while at the same time non-cash payments are lagging European levels and therefore creating an interesting opportunity for growth.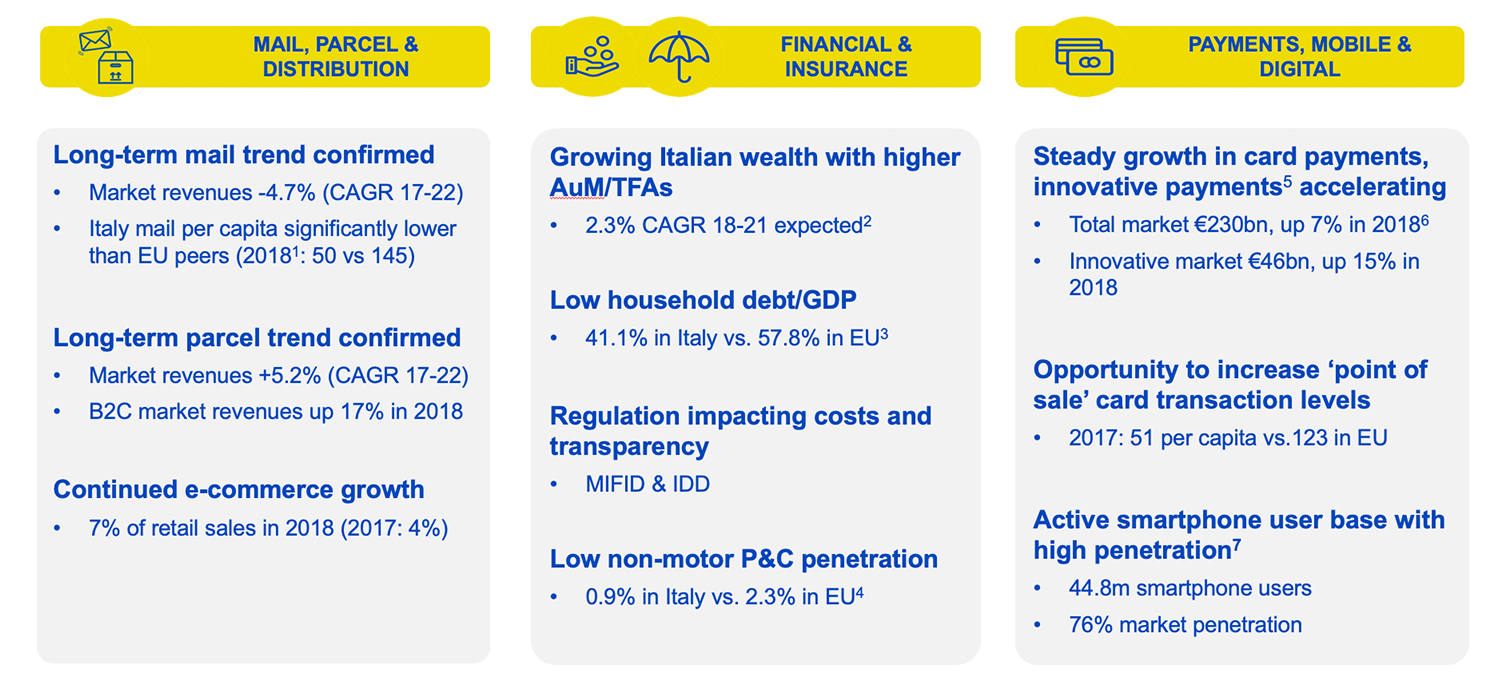 1. EU data. Internal projection starting from 2017 official data to estimate 2018 base;
2. Annual expected growth of financial assets 2018-2021; Prometeia, 12/2018, Economic Outlook;
3. Household debt vs GDP (2° quarter 2018). Banca d'Italia Economic Bulletin;
4. P&C non motor premiums/GDP. ANIA "L'Assicurazione Italiana 2017-2018;
5. Contactless, e-commerce and mobile;
6. POLIMI;
7. AGCOM Osservatorio sulle Comunicazioni 4/18, GSMA Report Mobile Economy 2019

FINANCIAL SERVICES – UNDERLYING OPPORTUNITY CONFIRMED
While we are seeing signs of European economic slowdown, we believe the long-term trends we outlined in Deliver 2022 are still in place and continue to be very favourable for our business model.
First, while Italian households' wealth in the second half of 2018 was temporarily affected by financial market performance, it continues to grow and is expected to grow at a steady rate during the plan period.
We still assume moderate growth in interest rates, while the volatility in government bonds spreads can create an upside opportunity for us. Our CFO will show this in more detail later.
At the same time, we are ready for the impact of Mifid II and IDD. We believe our commitment to a straightforward and transparent portfolio of products – clearly communicated – is a major opportunity.
Finally, for the other products we distribute, such as P&C insurance and loans and mortgages, the Italian market is still under-penetrated when compared to the rest of Europe.
1. Source: Report ISTAT of March 1st 2019 "PIL e indebitamento AP"; Real GDP growth for Italy
2. Source: Prometeia, 12/2018, Economic Outlook Annual expected growth of financial assets 2018-2021
3. Source: 10Y interest rate SWAP Forward Curve as of March 7th 2019; 2018: 0.81%, 2022 1.25%
4. Source: ANIA "L'Assicurazione italiana 2017-2018 P&C non motor premiums/GDP"
5. Source: Banca d'Italia, Economic Bulletin
STRONG B2C PARCEL GROWTH; MAIL TREND CONFIRMED DESPITE STRONG 2018
The long-term market trends presented last year are confirmed by the latest available data. In 2018, the Italian mail market saw a lower decline than the European average, but in the long-term Italy remains one of the countries most impacted by e-substitution.
Mail per capita ratio is still well below the EU zone average. On the other hand, B2C Italian parcel growth is confirmed - with year-on-year growth of 17% in 2018.
Online sales as a percentage of total retail sales moved from 4 to 7%year on year - and the gap between Italy and the European average is still significant.In summary, the growth of e-commerce in Italy is happening today – and it is a great opportunity for the future.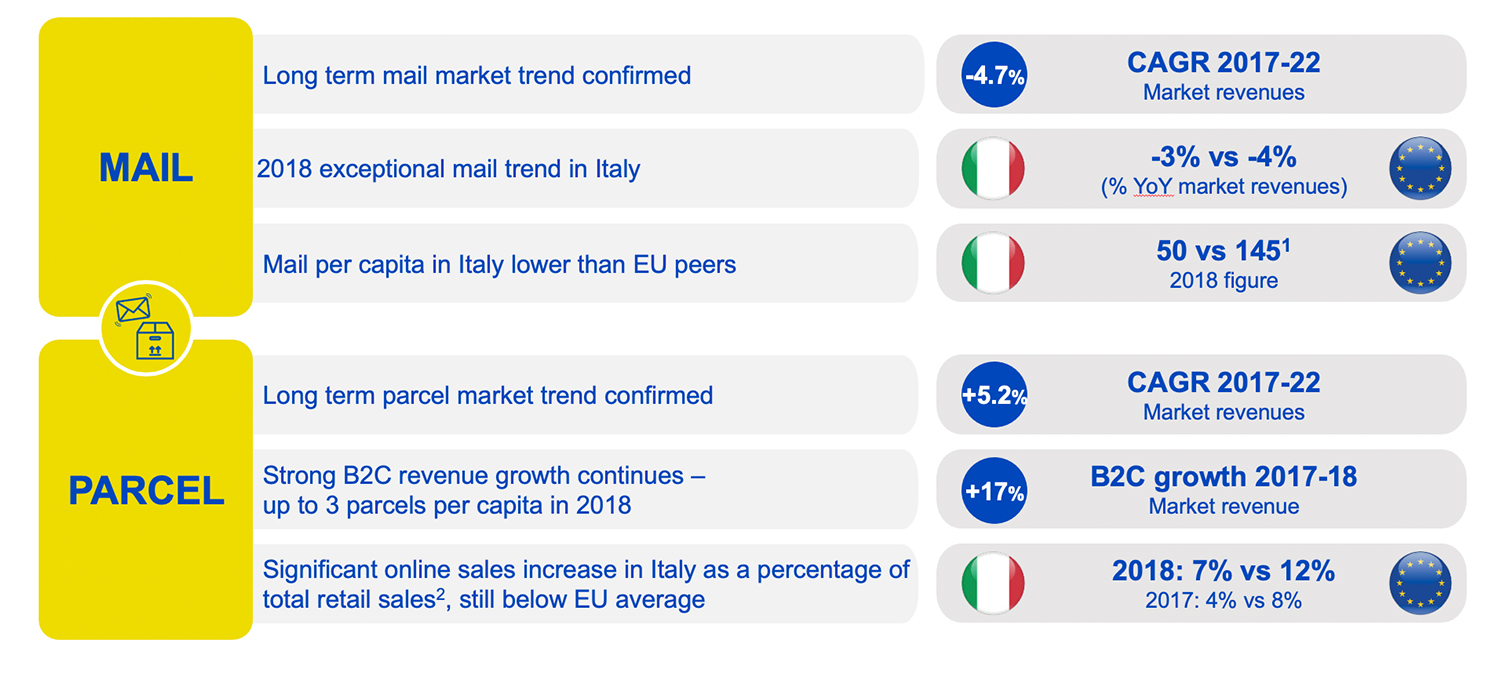 1. Source: EU data. Internal projection starting from 2017 official data to estimate 2018 base
2. Source: 2017 Euromonitor, 2018 Politecnico, Milan
SIGNIFICANT GROWTH POTENTIAL DRIVING OPPORTUNITIES
Italy is quickly bridging the gap with other European countries in the digital world: Electronic payments are progressively replacing cash - showing double digit growth. This is especially true for the innovative digital payments market which is expecting growth of 50% by 2020. This is also supported by the growing penetration of internet via mobile and other devices, and the massive usage of smartphones in Italy, that are key enablers of e-commerce and other digital payments.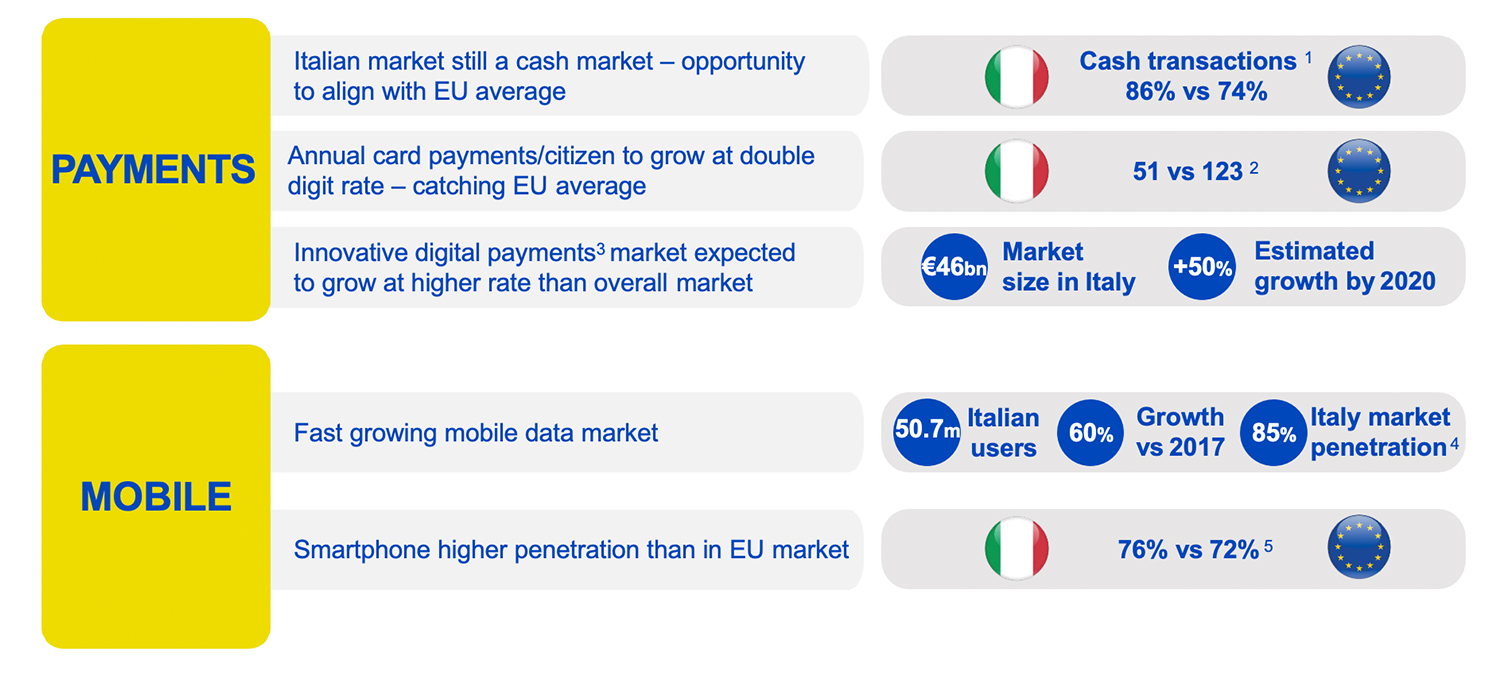 1. Osservatorio Ambrosetti
2. Relazione Banca d'Italia.
3. Includes Contactless Mobile POS, Mobile Payment & Commerce and e-commerce payments ; Source Osservatorio POLIMI
4. AGCOM Osservatorio sulle Comunicazioni 4/18.
5. GSMA Report Mobile Economy 2019 and We are social

DIGITAL OPPORTUNITIES ITALY POSITIVE TRENDS CREATING OPPORTUNITIES FOR POSTE TO LEAD
There is a similar trend in digital space, where Poste has clear leadership in a fast-growing market.
Two of Poste's apps – Postepay and BancoPosta - are the Number 1 and Number 4 financial apps in Italy.In total - our apps have been downloaded more than 15 million times and we have over 22 million registered website users, a number that has increased 38 percent in the past year.
Customer engagement is key in the evolution of digital payments and financial services.
CUSTOMER NETWORK COVERAGE OPPORTUNITIESUNRIVALLED UNIVERSAL COVERAGE
Our digital presence will be fully integrated with our unique physical network.
It is not a question of one replacing the other.
When you add together banking branches and insurance agencies all around Italy, Poste has 35 branches for every 100 bankassurance outlet.
Unlike our traditional banking and insurance peers, we have a diverse product range that justifies the cost of our offices:
mail and parcels,
payments,
postal savings,
mutual funds,
life and P&C insurance,
and telecommunication services (sim cards and landlines).
We are strengthening the link between our physical postal offices - trusted partners in every Italian community – and our digital spaces.
And our post offices will adapt to ensure all customers can benefit from our complete product offering – digital and traditional.