Announced at the end of February 2018, the Deliver 2022 strategic plan will enable us to fully capitalise on the unique strengths of the Poste Italiane network. Our
distribution platform is the largest and most widespread in Italy
, with 12,809 post offices located across the entire nation. What's more, we are widely recognised as the safest and most reliable distribution service provider in the country.
The Plan is based on the need to respond proactively to the continuous evolution of the market and to seize - and possibly anticipate - new business opportunities. The pursuit of long-term value creation for the Company, customers and the community
makes it necessary to evolve the operating structure, update skills and invest in new technologies.
The plan sets out:
financial targets based on realistic assumptions, with a low execution risk;
a company transformation programme;
an overriding focus on evolution in customer needs;
sustainable growth in dividends, in line with Group's improving operational performance.

FINANCIAL TARGETS
Forecast 2022 consolidated revenues: €11.2 billion, with a compound annual growth rate (CAGR) of 1%;
Forecast 2022 operating profit: €1.8 billion, with a CAGR of 10%;
Forecast 2022 net profit: €1.34 billion, with a CAGR of 13%;
2022 Return On Equity (ROE): 13% (+3.4 p.p.);
Customer's Total Financial Assets: €581 billion (2019: €536 billion)
2018–2022 capital investments: €2.8 billion of capex to support the digitalisation, automation and reorganisation of the service model;
Net financial position of the Mail, Parcel and Distribution business: €1.7 billion (€436 million in 2019); );
dividend policy : 2017 baseline of €0.42 per share, €0.463 in 2019 and increasing by 5% per annum up to 2020, with a minimum payout of 60% from 2021 onwards.
KEY CONSOLIDATED FINANCIAL TARGETS
€ bn unless otherwise stated
2017
2018
2019
2020
2022
CAGR 17 - 22
Revenue
10.6
10.86
11.4
11.1
11.2
+ 1%
EBIT
EBIT Margin %
1.1
11%
1.50
14%
1.77
16%
1.8
17%
1.8
16%
+ 10%
Net Profit

0.7
1.401
1.342
1.3
1.2
+ 13%
Dividend (€/share)
0.42
0.44
+0.463%
+5%

1. Including 385m one-off DTAs
2. Including 88m one-off relating to SIA shareholding
The new strategic plan is part of a broader approach built on a commitment to sustainability and to our stakeholders.
Shareholders: clear growth in dividends.
Poste Italiane people: cooperation with trade unions to encourage workforce renewal.
Customers: an operating model able to meet the changing needs of Italians.
The Country: support the digital transformation in Italy, offering digital solutions through the widespread reach of the distribution network and services.
The Company's value creation process over time is based on a characteristic business model, typical of an integrated industrial group, organised into Strategic Business Units specialised by industry that share the Group's multi-channel distribution
network and unitary governance.
Also with a view to circular economy, this model is based on the use of financial, physical-structural, intellectual, human, social-relational and natural capital which, together with a governance and a Strategic Plan integrated with an ESG perspective,
allow Poste Italiane to offer products and services on the market (output) and create impacts (outcome) that are economic, environmental and social and attributable to the United Nations Sustainable Development Goals (SDGs).

THE VALUE CREATION PROCESS AT POSTE ITALIANE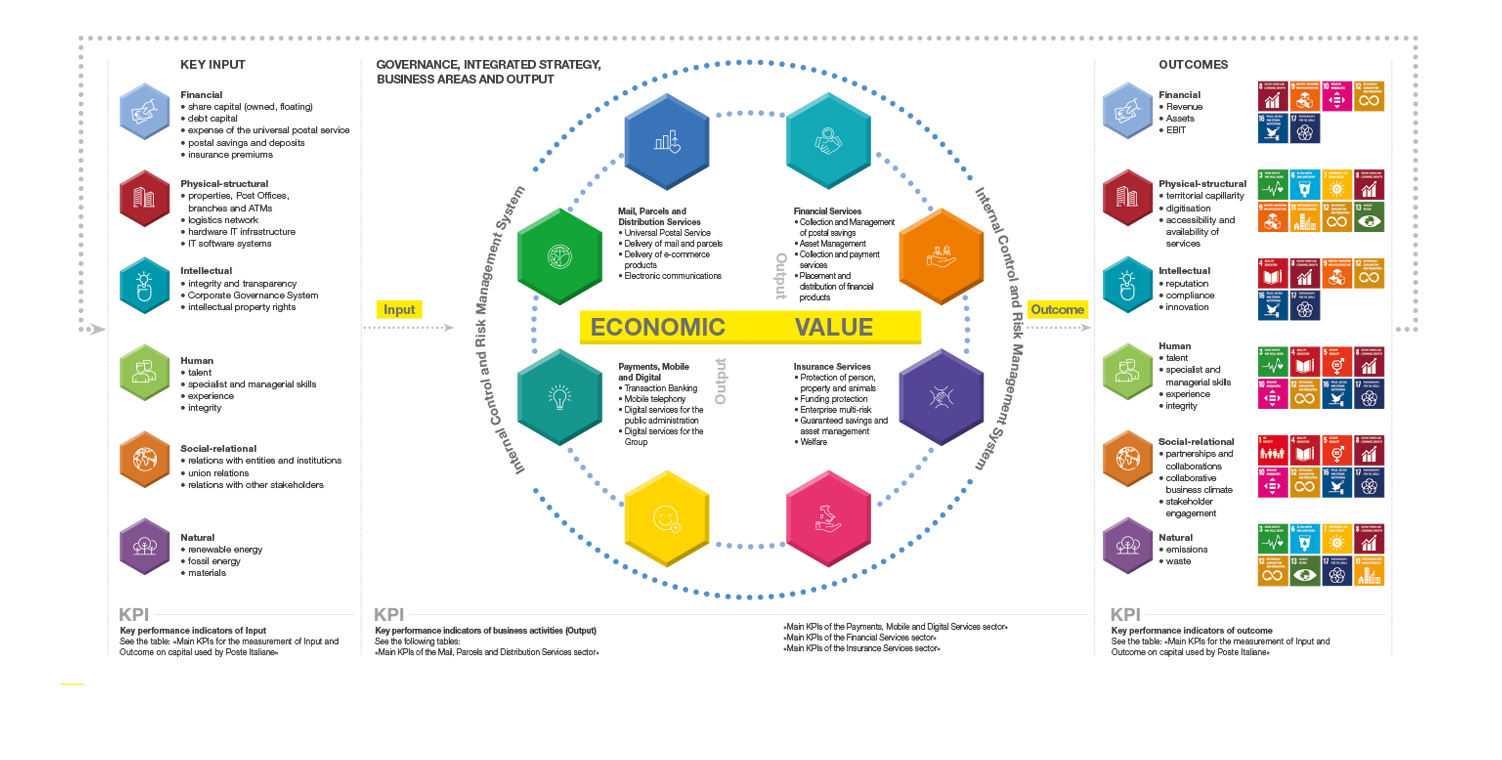 CAPITAL
KEY INPUT
OUTCOMES
Financial

share capital (owned, floating)
debt capital
expense of the universal postal service
postal savings and deposits
insurance premiums

Physical-structural

properties, Post Offices, branches and ATMs
logistics network
hardware IT infrastructure
IT software systems

territorial capillarity
digitisation
accessibility and availability of services

Intellectual

integrity and transparency
Corporate Governance System
intellectual property rights

reputation
compliance
innovation

Human

talent
specialist and managerial skills
experience
integrity

talent
specialist and managerial skills
experience
integrity

Social-relational

relations with entities and institutions
union relations
relations with other stakeholders

partnerships and collaborations
collaborative business climate
stakeholder engagement

Natural

renewable energy
fossil energy
materials
Transformation of our Business Areas
To roll-out our strategic vision, we have completed the reorganisation of our operating divisions. Each business area has specific targets, and the gradual progress made will combine to form a great leap forward for Poste Italiane. 
The new Payments, Mobile & Digital segment has been established thanks to the combination of PosteMobile and the Payments business. Asset management shifts to Financial Services and Mail, Parcel is now called Mail, Parcel & Distribution.

The
Mail, Parcel and Distribution
business lies at the core of our operations. Its reorganisation is designed to capitalise on growth in e-commerce. To boost our market share of the parcel delivery business, we have made an agreement with the trade unions for a new, innovative Joint Delivery Model, which includes afternoon and weekend delivery. The new partnership forged with Amazon in June 2018 is another fundamental enabler for the roll-out of the plan. Finally, we will be investing in new distribution and automation technologies to support the division's growth. In this context, Poste Italiane has
also signed a framework collaboration agreement with the Italian Tobacconists' Federation, which provides for tobacconists operating as pick-up points for mail and parcels. In addition, partnerships with innovative companies in the fields of logistics (sennder) and last mile delivery (Milkman) were finalised in 2019.
Learn more about the market environment of the business area
.
Revenues: €3.5 billion (2019: €3.49 billion), with growth in Parcel revenues and a slowdown in the decline in Mail revenues.
Parcel revenues: €1.2 billion (2019: €0.85 billion).
EBIT: the division will approach its operating breakeven point (€-0.1 billion)
Implementation of the new delivery model.
Parcels delivered by delivery personnel: over 100 million (2019: 51,6 million).
B2C parcel market share: 40% (2019: 35%).
CAPEX to support the transformation: approximately €0.5 billion in the period 2018-2022.

The new
Payments, Mobile and Digital
division, set up in 2018, will become an internal Fintech, enabling opportunities to be seized from the growing convergence of these market segments. The division will also act as a competency centre to help steer the roll-out of the
Digital Strategy
of the group.
Learn more about the competitive and regulatory framework of the business area
.
Revenues: €0.8 billion (2019: €0.66 billion).
Payment Card revenues: €0.4 billion (2019: €0.3 billion).
EBITDA: €0.2 billion (2019: €0.2 billion), with a CAGR of 1%.
Postepay total portfolio to reach 18.3 million cards issued (2019: €21.5 million).
Card transactions to rise by 12% CAGR to €1.6 billion.

Poste Italiane provides
Financial Services
based on a service model centred on the distribution of third-party products that is credit risk-free and delivered through a subsidiary distribution platform. We aim to achieve sustainable growth, based on the efficient allocation of capital and a wide range of products. Key milestones in the roll-out of the plan include
the three-year distribution agreement signed in April 2018 with Intesa Sanpaolo
and the definitive conclusion in March 2018 of a series of
agreements with ANIMA Holding
for a closer partnership in asset management services. In 2019, reached an agreement with Moneyfarm for the distribution of PosteMoney Investimenti to customers of Poste Italiane. The agreement with Tink, on the other hand, supports Poste Italiane with opportunities from open banking, resulting from a constantly evolving context determined by the new PSD2 regulation.
Learn more about the sector
.
Revenues: €4.9 billion (2019: €5.2 billion), maintaining stable revenue while reducing the reliance on capital gains (to fall from over €0.5 billion in 2017 to zero in 2022).
EBIT: €0.7 billion (2019: €0.9 billion).
Common Equity Tier 1 Capital: 19%.
Total financial assets: to rise to €581 billion from €506 billion in 2017 (2019: €536 billion), in line with market growth, with improved penetration of life insurance products and mutual funds.
Customers covered by a relationship manager: 45–55% (2017: 7%).
In the
Insurance Services
business, our aim is to defend our leadership of the Life segment, while rebalancing customer portfolios away from traditional life insurance policies and towards unit-linked products. Major growth will be delivered in the Casualty segment and in private pension plans.
Learn more about the market environment of the business area
.
Revenues: €1.9 billion (2019: €1.7 billion), led by constant growth in the segment.
EBIT: €0.9 billion (2019: €1.0 billion).
Net profit: CAGR of 4% over the period 2017–2022.
Solvency ratio: 203%.
Gross written premiums: €20.7 billion (2019: €18.0 billion).
Casualty policy distribution: over 2 million new contracts per annum (2017: €0.4 million), driven by a smart distribution model to complete the range of insurance products offered.