Poste Italiane is entering the world of social media with the aim of developing faster, more transparent and direct communications. Using the most important and popular social platforms - Facebook, Twitter, Linkedin and YouTube - we intend to build a collaborative relationship with users, providing full support and real-time information through web 2.0 channels.
Twitter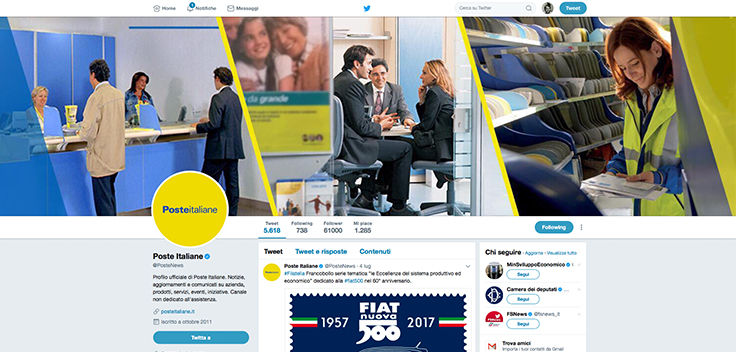 PosteNews
Official page for Poste Italiane news, upgrades and press releases on the company, our products and services, national and local events.
LEARN MORE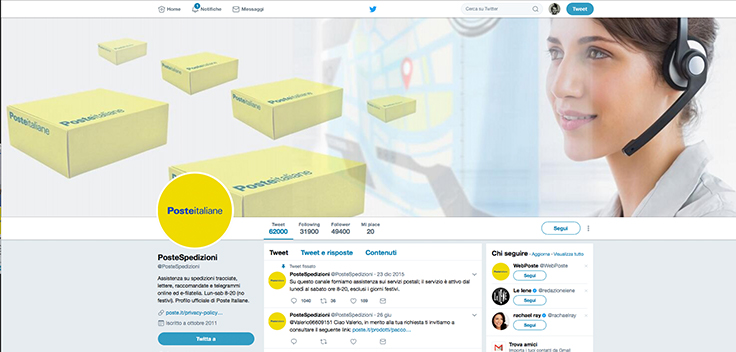 PosteSpedizioni
Assistance on products and postal / logistics services, traditional or online.
LEARN MORE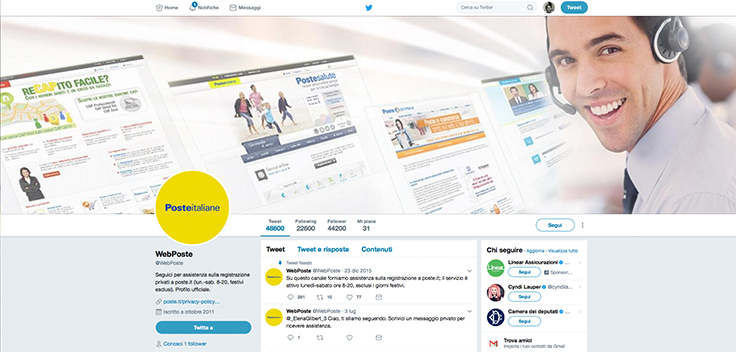 WebPoste
Help for private individuals with registration on the poste.it website to access online services.
Facebook
Poste Italiane
Official Poste Italiane Facebook page.
Company news and initiatives, stories from the past and from around the country, reflecting our close links with local people.
LEARN MORE
Postepay
Official page on prepaid cards.
A space dedicated to young people and their concerns.
Linkedin - YouTube - Instagram
Linkedin
Official Poste Italiane channel.
Linked to the recruitment section, an editorial space containing keys news items about the company and its initiatives, with particular focus on questions of innovation and corporate social responsibility.
LEARN MORE
YouTube
Official Poste Italiane video channel.
The history of Poste Italiane told through archive material and multimedia content plus the latest official communications and product announcements.