Revenues
will grow organically based on conservative assumptions. We will improve both the mix and quality of revenue streams.The major impact will be at the
EBIT
and Net Profit level with an annual growth of 10% and 13% respectively, supported by cost efficiencies.The new dividend policy, committing to a fixed 5% annual increase for 2019 and 2020, and a minimum pay-out of 60% for 2021 and 2022.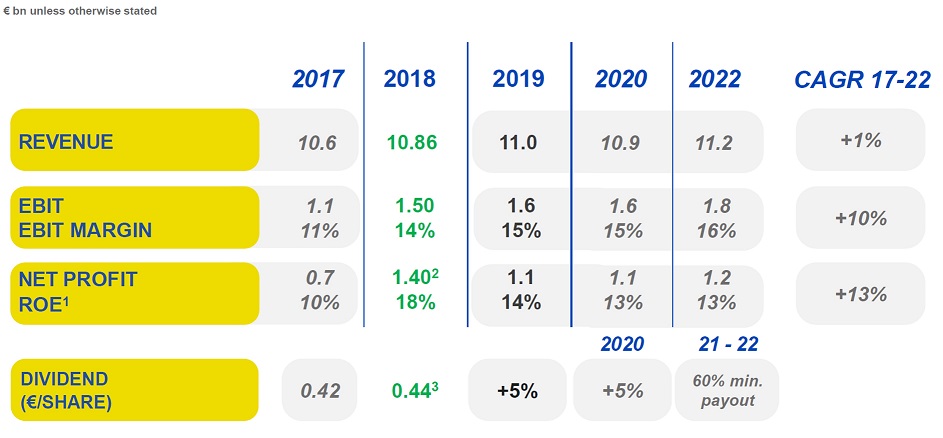 All of our segments will contribute to our ebit growth. This is the power of Deliver 2022. The significant improvement in operating performance is driven by low risk growth and cost discipline. Each segment is committed to these targets with teams already focused on the execution.
Mail, Parcel & Distribution's contribution to EBIT will improve, with stabilized revenue focused on the fast growing B2C market. The new Joint Delivery model will allow Mail, Parcel & Distribution to improve the efficiency of our "last mile" network. Meanwhile investment in our sorting centres will increase efficiency in the "middle mile". Beyond Mail & Parcel, the distribution network will generate additional revenues from financial and insurance products.
For PMD, EBIT will increase by 4% by 2022, as the segment gradually replaces traditional bollettino revenues with digital products. This transition will be supported by the growth of cards, issuing and acquiring activities, as well as digital payments.
In Financial Services we are targeting an EBIT increase of 12% over the five-year period, following a strategy of sustainable operating performance supported by asset management and product distribution with a decreasing reliance on capital gains.
In Insurance, we will consolidate our leadership in life products completing our product range in P&C where we will grow thanks to the strength of our network.
Revenues will grow steadily throughout the plan, but the real impact will be on an EBIT and Net Profit level with a CAGR increase of 10% and 13% respectively.
The delivery is made up of many small and achievable steps by Poste Italiane with low execution risk.
All segments will play their part in delivering this significant transformation in terms of mix and contributions.

Deliver 2022 targets are based on conservative assumptions in terms of both revenues and operational improvements.

Deliver 2022 is our five-year strategic plan built on strong business fundamentals and evolving customer needs.

It is based on a group wide transformation program with a focus on our people and our technology systems, and it includes pragmatic financial targets and clearly defined KPIs, supported by a renewed focus on operational performance.