On 2022 results we proposed a dividend per share of 65 cents compared to the original figure of 63 cents, an increase of 10% year-on-year. 

Furthermore, in 2023 we will increase the dividend to 71 cents, an increase of 9% year-on-year and 2 percentage points higher than the previous guidance. 

This upgrade is not only driven by a consistent financial performance delivered over time but also by an increased visibility on the cash flow generation across all businesses.

Acting on the Board of Directors' proposal, the Shareholders' Meeting then approved an overall dividend for the year 2022 of 0.650 euros per share and the distribution of 0.440 euros per share as the balance of the dividend, following the interim dividend of 0.210 euros per share already paid in November 2022. The balance dividend will be paid – before withholding tax, if any – on 21 June 2023, with the ex-dividend date of coupon no. 12 falling on 19 June 2023 and the record date (the date which determines the shareholders who are entitled to the dividend) falling on 20 June 2023.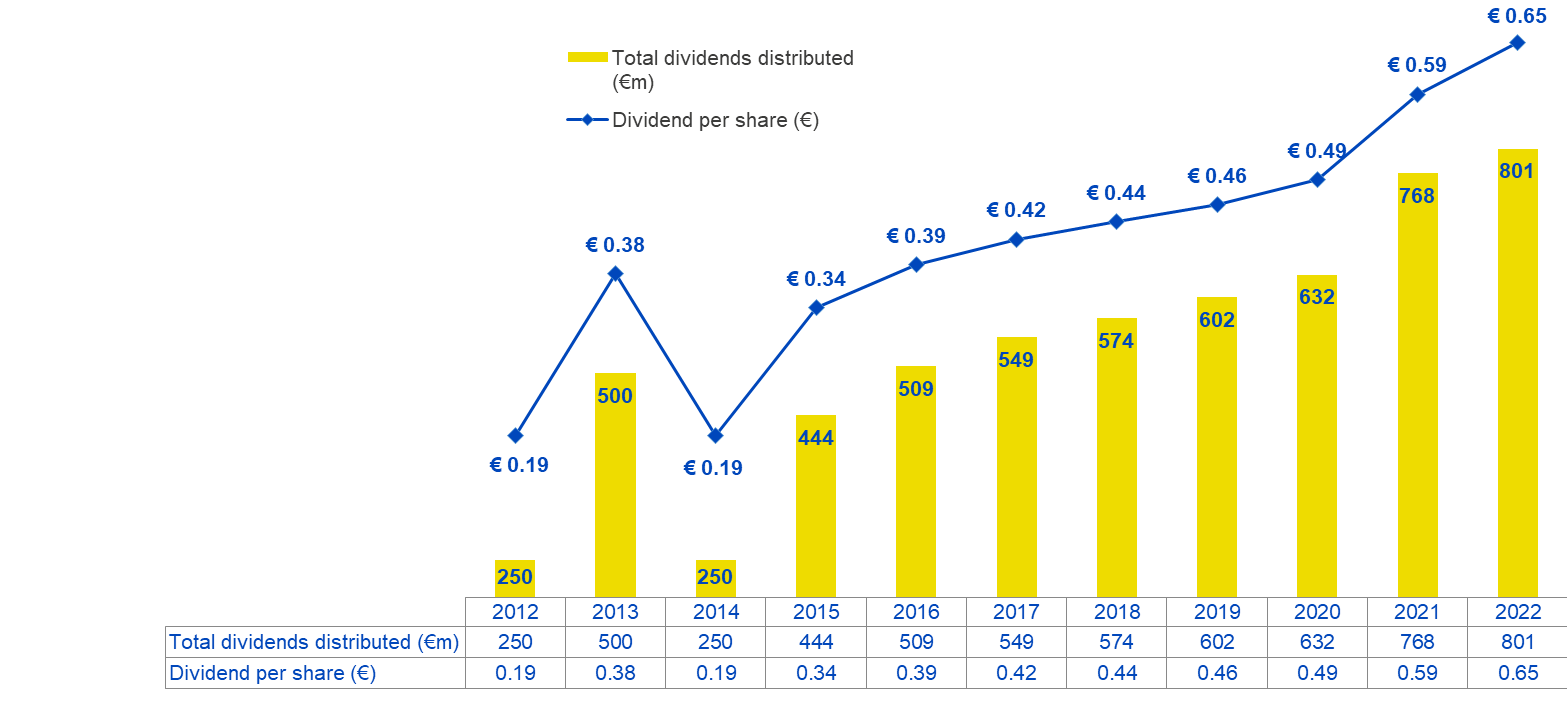 | | | | | | | | | | | | |
| --- | --- | --- | --- | --- | --- | --- | --- | --- | --- | --- | --- |
| | 2012 | 2013 | 2014 | 2015 | 2016 | 2017 | 2018 | 2019 | 2020 | 2021 | 2022 |
| Total dividends distributed (€m) | 250 | 500 | 250 | 444 | 509 | 549 | 574 | 602 | 632 | 768 | 801 |
| Dividend per share (€) | 0.19 | 0.38 | 0.19 | 0.34 | 0.39 | 0.42 | 0.44 | 0.463 | 0.49 | 0.59 | 0.65 |