With regard to the dividend policy, the assumptions of Deliver 2022 are confirmed. We are committing to a fixed five % per annum increase in the dividend for 2019 and 2020.
For the last two years of the plan, we are committing to a minimum pay-out of 60% which will mean dividend growth of more than 5 per cent a year over the course of the 5 year plan.
On May 15, 2020, The Shareholders' Meeting approved the 2019 Financial Statements and overall dividend of €0.463 per share resolved (€0.154 euros already paid as interim dividend in November 2019 and the balance of €0.309 euros to be paid in June 2020).
In line with the dividend policy adopted across the duration of the Deliver 2022 Strategic Plan, dividend payments in 2020 are scheduled as follows:
24 June 2020: payment of balance dividend for 2019, with an ex-dividend date of 22 June 2020 and record date (i.e. date of dividend payment eligibility) of 23 June 2020;
25 November 2020: payment of the interim dividend for 2020, with an ex-dividend date 23 November 2020 and record date of 24 November 2020.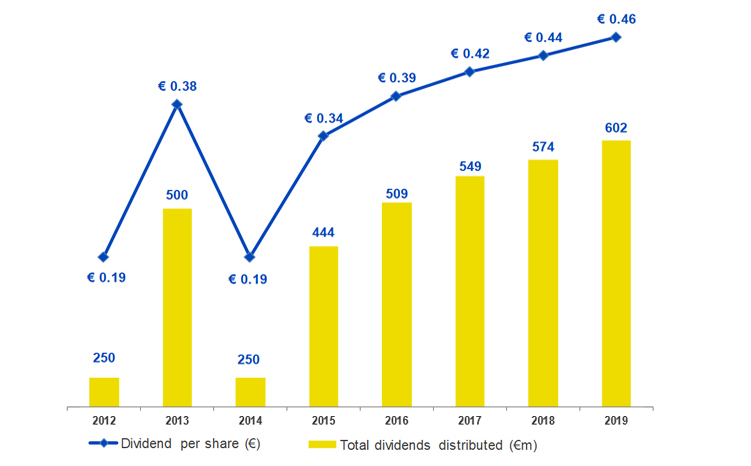 | | | | | | | | | |
| --- | --- | --- | --- | --- | --- | --- | --- | --- |
| | 2012 | 2013 | 2014 | 2015 | 2016 | 2017 | 2018 | 2019 |
| Total dividends distributed (€m) | 250 | 500 | 250 | 444 | 509 | 549 | 574 | 602 |
| Dividend per share (€) | 0.19 | 0.38 | 0.19 | 0.34 | 0.39 | 0.42 | 0.44 | 0.463 |