With revenues growing steadily over the plan, reaching €12.7 billion in 2024, with positive contributions from all segments, Poste Italiane intends to distribute dividends for over €3 billion, based on a visible and competitive dividend policy with a DPS +35% over the plan horizon.
Starting from 2022 we will commit to a 6% annual growth rate, in line with the increase of net profit, starting from €0.55 for 2021 up by 14% on 2020.
2024 Sustain & Innovate will enable the continual delivery of value to shareholders with a dividend policy that is sustainable and in line with group performance.
In line with the dividend policy adopted and already disclosed, dividend payments in 2021 are scheduled as follows:
23 June 2021: payment of the balance dividend for 2020, with ex-dividend date of 21 June 2021 and record date (i.e. date of dividend payment eligibility) of 22 June 2021;
24 November 2021: payment of the interim dividend for 2021, with ex-dividend date 22 November 2021 and record date of 23 November 2021.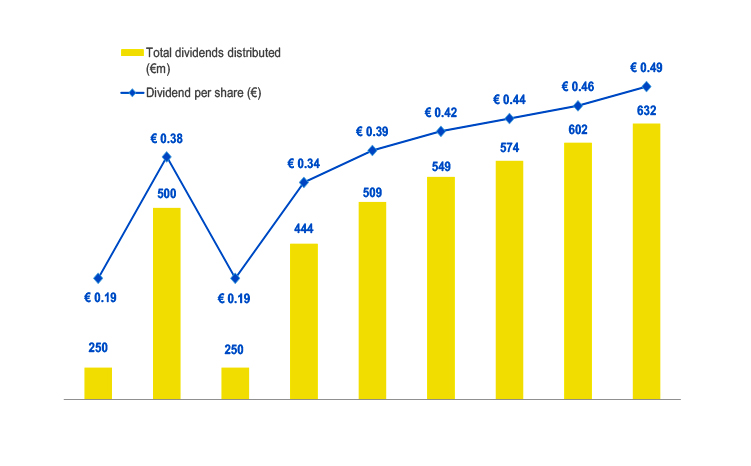 | | | | | | | | | | |
| --- | --- | --- | --- | --- | --- | --- | --- | --- | --- |
| | 2012 | 2013 | 2014 | 2015 | 2016 | 2017 | 2018 | 2019 | 2020 |
| Total dividends distributed (€m) | 250 | 500 | 250 | 444 | 509 | 549 | 574 | 602 | 632 |
| Dividend per share (€) | 0.19 | 0.38 | 0.19 | 0.34 | 0.39 | 0.42 | 0.44 | 0.463 | 0.49 |