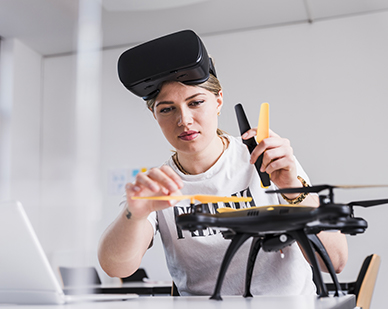 Initiatives jointly with large companies and industrial partners, to encourage the contamination and dissemination of best practices and the development of co-innovation projects.
Leonardo - Drones Project - The initiative starts from the collaboration between Poste Italiane and Leonardo to evaluate the potential of drones in the logistics field and to explore new business models with a focus on the drone logistics market. The agreement provides a vertical study of the drone delivery market both nationally and internationally, the identification and testing of solutions that meet the needs of a logistics operator and the evaluation of a potential medium-term partnership. The project will end by 2021.
A2A – LoraWan Network Development - As part of its Open Innovation activities, Poste Italiane has identified A2A as a potential partner to develop services for Smart City, Smart Logistics and the Smart Letter Box project through Lora technology. The two-year Memorandum of Understanding aims to evaluate the launch of a strategic partnership to jointly build a national LoRaWAN for data collection and transmission and a range of services on Internet of Things technology. Areas of application: Traceability services for things / people, Services in the Smart City area, Consumer services.