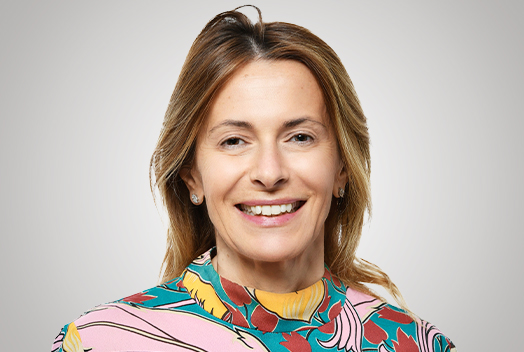 Born in Barletta in 1968.
Graduated in Languages and Contemporary History, with a specialisation in Social Sciences and Journalism, from the Catholic University of Milan in 1994.
From 2009 to 2022, she was at SNAM spa, where she rose to the position of Executive Vice President, responsible for Institutional Affairs, ESG & Sustainability, Communication & Marketing, becoming the first woman to join the company's leadership team. In this role, she developed also competencies in the field of capital markets.
From 2004 to 2009, she was director of external relations at Autogrill spa, where she contributed to the development and diversification of the business in Italy and abroad.
From 2001 to 2004, she was in charge of the press and external relations office for the deployment of broadband services in Italy and Germany of e.Biscom (now Fastweb).
From 1997 to 2001, she was a spokesperson for the municipality of Milan, where she was responsible for public works, energy and telecommunications infrastructure, and the listing of AEM (now A2A) and e.Biscom. She has participated in urban, environmental and social regeneration projects.
She is a professional journalist and worked from 1992 to 1997 for Mondo Economico, Fininvest, Euronews.
She was a member of the Board of Directors of Tiscali spa, Fiera Milano spa, Teréga Holding, a French gas utility, Snam Foundation, MIP - Politecnico di Milano School of Management.
President of the Italian Federation of Public Relations (FERPI) from 2011 to 2016, she was also Vice-President of Proxigas, a member of the Assolombarda Council and of the Board of Directors of Valore D.
She lectures at the LUISS Business School and the Master in Business Communication at the Catholic University of Milan.
She is a member of the scientific committee of the International Corporate Communication Hub.
She has been appointed member of the Board of Directors of Poste Italiane since 8 May 2023.
Shareholdings held in Poste Italiane