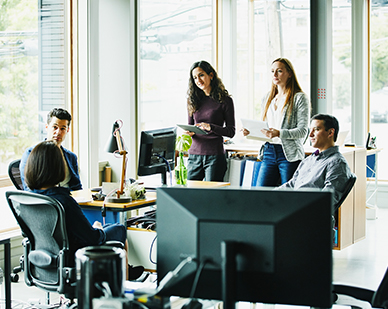 We used to work involving
different communities (students, startuppers, entrepreneurs) starting from Poste Italiane employees,
with the aim of enhancing, increasing and disseminating innovation culture and mindset. Here below some of our current activities:
Tech in Touch - An initiative for future entrepreneurs who want to get involved in a Innovative experience. Tech Creative Program is a challenge launched by Poste Italiane with TAG Talent Garden which involves many participants. A maximum of 10 teams are selected with figures with complementary skills. At the end of two and a half days of work, the ten projects are evaluated by a jury made up of members belonging to Poste Italiane and experts from the world of Venture Capital. The winning team is included in a Boost Program, a personalized and modular entrepreneurial support path, oriented towards the go to market phase. The last two editions have faced challenges on how to transform the PostePay app into a #everydayapp and how to develop an Omnichannel Customer Support Service capable of monitoring and mapping the various physical and digital touchpoints in customer assistance.
Libera il tuo talento - Co-creation initiative addressed to all Poste Italiane colleagues aimed at finding new ideas for the development of company businesses. A path, carried out in 2020, which made it possible to identify the 6 best ideas on the theme of environmental sustainability among more than one hundred initial proposals. The finalist teams collaborated remotely to deepen the ideas, supported by training on Agile methodologies and by inter-functional tutors.
Mentorship of Open Italy -Professional path of Mentor of Poste Italiane in collaboration with Open Italy to support Startups to facilitate them in dialogue with Corporate. The project involves more than 10 large companies belonging to different industrial sectors.