Innovation and digitisation of processes
The digital transformation undertaken by Poste Italiane in recent years has involved not only its own offerings, but also the distribution model which, through an omni-channel strategy, guarantees the Company the possibility to provide services that are in step with the needs of its customers.
The pandemic encouraged the acceleration of the transition to the new operating model, enabling the Company to respond quickly to changes in the market by leveraging its digital platforms that exploit the opportunities arising from technological innovation to create new personalised products and services and opening up additional channels of communication with its customers.
The Group's integrated omni-channel platform provides customer care and other services through three channels:
the proprietary physical network: the network of Post Offices, the specialist commercial service for business clients and the delivery logistic network for the delivery of mail and parcels;
digital infrastructure and remote contact points: all of the Group's digital properties  and its Contact Centre, able to serve the entire Italian population;
physical third-party networks: around 62,000 retail outlets and the result of commercial partnership agreements for the marketing of Group products and services.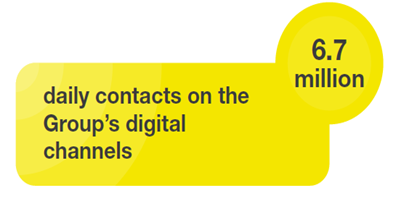 Digital Properties
The Group has implemented a programme of "digital transformation" of all its service and offer models in order to guarantee its customers full digital contact experiences. This programme was significantly accelerated in 2021, in view of the effects of the current health emergency, in order to make the Group's products available to customers in conditions of absolute safety.
Digital Market
With reference to the Digital Market, in Italy more than 51 million people are accessing it online and 43 million are present and active on social channels (an increase of almost 5.4% compared to 2020). 97% of Italians use a smartphone and 75% a desktop or laptop computer, while the growth of smartwatches (+13.3%) and smart home devices (+23.4% compared 2020) continues. As for e-commerce, 6.9% more money was spent in 2021 in Italy than in 2020 in the consumer goods world.
Traffic growth in visits and visitors of digital channels continues in 2021, rising from 4.7 million average daily visits in 2020 to 6.7 million average daily visits in 2021. In particular, web traffic went from an average of around 1.04 million visitors in the period March-December 2020 (post-pandemic emergency) to 1.22 million visitors in 2021; for the same period, apps also saw growth from 2.06 million to 3.04 million daily visitors.
The average number of monthly transactions carried out on digital channels was approximately 10.4 million (+38% compared to 2020) with a monthly transaction value of approximately € 2.76 billion (+47% compared to 2020).
At 31 December 2021, there are more than 11.8 million active Private Digital Identities (Poste Italiane accounts). The Private Digital Identity is intended to provide functional and secure access to all digital properties (data, internet accounts and other rights in the digital world) of the Group.
Poste Italiane retains a market share of over 80%, with a customer base of around 22.35 million public Digital Identities issued, of which 21.2 million active, against an additional 9.32 million new activations during the year.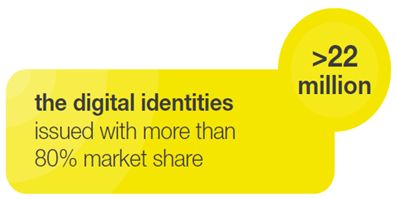 During 2021, the Group worked to strengthen the digital sales channel, optimising the "one click to buy" (an approach to speed up the purchase funnel for digital products/services, minimising the classic steps required on the customer side, simplifying completion of the funnel. For example, through personalised campaigns for known customer types, it is possible to understand their purchasing habits and hence propose a process with the data already inserted (e.g. name and address, contact information, ID, IBAN): at this point, if the customer is interested, they simply need to accept and sign the contract using a "point&click" technique (or insert a one time password [OTP] received via text message) purchasing process and expanding the range of products and services that can be purchased directly online through digital properties.