BancoPosta is one of Italy's biggest financial service providers, a major player that is constantly expanding its range of services for households. It is mainly engaged in:
the active management of the banking book, consisting of public and private customer deposits and relative lending activities;
promotion and management of the postal savings instruments issued by Cassa Depositi e Prestiti (bonds and savings books);
transaction banking services (payments and collections), such as postal payment slips, F24 tax forms, national and international postal money orders, Moneygram and Eurogiro services;
promotion and distribution, through its own distribution platform, of financial products issued by third parties or other group companies, such as:
- asset management products (units of open-ended mutual funds established by BancoPosta Fondi SGR)
- asset administration products
- Poste Vita and Poste Assicura insurance policies
- third-party financing products and credit cards.
As concerns asset management, BancoPosta Fondi SGR manages open-ended mutual investment funds, delivering significant returns over the years. It is also specialised in the management of Eurozone sovereign bonds and corporate bonds. Asset management is a business we are targeting to drive our future growth, with a view to offering simple, clear and well-structured products, building on the relationship of trust we have with our customers. To this end, Poste Italiane has forged The embedded asset does not exist:
Asset Type: PC_ModuloLink
Asset Id: 1476484757144
PAGENAME: PosteCorporate/PC_ModuloLink/PC/ModuloLinkTemplate. Under the Deliver 2022 Plan, BancoPosta Fondi SGR has become a competency centre for the management of all group financial investments.
| FY 2021 Total Revenues from Financial Services (€m) | 4,783 |
| --- | --- |
| Collection and payment services | 797 |
| Distribution of third-party products | 221 |
| Asset management | 120 |
| Postal savings deposits | 1,753 |
| Net interest income | 1,485 |
| Net capital gains | 407 |
Following are the annual highlights of the operational terms and economic results for the Financial Services Strategic Business
Unit.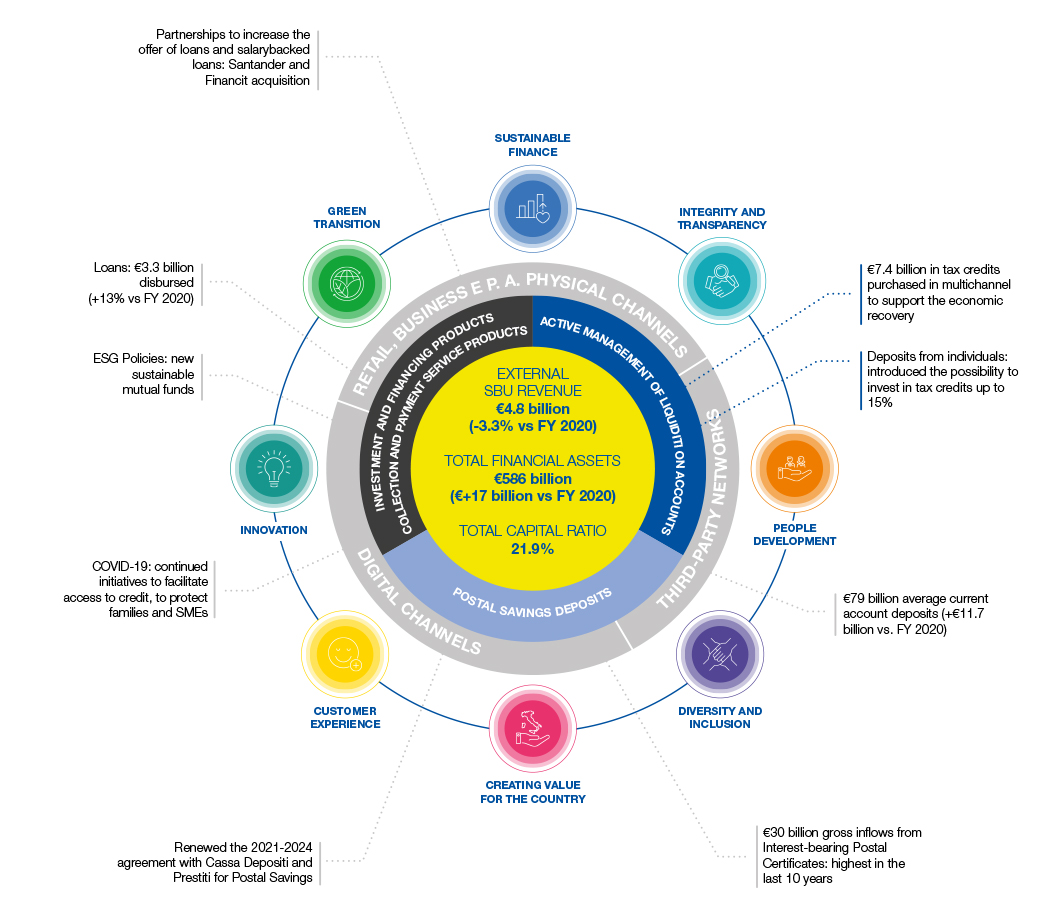 Data source: Annual Report 2021