In the mail and logistics services segment, we have successfully reinterpreted our original mission in a modern light, investing to keep our infrastructure abreast of the times, to meet the changing needs of our customers, and to develop innovative solutions. In particular, we are rolling out a new Joint Delivery Model designed to evolve our delivery services in line with developments in e-commerce. Furthermore in order to ensure an adequate level of protection of goods, we integrated the existing security model with the international standard TAPA-FSR (Transported Asset Protection Association – Facility Security Requirements) specifically dedicated to the logistics sector.
Mail Service. We have been delivering letters to Italian households and enterprises since 1862. Today we are the number-one mail service provider in Italy, awarded exclusively with task of providing Universal Postal Service throughout the country. That task, which includes the delivery of mail and parcels to residents all throughout Italy, was renewed by the authorities for 15 years as of April 2011. For deliveries, we rely on our multichannel distribution platform, which is underpinned by almost 13,000 post offices and over 30,000 delivery personnel.
Hi-tech Solutions. To keep up with changes in the market driven by digitisation, we have long invested in our hybrid mail service, which enables digital documents to be "materialized" and delivered in print form to addressees. We are also on the cutting edge of electronic communications and cuber-security, offering solutions designed to guarantee the integrity of digital communications and transactions and their certification.
Parcel Service. The spread of e-commerce has driven major growth in the parcel delivery market. This can be seen above all in our Express Courier, Logistics and Parcels business, which has been expanding constantly in terms of volumes and revenues and has now become strategic to our growth. Notably, in June 2018, we forged a new three-year partnership with Amazon (renewable for an additional two years) for the delivery of e-commerce packages through our widespread presence across the country, our express courier SDA and our airline Poste Air Cargo. With reference to sorting activities and the automation of production processes, in July, the largest parcel sorting plant currently installed in Italy was inaugurated at the Bologna freight terminal.
Physical security. Poste Italiane joined the TAPA EMEA International Association, in order to strengthen physical security in the main logistic hubs and to provide greater protection to its customers and suppliers. Poste Italiane is committed to developing a culture of safety across the company to be achieved by offering training to its staff, through specific policies and procedures, through the adoption of advanced technological solutions and the implementation of processes and technologies, through the improvement of the company's organizational structure and the enhancement of the professional skills of those working in security. All these elements are aimed at creating a security system, the function of which is constantly monitored by process indicators and 24/7 control rooms, to ensure prompt intervention when emergencies happen.
| FY 2021 Total Revenues from Mail, Parcel and Distribution (€m) | 3,685 |
| --- | --- |
| Mail | 2,082 |
| Parcels | 1,403 |
| Other | 200 |
Following are the annual highlights of the operational terms and economic results for the Mail, Parcels and Distribution Strategic
Business Unit.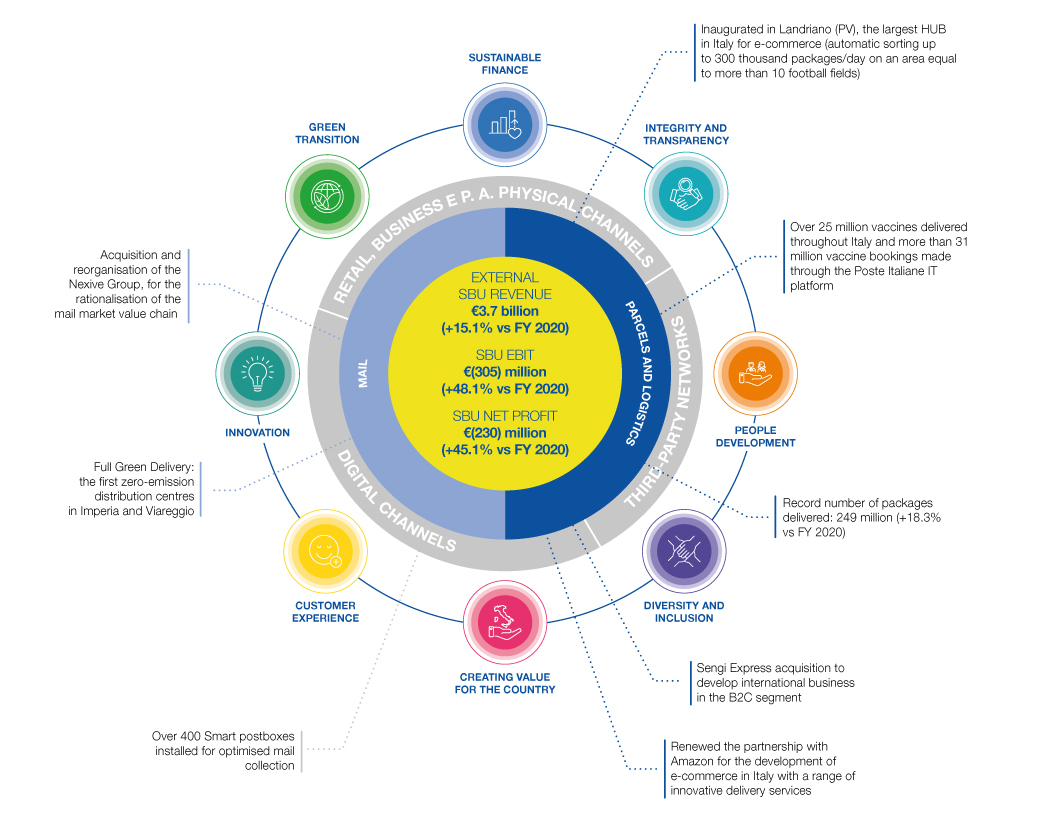 Data source: Annual Report 2021