Over the last three years, Poste Italiane has undertaken an important sustainability path aimed at promoting the distinctive elements of its corporate strategy, transforming market challenges into opportunities for the creation of shared value and contributing to the development of the company's reputation.
To support the achievement of the objectives set along this path, the Company has undertaken specific actions with the aim of promoting and disseminating, at Group level, a corporate culture oriented towards sustainability throughout the entire value chain. These actions, taken along three main lines - Reporting, Strategy and Governance - have led to important evolutionary transformations that in a short time have led the Company to achieve numerous goals and awards; emblematic, is the entry into the prestigious international sustainability indices.
Intended as a key element to support business strategy, today sustainability is considered an integral component of the company's activities, processes and strategy, being embedded in all components of the Company and an essential element for the definition of future strategic and financial choices undertaken by the Group.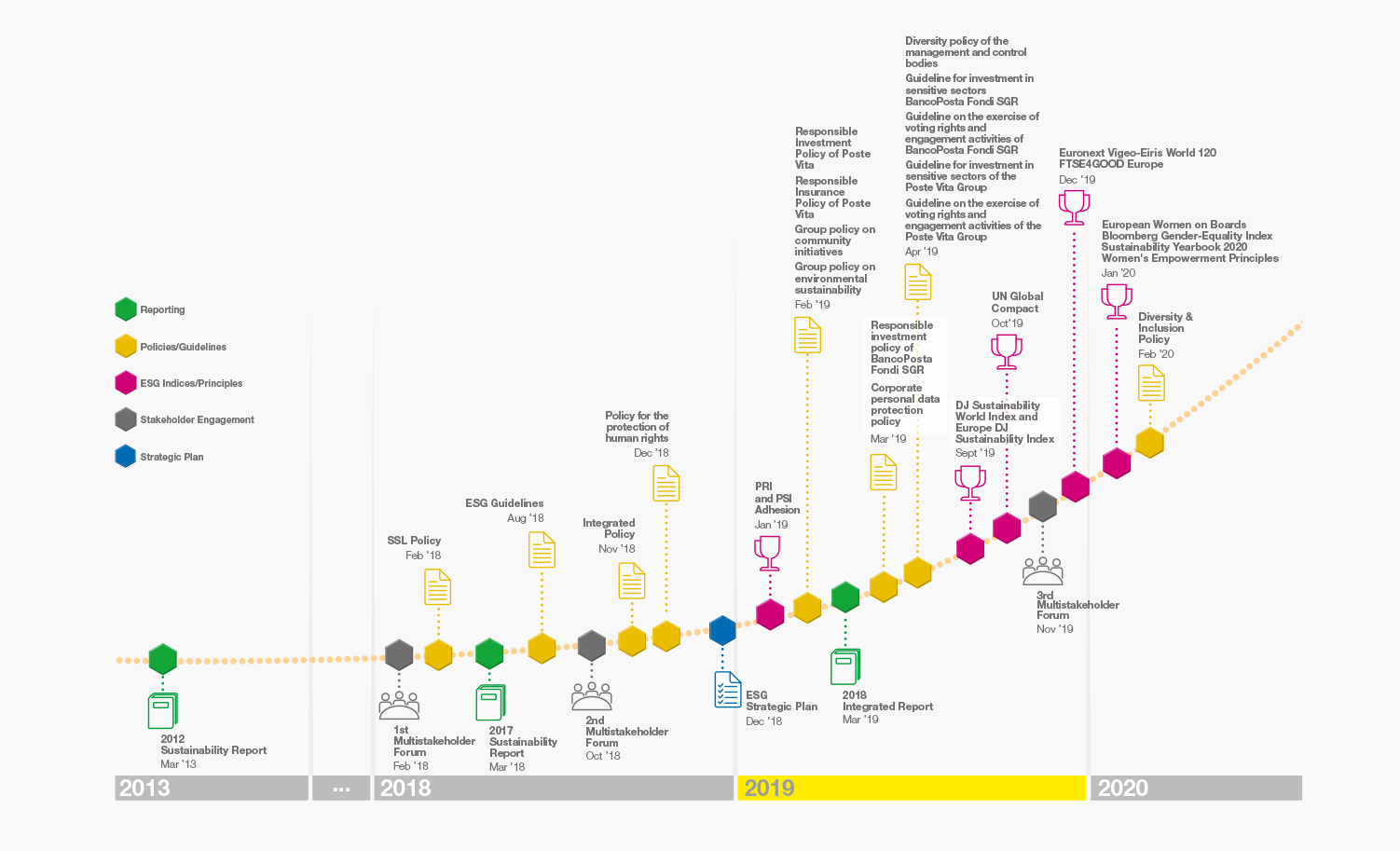 The value of reputation and the Sustainability Indices in which Poste Italiane is present
In an economic-financial context in which the market value of companies increasingly derives from their intangible assets, reputation represents an extraordinary asset for Poste Italiane, as it is able to significantly influence the behaviour and choices of its stakeholders and, as a result, creates a strong impact on business and corporate strategies and becomes a competitive lever for the Company to face (and win) the challenges of an increasingly evolved market where the boundaries of traditional business are increasingly transient and trust becomes an element of choice for consumers.

With this in mind, Poste Italiane has been listening to the Top Management of Poste Italiane since January 2020, with the aim of understanding the Company's strategic vision, so as to use - in a data-driven logic - the data to make its reputation active as an incentive for continuous development and progress for the entire Group.

A measure of the reputation achieved by Poste Italiane is represented by the many awards and recognitions achieved in recent years, which further strengthen its image and confirm the effectiveness of the activities undertaken.
The year 2019 saw the entry of Poste Italiane into important sustainability indices.
These indices allow analysts to monitor and evaluate Poste Italiane's performance with respect to environmental, social and governance issues.
As a result, analyses in the ESG sector are used by investors as a useful tool to assess business strategy and identify possible opportunities and risks in terms of sustainability with respect to their investments.
In addition, careful analysis contributes to the development of sustainable investment plans for the Group.