To be sustainable for Poste Italiane means defining a clear strategy on ESG issues and structurally incorporating them within the strategic objectives set in the Deliver 2022.

Over the period of the plan, the Company has envisaged €2.8 billion of investment in strategic assets, in order to achieve financial objectives based on realistic assumptions, with limited execution risk.
Strategic Plan Deliver 2022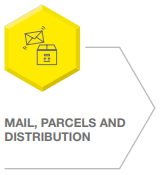 The Mail, Parcels and Distribution segment has been reorganised to serve the growth of e-commerce. In order to increase the market share of Parcel delivery, the Company reached an agreement with labour unions regarding an innovative delivery operating model (Joint Delivery Model), which provides for afternoon and weekend deliveries. Furthermore, the partnership signed with Amazon in June 2018 marks another fundamental step in the implementation of the plan. Finally, investments will be made in new sorting and automation technologies to support the development of the division. In this context, Poste Italiane has also signed a framework collaboration agreement with the Italian Tobacconists' Federation, which provides for tobacconists operating as pick-up points for mail and parcels. In addition, partnerships with innovative companies in the fields of logistics (sennder) and last mile delivery (Milkman) were finalised in 2019.
FINANCIAL OBJECTIVES
OPERATING OBJECTIVES​

Revenue: €3.5 billion (2017: €3.6 billion), with an increase in revenue from the Parcels segment, and easing of the decline in the Mail segment.
Parcels segment: €1.2 billion (2017: €0.7 billion).
EBIT: operating break-even expected (down €0.1 billion).

Implementation of the new delivery operating model.
Parcels delivered by letter carriers: over 100 million (2017: 35 million).
B2C parcels market share: 40% (2017: 30%).
CAPEX to support the transformation: approximately €0.5 billion in the period 2018-2022.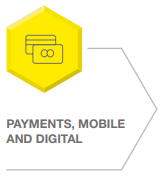 From October 2018, the Payments, Mobile and Digital segment, together with PostePay, has been authorised by the Bank of Italy to operate as an Electronic Money Institution in line with the Plan's objectives. Operating as an internal fintech, it enables full advantage to be taken of the growing convergence between market segments. This division also serves as a competence centre for the implementation of the Group's digital strategy.
FINANCIAL OBJECTIVES
OPERATING OBJECTIVES

Revenue: €0.8 billion (2017: €0.6 billion).
Payment card revenue: €0.4 billion (2017: €0.2 billion).
EBITDA: €0.2 billion (2017: €0.2 billion), with CAGR of 1%.

Total expected PostePay portfolio of 18.3 million cards issued.
Expected card transactions as CAGR up 12%, to reach €1.6 billion.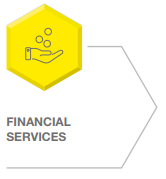 Regarding Financial Services, the model focuses on the distribution of third-party products without credit risk, controlled by a distribution platform. The model aims at promoting sustainable growth, through a more efficient allocation of capital and a wider range of products. Important steps in the implementation of the Plan include the renewal of the postal savings agreement signed at the end of 2017 with Cassa Depositi e Prestiti, the three-year distribution agreement signed in April 2018 with Intesa Sanpaolo, the agreement with UniCredit regarding the distribution of loans, and reaching in March 2018 a series of agreements with the Anima Group regarding closer cooperation for savings management services. In 2019, reached an agreement with Moneyfarm for the distribution of PosteMoney Investimenti to customers of Poste Italiane. The agreement with Tink, on the other hand, supports Poste Italiane with opportunities from open banking, resulting from a constantly evolving context determined by the new PSD2 regulation.
FINANCIAL OBJECTIVES
OPERATING OBJECTIVES

Revenue: €4.9 billion (2017: €5.0 million), maintaining stable turnover and, at the same time, reducing the importance of capital gains (down to zero in 2022, from over €0.5 billion in 2017).
EBIT: €0.7 billion (2017: €0.6 billion).
Common Equity Tier 1 Capital: 19%.

Total financial assets: a rise to €581 billion from €506 billion in 2017, in line with market growth and increased penetration of life products and mutual funds.
Customers followed by a dedicated consultant: 45-55% (2017: 7%).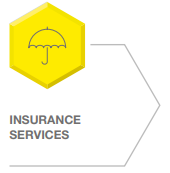 In its Insurance Services, Poste Italiane aims to maintain its leadership in the life sector by rebalancing its customer portfolios and shifting from traditional life policies to unit-linked products.
The objective is also to achieve significant growth in P&C and private pension plans.
FINANCIAL OBJECTIVES
OPERATING OBJECTIVES

Revenue: €1.9 billion (2017: €1.5 billion).
EBIT: €0.9 billion (2017: €0.8 billion).
Net profit: 4% CAGR in the period 2017-2022.
Solvency ratio: 203%.

Gross premium revenue: €20.7 billion (2017: €20.3 billion).
Distribution of P&C policies: over 2 million new contracts per year (2017: 0.4 million)
as a result of a distribution model that completes the insurance product offering.
The structural integration of sustainability elements into corporate policies, processes and long-term strategy continued in 2019 and is an established feature of Poste Italiane's business model.

Evidence of this approach, also in the 2020 incentive scheme, is the assignment of sustainability goals to the Chief Executive Officer/General Manager and consistently, to all key management personnel, the Head of BancoPosta, the Head of Internal Auditing and the heads of the various functions.

Moreover, sustainability objectives are monitored and analysed as part of the Group's risk management process using a specific Group GRC (Governance, Risk & Compliance) platform.