Strategy
HIGHLIGHTS
Efficient
management of
resources in a
circular economy
perspective
95% of electricity
derived from
renewable sources
Green fleet
Commitment
to protect the
environment and the
climate
Innovative solutions
to promote the transition
to a low-carbon
economy
Environmental protection is a priority that Poste Italiane Group has established in its Code of Ethics, in which it recognises the importance of safeguarding the environment as a primary asset, undertakes to promote rational use of resources within its structures, and focuses on seeking innovative solutions to ensure a reduction in the direct and indirect environmental impacts generated by its activities.
The Company's objective is to spread an environmental protection culture, whilst systematically drawing up sectoral action plans regarding the efficient management of energy resources, water resources and waste, from a circular economy perspective, in order to reduce its ecological footprint.  
2019 Environmental Data Overview 
 
Internal Group energy consumption. The total energy consumption of the Group was 3,926,371 GJ, of which 1,697,666 GJ from renewable sources. The consumption has decreased by 17.1% over the last three years (2017-2019).
Total Direct GHG emissions – Scope 1. Poste Italiane generated 145,747 tCO2e of direct GHG emissions, registering a reduction of 25.9% of its direct impact, between 2017 and 2019.
Total Indirect GHG emissions - Scope 2. The Group generated 8,176 tCO2e of indirect GHG emissions, with a reduction of 23.2% over the last triennium.
Total other indirect GHG emissions – Scope 3. The total production of indirect emissions that are not included in Scope 2, as they occurred from sources not owned or controlled by the Group, is 156,202 tCO2e, unchanged in the last three years (2017-2019).
Total waste produced. The quantity of total waste produced by Poste Italiane is 28,708,8 t, an increase of about 9.8% over the last three years. 
Download the Group's environmental data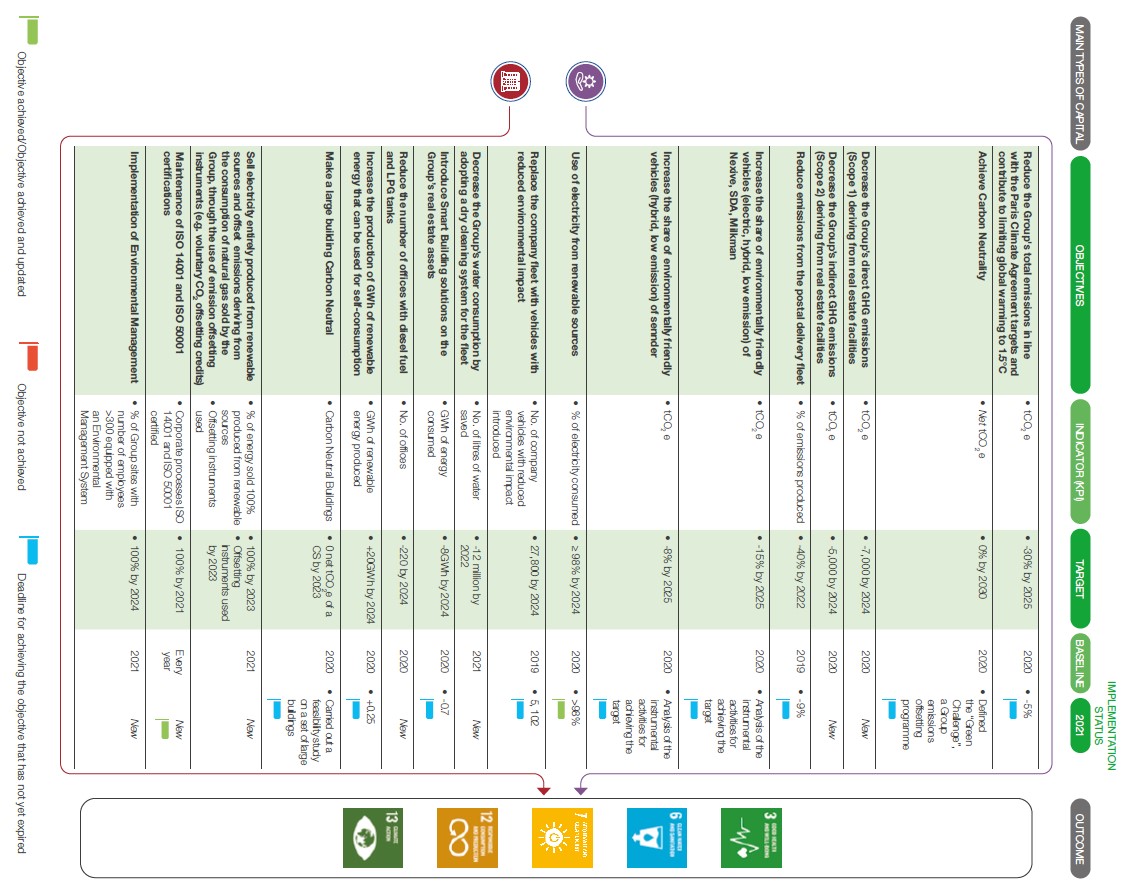 Decarbonisation of Real estate facilities and logistics
Objectives
Timing
Indicator (KPI)
Target
Implementation status 2019
Replace the company fleet with vehicles with reduced environmental impact
By 2022
Number of company vehicles with reduced environmental impact introduced
+26,000
New
Reduce emissions from transportation
By 2022
% of emissions produced
-40%
New
Reduce the total number of kilometres travelled by increasing First Time Delivery Success
By 2019
% of parcels delivered on the first attempt
90%

91.8%

Objective achieved

Reduce the Group's total energy consumption from nonrenewable sources
By 2022
GWh less electricity from nonrenewable sources consumed by buildings
-7.5 GWh

- 3.2 GWh

Deadline for achieving the objective has not yet expired

Reduce the Group's total energy consumption from renewable sources
By 2022
GWh total electricity consumed by buildings
-32.8 GWh

-12.3 GWh

Deadline for achieving the objective has not yet expired

Reduce the Group's total direct GHG emissions (Scope 1)
By 2022
tCO2e emitted by direct energy consumed by properties
-1,000 tCO2e

-78 tCO2e from LPG consumption

Deadline for achieving the objective has not yet expired

Reduce the Group's total indirect GHG emissions (Scope 2)
By 2022
tCO2e emitted by indirect energy consumed by properties
-9,132 tCO2e

-5,617 tCO2e

Deadline for achieving the objective has not yet expired

Certify Corporate processes in accordance with ISO 14001 and ISO 50001
By 2019
Corporate processes ISO 14001 and ISO 50001 certified
100%

100% relevant Companies

Objective achieved