The digital revolution undertaken by Poste Italiane in recent years has involved not only its own offer, but also its processes through the evolution of its distribution model in an omni-channel perspective that guarantees the Company the possibility to provide services in an agile manner and in step with the needs of its customers. The roll-out of the omni-channel strategy, through the extension of the physical footprint and the enhancement of digital channels, has allowed a radical inversion of its paradigms, affecting the organisation at all levels of business.
In this scenario, the recent pandemic has favoured the acceleration of the shift towards business models that leverage an omni-channel strategy, supported by a liquid and open operating model that combines technological intensity, data orchestration at the service of the ecosystem and digital and customer-oriented operations. This operating model has enabled the Company to respond rapidly to changes in the market by leveraging an innovative and sustainable business model, based on digital platforms that exploit the opportunities arising from technological innovation to create new and customised products and services, opening up new channels of communication with its customers to offer a seamless experience in line with their needs.
The digital era has consecrated platform companies as disruptive and winning business models, characterised by critical success factors such as the combined use of exponential technologies, customer centricity, open and easily integrated platforms, guarantee of reliability and security, factors capable of sustaining markets during the pandemic.
In this scenario, Poste Italiane has the opportunity to become the Italian System's Distribution Platform of Choice, supporting citizens in their daily needs, fostering the growth of the productive fabric and promoting the simplification of Public Administration. The Distribution Platform of Choice must address the emerging needs of the Country System, satisfying needs and connecting citizens, businesses and Public Administration, through a Tech Ops Liquid Engine capable of enabling business evolution, articulated in four areas.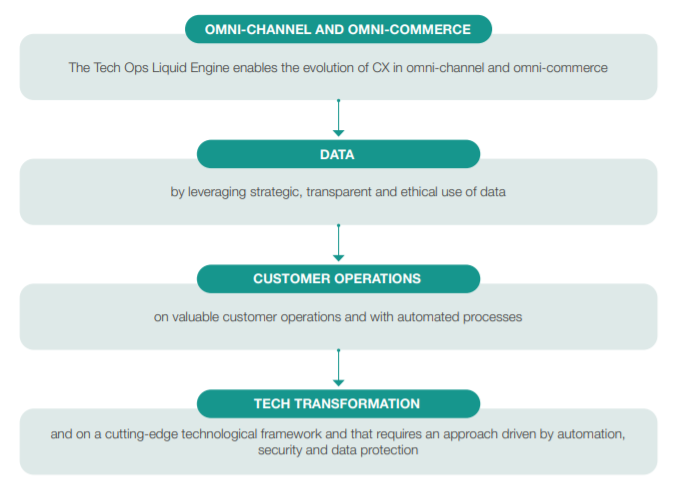 During the year, the Group worked to strengthen the digital sales channel, optimising the "one click to buy" purchasing process and expanding the range of products and services that can be purchased directly through the web.
At the basis of this path are a series of objectives that the Group has set itself in order to play a leading role in the country's digital transition:
enhance the Post Office network, integrating it with B2B2C partner networks, in synergy with the strengthening of digital channels;
optimise digital solutions, fostering inclusion and development of the digital economy, in order to meet the diverse needs of customers of all age groups;
expand the addressable market to smart customers with data connectivity needs;
consolidate the Company's role as a key interlocutor for the Public Administration.