In continuity with the Deliver 2022 strategic plan, in the
2024 Sustain & Innovate
plan, we maintained a single, specialised unit to leverage our capacity to pursue growth objectives in the payments sector—a highly dynamic market segment in constant transformation—while at the same time stepping up our customer service model for households, enterprises and the public sector.
Monetics (Payment Services).
Our goal is to consolidate and further our leadership of the payment systems market by steering the shift from traditional payment methods (such as postal payment slips) to next-generation digital options, in particular the development of PostePay. The new business area will enable us to seize the new opportunities created by the European Payment Services Directive (PSD2), in force as of January 2018. In particular, over the 12-month period, there was a positive change in revenue from the Payments and Mobile Strategic Business Unit alone, amounting to €74 million (+11.1%) compared to 2019, thanks to the significant growth of the Telecommunications segment and the good performance of the Electronic money segment.
Fixed line & Mobile Phone Service (TLC).
The new division takes over the mobile phone operations of PosteMobile, which over the years has acquired extensive experience in the digital sector and in mobile banking and mobile payments.
Digital Strategy
. This business area is set to become an internal fintech driver for the group, helping us achieve
the digital vision of the group as a whole
.
Digital Services for the Public Sector
. We operate as an "Identity Provider" through the PosteID digital identity service, accredited by the Public Digital Identity System (SPID). The service enables people to create a digital profile to access all the online services and apps of Poste Italiane, as well as government services and those of private service providers that have joined the SPID. We are, additionally, a partner of PagoPA, the electronic payments system that makes payments of any kind to the Public Sector easy and secure.
POSTEPAY, AN ITALIAN SUCCESS STORY
Poste Italiane played a pioneering role in the electronic money market in Italy. Postepay was launched in 2003 and by the end of 2017 had 17.7 million users, becoming the prepaid card of choice for Italians today. Postepay Evolution, the personal prepaid and reloadable card with an IBAN now stands at 7.2 million cards now in use. Long at the forefront of the digital payments sector, we have also released and regularly update our Postepay App, which unlocks access to numerous features, including real-time fund transfers and a new payment method for online purchases. In particular, thanks to Postepay Connect, the offer that combines the card Postepay Evolution and the PosteMobile SIM, all customers can therefore manage payment and telephone services quickly and intuitively thanks to the App.
Find out more
| FY 2022 External Revenues (€m) | 1,147 |
| --- | --- |
| Energy | 12 |
| TLC | 319 |
| Collections & payments | 233 |
| E-Money | 582 |
EXTERNAL REVENUE
(€m)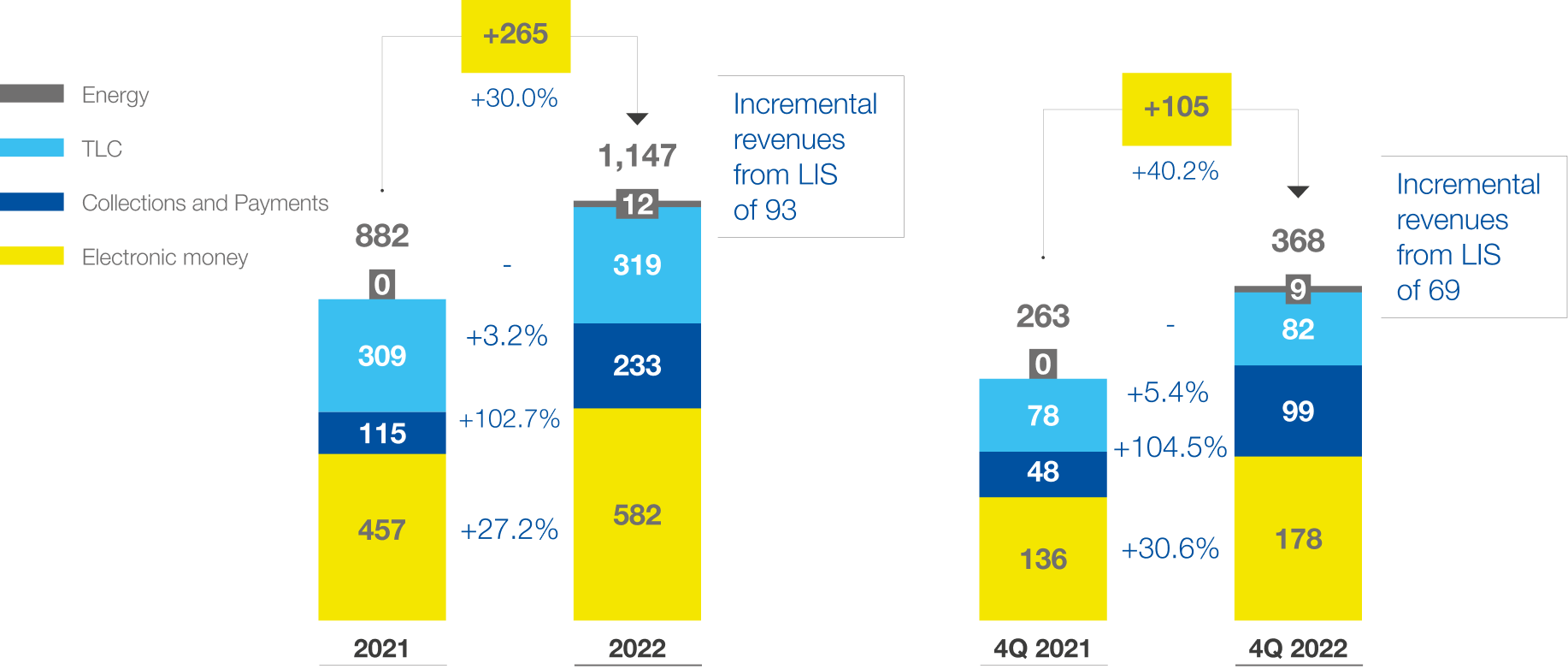 Data source: Annual Report 2022