HIGHLIGHTS

Zero Post Offices closed in 2020
The Group and Save the Children have undertaken to support around 100,000 children and adolescents up to 17 years of age
Delivered more than 1,500,000 doses of vaccine from the Group's fleet
Approximately 180 recent graduates were placed in the role of Specialist Financial Consultants and Specialist Mobile Consultants
80 prefectures (75% of the total) contacted to intensify controls in Post Offices
Supporting the needs of the community is the foundation of the Group's values and corporate mission. The Company has always accompanied the local communities where it is present on a daily basis towards modernisation and digitisation processes, thereby promoting the wellbeing of citizens and socio-economic development.
Poste Italiane systematically promotes activity programmes nationwide relating to social inclusion issues that have a positive impact and bring benefits to the community through its extensive network of post offices and through the engagement of corporate volunteers and/or the financing of specific EU projects via donations and sponsorships. In this regard, in 2020 the Group
made cash contributions
totaling €3,912,700.
2020 Community data overview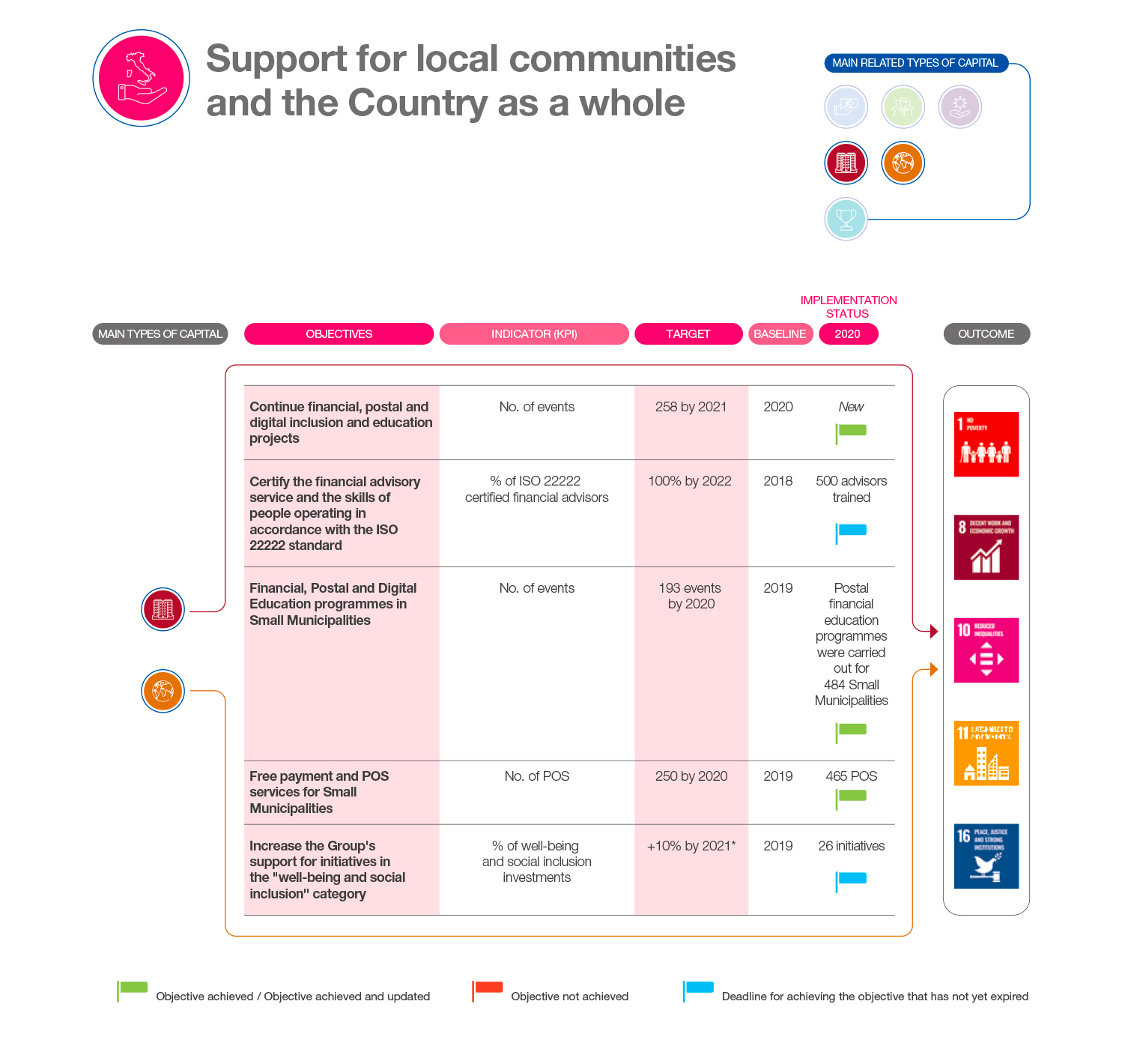 Support for local communities and the Country as a whole
Objectives
Timing
Indicator (KPI)
Target
Implementation status 2020
Continue financial, postal and digital inclusion and education projects
By 2021
No. of events
258
New
Objective achieved
Certify the financial advisory service and the skills of people operating in accordance with the ISO 22222 standard
By 2022
% of ISO 22222 certified financial advisors
100%
500 advisors trained
Deadline for achieving the objective
Financial, Postal and Digital Education programmes in Small Municipalities
By 2020
No. of events
193 events
Postal financial education programmes were carried out for 484 Small Municipalities
Objective achieved
Free payment and POS services for Small Municipalities
By 2020
No. of POS
250
465 POS
Objective achieved
Increase the Group's support for initiatives in the "well-being and social inclusion" category
By 2021
% of well-being and social inclusion investments
+10%
26 initiatives
Deadline for achieving the objective