HIGHLIGHTS

Customer Centricity
-23% annual complaints received compared to 2019
237 improvement actions identified between July and December 2020
33 million contacts managed in 2020 (+18% compared to 2019)
Ensuring protection
of personal data
A core element of the Group's strategy is a total commitment to constantly improving the quality of the products and services it provides to its customers.
The punctual monitoring of the quality delivered and perceived by customers, in both relational and transactional terms, is the tool the Company uses to optimise its operational activities, thereby ensuring the provision of products and services with high quality standards.
Poste Italiane has adopted stringent measures in line with the regulatory provisions issued by the Government, with the aim of protecting the health of its workers and customers and at the same time guaranteeing an essential service for the life of the country.
Moreover, in light of the global scenario in which technology has taken on a decisive role for business development and continuity, Poste Italiane considers it necessary to adopt effective security systems to protect the company's information assets and safeguard customers' personal data. Through its information security systems, the Group ensures the proper functioning and delivery of its services and guarantees the confidentiality of data* and information, preventing access to unauthorized parties and implementing corrective actions in case of violation of the information assets of the Group. In this regard, in 2020, with respect to the cases found of violations of privacy and IT systems, no disciplinary action was taken against Poste Italiane employees since all violations occurred due to external attacks.
* The percentage of customers whose data have been used for secondary purposes is equal to 1% of the total number of customers.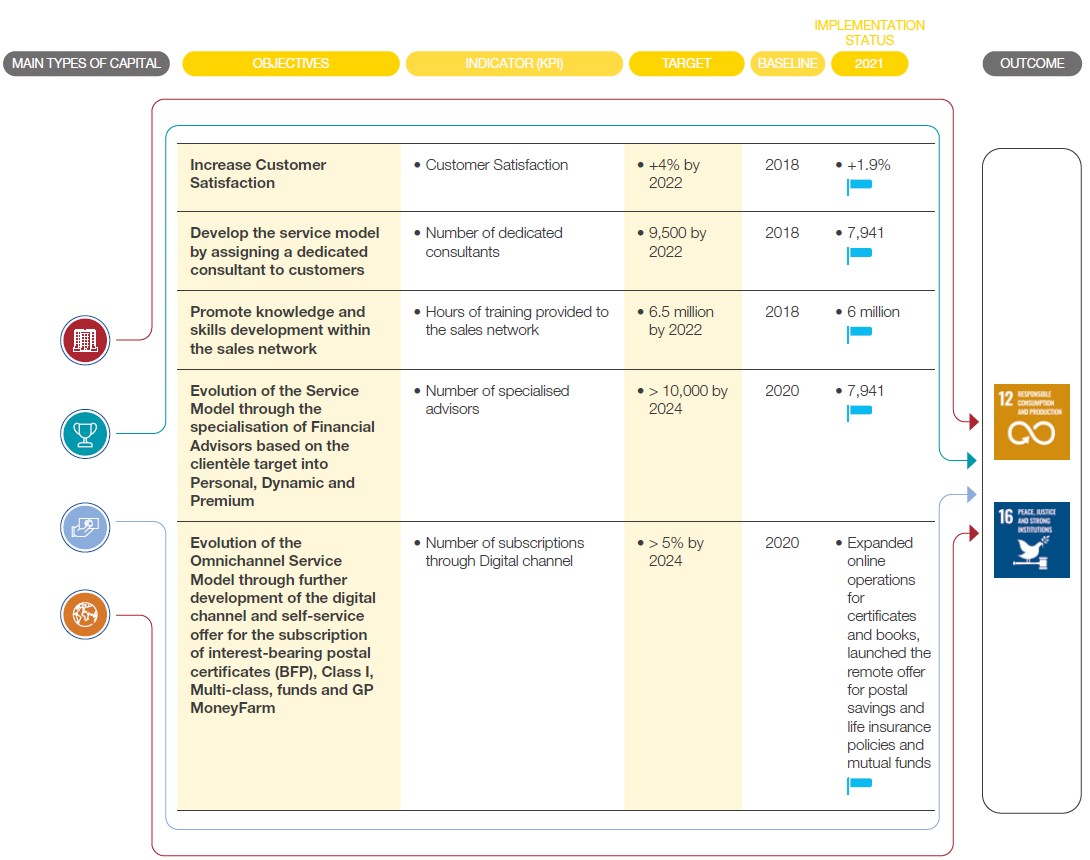 Objectives
Timing
Indicator (KPI)
Target
Implementation status 2020
Increase Customer Satisfaction
By 2022
Customer Satisfaction
+4%
+0.8%
Deadline for achieving the objective
Develop the service model by assigning a dedicated consultant to customers
By 2022
Number of dedicated consultants
9,500
8,078
Deadline for achieving the objective
Promote knowledge and skills development within the sales network
By 2022
Hours of training provided to the sales network
6.5 million
2.68 million
Deadline for achieving the objective
Improve and simplify the interaction between customer and Company
By 2022
Number of calls handled automatically
15%
18%
Objective achieved
Evolution of the Service Model through the specialisation of Financial Advisors based on the clientèle target into Personal, Dynamic and Premium
By 2024
Number of specialised advisors
>10,000
New
Evolution of the Omnichannel Service Model through further development of the digital channel and self-service offer for the subscriptions of interest-bearing postal certificates (BFP), Class I, Multi-class, Funds and GP MoneyFarm
By 2024
Number of subscriptions through Digital channel
>5%
New