Within the insurance industry, there is a growing interest in managing risks related to environmental, social and governance aspects.
By implementing effective risk prevention processes, the insurance segment can help to protect society, promote innovation and support economic growth, making an important contribution to the country's sustainable development.
Poste Vita has signed up to the Principles for Sustainable Insurance promoted by the United Nations, with the aim of becoming one of the leading proponents of a sustainability culture in the insurance sector. By adopting the PSI, Poste Italiane has confirmed the Group's goal of assessing ESG risks and opportunities, developing innovative insurance solutions and helping to drive business performance.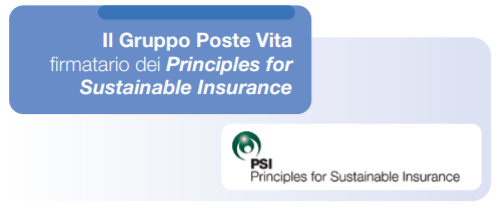 With the aim of formalising this commitment and aligning its business model with the Sustainable Development Goals, Poste Vita adopted a Responsible Insurance Policy, a document that describes the approach the Company intends to take in managing the risks and opportunities connected with environmental, social and governance factors within traditional insurance processes.
The path taken has led Poste Italiane Group to take first place in the world ranking for brand reputation drawn up by Brand Finance for the insurance sector in 2020. The Brand Strength Index (BSI) indicator, which measures the effectiveness of the Company's image and reputation and analyses management and investments that influence the brand, customer proximity, employee satisfaction and economic return, awarded Poste Italiane the overall top score of 85.5 and a corresponding rating of AAA. The result achieved reflects the quality of the insurance product and service offering and the speed of adaptation and resilience the company has shown in dealing with new challenges and unexpected needs related to the global health emergency from Covid-19.