HIGHLIGHTS

Open and
transparent
contracts
First company
in the financial
and communications
sectors to obtain the
anti-corruption
certification
Best performance for
brand image and
reputation
Integrated Group
Procurement
Model
Highest legality
rating score
Poste Italiane recognises ethics and transparency as the founding values of the corporate identity from which it derives its origin and which support the Company in driving a responsible business and managing relations with stakeholders in a direct and honest way. Therefore, the Company recognises the strategic importance of compliance with internal and external regulations and codes of conduct, as well as respect for rules and absolute fairness, without any conflict between corporate and personal interests. In line with the provisions of the Group's Integrated Policy, in 2021, Poste Italiane made no contributions of any kind, either directly or indirectly, to political parties, movements, committees and political and labour union organisations, or to their representatives or candidates, either in Italy or abroad. In this regard, in 2021 were disbursed contributions totaling € 3,263,286, fully allocated to trade associations.
Integrity and Transparency Data Overview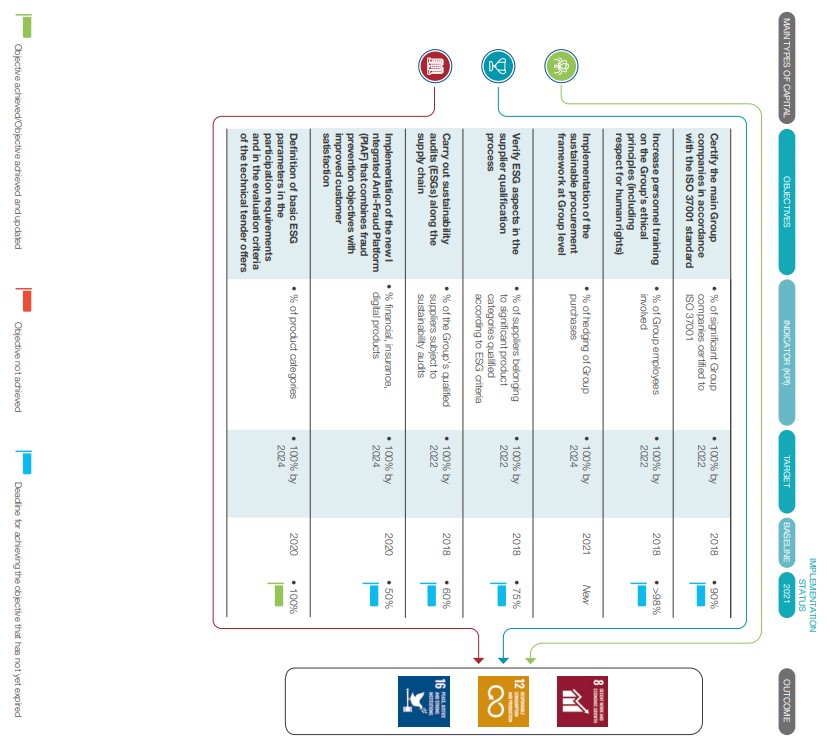 | Objectives | Indicator (KPI) | Target | Baseline | 2021 |
| --- | --- | --- | --- | --- |
| Certify the main Group companies in accordance with the ISO 37001 standard | % of significant Group companies certified to ISO 37001   | | 2018 | |
| Increase personnel training on the Group's ethical principles (including respect for human rights) | % of Group employees involved | | 2018 | |
| Implementation of the sustainable procurement framework at Group level | % of hedging of Group purchases | | 2021 | New |
| Verify ESG aspects in the supplier qualification process | % of suppliers belonging to significant product categories qualified according to ESG criteria | | 2021 | New |
| Carry out sustainability audits (ESGs) along the supply chain | % of the Group's qualified suppliers subject to sustainability audits | | 2018 | 75% |
| Implementation of the new Integrated Anti-Fraud Platform (PIAF) that combines fraud prevention objectives with improved customer satisfaction | % financial insurance, digital products | | 2018 | 60% |
| Definition of ESG parameters in the participation requirements and in the evaluation criteria of the technical tender offers | | | 2020 | 50% |