HIGHLIGHTS

Around 98% of the Group's electricity requirements come from 100% renewable sources, with certified Guarantees of Origin for the Group in 2025
43,761 tonnes of carbon dioxide saved for the rolling fleet
Around € 17 million Invested in projects to reduce environmental impacts
Innovative solutions to promote the transition to a low-carbon economy
For Poste Italiane, environmental protection is a non-negotiable aspect when creating sustainable value. With this perspective, the Group follows this commitment in the communities in which it works, as governed in the Group's Code of Ethics, through knowledgeable use of resources and innovative solutions that allow it to minimise negative environmental impacts.
The Company's objective is to spread an environmental protection culture, whilst systematically drawing up sectoral action plans regarding the efficient management of energy resources, water resources and waste, from a circular economy perspective, in order to reduce its ecological footprint.
2021 Environmental Data Overview
Internal Group energy consumption. The total energy consumption of the Group was 4,157,939 GJ, of which 1,588,317 GJ from renewable sources.
Total Direct GHG emissions – Scope 1. In 2021 Poste Italiane generated 165,508 tCO2e of direct GHG emissions.
Total Indirect GHG emissions - Scope 2. Total indirect GHG emissions have been reduced by about 45% over the past three years. Specifically, the Group in 2021 generated indirect GHG emissions of 5,709 tCO2e (market-based methodology | compared to an established target of 6,500 tCO2e); these emissions, calculated through the location-based methodology, were 142,966 tCO2e (compared to an established target of 145,500 tCO2e).
Total other indirect GHG emissions – Scope 3. This category reflects the total other indirect emissions generated by the Group's value chain. In this regard, 178,737 tCO2e were generated in 2021. Specifically, with reference to business travel, total emissions were 8,700 tCO2e (compared to a target set for 2021 of 9,200 tCO2e).
Total waste produced. In 2021, the quantity of total waste produced by Poste Italiane is 34,471.7 t, of which 1,269.5 t were disposed of.
Scope 3 financed emissions. In 2021, through the support of Moody's rating agency, Poste Italiane calculated its absolute Scope 3 financed emissions of 6,641,823.42 tCO2e and Weighted Average Carbon Intensity (WACI) of 153.41 tCO2e/€ mln revenues. Detailed information, also with reference to the breakdowns of the above data, can be found in the attached document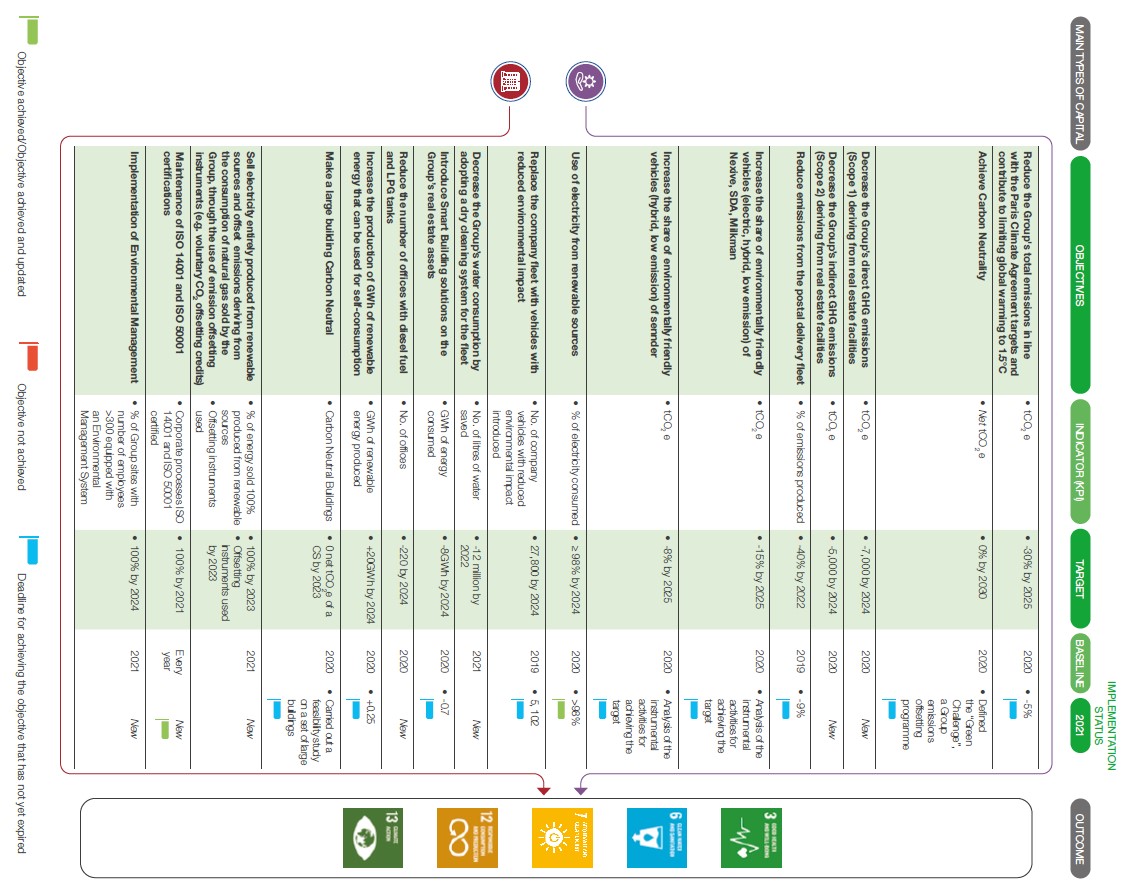 Green transition
Objectives
Indicator (KPI)
Target
Baseline
2021
Reduce the Group's total emissions in line with the Paris Climate Agreement targets and contribute to limiting global warming to 1.5°C
2020
Achieve Carbon Neutrality
2020

Defined the "Green Challenge", a Group emissions offsetting programme

Decrease the Group's direct GHG emissions (Scope 1) deriving from real estate facilities
2020
New
Decrease the Group's direct GHG emissions
(Scope 2) deriving from real estate facilities
2020
New
Reduce emissions from the postal delivery fleet
2019
Increase the share of environmentally friendly vehicles (electric, hybrid, low emission) of Nexive, SDA, Milkman
2020

Analysis of the instrumental activities for achieving the target

Increase the share of environmentally friendly vehicles (electric, hybrid, low emission) of sennder
2020

Analysis of the instrumental activities for achieving the target

Use of electricity from renewable sources
2020
Replace the company fleet with vehicles with
reduced environmental impact

No. of company vehicles with reduced environmental impact introduced

2019
Decrease the Group's water consumption by
adopting a dry cleaning system for the fleet

No. of litres of water saved

2021
New
Introduce Smart Building solutions on the
Group's real estate assets
New
Objective achieved
Reduce the number of offices with diesel fuel
and LPG tanks
2020
New
Increase the production of GWh of renewable
energy that can be used for self-consumption

GWh of renewable energy produced

2020
Make a large building Carbon Neutral

0 net tCO2e of a CS by 2023

2020

Carried out a feasibility study on a set of large buildings

Sell electricity entirely produced from renewable
sources and offset emissions deriving from
the consumption of natural gas sold by the
Group, through the use of emission offsetting
instruments (e.g. voluntary CO2 offsetting credits)

% of energy sold 100% produced from renewable sources
Offsetting instruments used

100% by 2023
Offsetting instruments used by 2023

2021
New
Maintenance of ISO 14001 and ISO 50001
certifications

Corporate processes ISO 14001 and ISO 50001 certified

Every year
New
Implementation of Environmental Management

% of Group sites with number of employees >300 equipped with an Environmental Management System

2021
New