HIGHLIGHTS

4.8 million downloads of the PosteMobile App
14.4 million downloads of the Postepay App
Commercialised the first Postepay in biodegradable materials


+700 Start-ups analysed


Over 57 million Digital - Consumer
transactions
For Poste Italiane, innovation and digitisation represent the beating heart for the promotion of change and the key tool to accompany its customers in the process of digital transformation. As part of this path, the Company is committed to adopting a highly inclusive approach, aimed at promoting accessibility by all its customers.
In line with its values and the Group's mission to support development and inclusion, Poste Italiane is committed to leading the country system towards progress and modernisation by defining processes that enable the development of increasingly innovative products and services.
The pursuit for sustainable success has brought about major changes in the global competitive landscape, leading companies to think differently about their products, services and processes. For this reason, Poste Italiane identifies innovation and digitisation as two key drivers for strategic progress, committing to integrate its products and services also with those of third parties, in order to offer cutting-edge technological solutions. Through these drivers, the Group acts as a driver of innovation and digitisation of the country, ensuring the accessibility and functionality of its offer to all citizens and promoting the connection with the business fabric and the Public Administration.
During the course of the Covid-19 pandemic, the Company implemented a series of technological solutions that enabled the Group's 35 million customers to continue using its products and services, despite the disruption caused by the health emergency. In particular, Poste Italiane was able to quickly and effectively integrate its traditional services with new proposals more focused on a digital approach.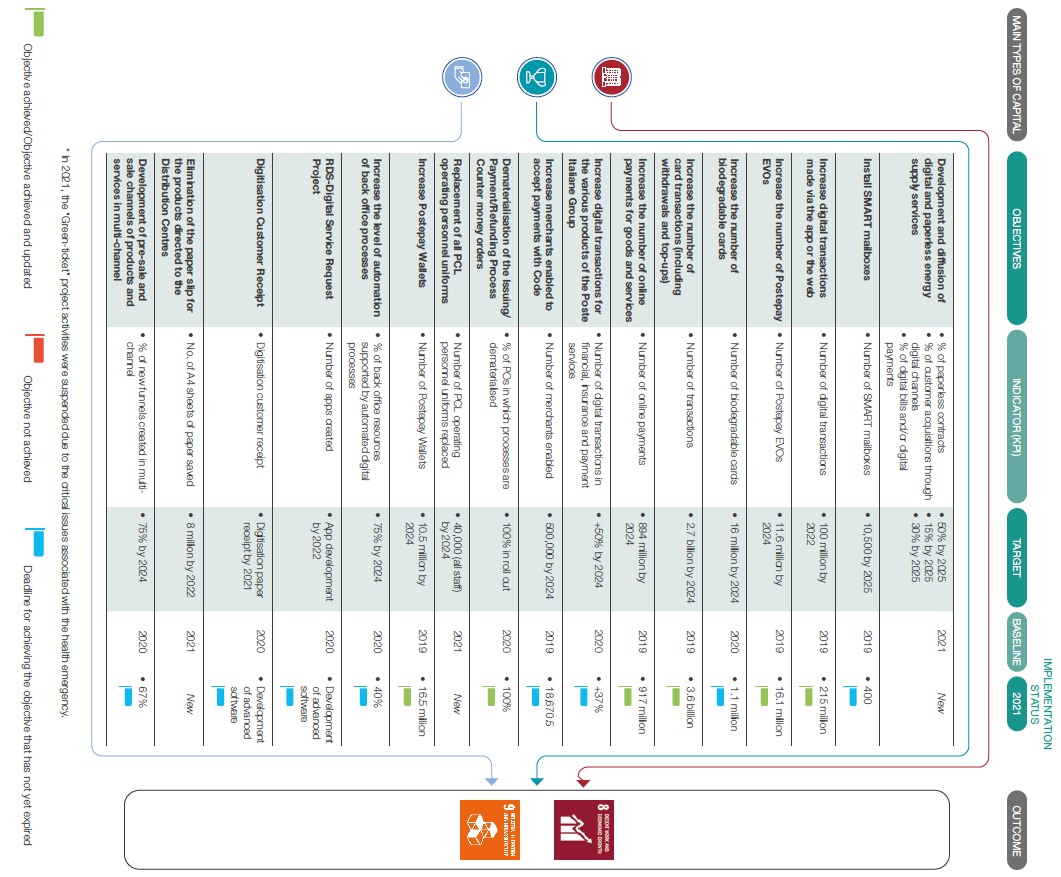 Objectives
Timing
Indicator (KPI)
Target
Implementation status 2020
Green-ticket project
By 2021
% of Post Offices enabled
100%
New
Install SMART mailboxes
By 2025
Number of SMART mailboxes
10,500
347
Deadline for achieving the objective
Increase digital transactions made via the app or the web
By 2022
Number of digital transactions
100 million
90.3 million
Deadline for achieving the objective
Increase the downloads of the Postepay and PosteMobile apps
By 2022
Number of downloads
10%
25%
Objective achieved
Increase the number of Postepay EVOs
By 2024
Number of Postepay EVOs
11.6 million
7.7 million
Deadline for achieving the objective
Increase the number of biodegradable cards
By 2024
Number of biodegradable cards
16 million
New
Increase the number of card transactions (including withdrawals and top-ups)
By 2024
Number of transactions
2.7 billion
1.6 billion
Deadline for achieving the objective
Increase the number of online payments for goods and services
By 2024
Number of online payments
894 million
397 million
Deadline for achieving the objective
Increase digital transactions for the various products of the PI Group
By 2024
Number of digital transactions in financial, insurance and payment services
50%
New
Increase merchants enabled to accept payments with Code
By 2024
Number of merchants enabled
500,000
70.5
Deadline for achieving the objective
Dematerialisation of the Issuing/Payment/Refunding Process Counter money orders
In roll out
% of POs in which processes are dematerialised
100%
New
Replacement of all PCL operating personnel uniforms
By 2022
Number of PCL operating personnel uniforms replaced
40,000 (all staff)
New
Increase Postepay Wallets
By 2024
Number of Postepay Wallets
10.5 million
7.4 million
Deadline for achieving the objective
Digitisation of back office processes
By 2021
% of resources impacted by the new BPM and back office process re-engineering
65%
New
Increase the level of automation of back office processes
By 2024
% of back office resources supported by automated digital processes
75%
New
RDS-Digital Service Request Project
By 2021
Number of apps created
App development
New
Digitisation Customer Receipt
By 2021
Digitisation customer receipt
Digitisation paper receipt
New
Integrated multi-channel on protection insurance products
By 2021
Creation of pre-sale and sale funnels
Creation of pre-sale and sale funnels of protection products
New
Development of pre-sale and sale channels of products and services in multi-channel
By 2024
% of new funnels created in multi-channel
75%
New