HIGHLIGHTS

4.8 million downloads of the PosteMobile App
Commercialised the first Postepay in biodegradable materials
26%
more customers
registered on Poste
Italiane's digital
channels (websites
and apps) compared to
2020
18.4 million downloads of the Postepay App
~ 2 billion will be invested in the digital transformation of the Group over the 2021-2024 period
For Poste Italiane, innovation and digitisation represent the beating heart for the promotion of change and the key tool to accompany its customers in the process of digital transformation. As part of this path, the Company is committed to adopting a highly inclusive approach, aimed at promoting accessibility by all its customers.
In line with its values and the Group's mission to support development and inclusion, Poste Italiane is committed to leading the country system towards progress and modernisation by defining processes that enable the development of increasingly innovative products and services.
In order to respond to drastic changes in international markets, with increased focus on sustainable success, companies have been forced to redesign their products, services and processes. For Poste Italiane, innovation and digitisation are two fundamental drivers for strategic success. In order to offer state-of-the-art technical solutions, the Company is committed to integrating its own products and services with third-party providers. Through these drivers, the Group acts as a leader in innovation and digitisation in Italy, ensuring the accessibility and functionality of its offer to all citizens and promoting the connection with business communities and Public Administration. Moreover, the Group will expand its diversified palette of services in 2022 with its entry into the energy sector, leveraging a 100% green approach. This project combines aspects relating to the green transition with the innovation and digitisation objectives pursued by the Company, constituting a major opportunity for sustainable development in Italy.
Because of the Covid-19 pandemic, Italy was forced to accelerate the innovation and digitisation process of its services that had already begun several years ago. With the emergency measures lasting longer than anticipated, a remarkable switch could be observed among companies towards digital solutions, and in this context Poste Italiane implemented a series of technological solutions which led to a 38% increase in customer-oriented operations carried out through digital channels compared to 2020.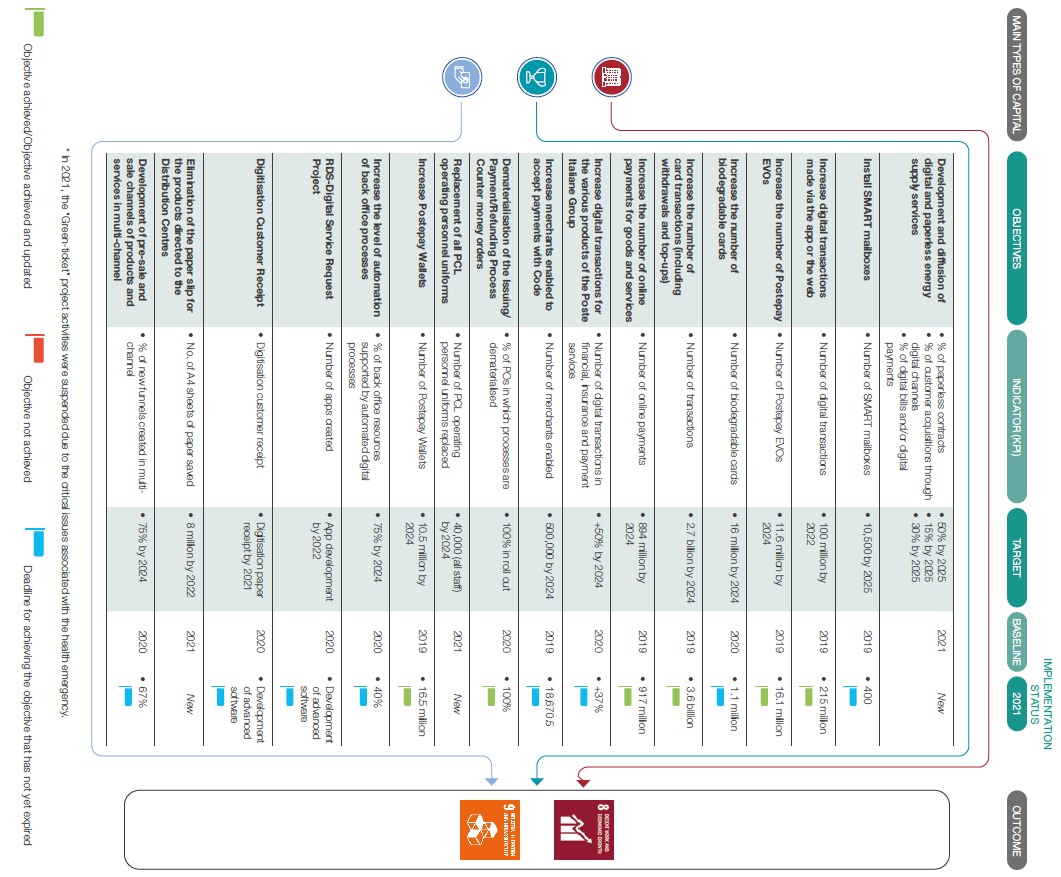 Objectives
Indicator (KPI)
Target
Baseline
2021
Development and diffusion of digital and paperless energy supply services

% of paperless contracts
% of customer acquisitions through digital channels
% of digital bills and/or digital payments

50% by 2025
15% by 2025
30% by 2025

2021
New
Install SMART mailboxes

Number of SMART mailboxes

2019
Increase digital transactions made via the app or the web

Number of digital transactions

2019
Increase the number of Postepay EVOs
2019
Increase the number of biodegradable cards

Number of biodegradable cards

2020
Increase the number of card transactions (including withdrawals and top-ups)
2019
Increase the number of online payments for goods and services

Number of online payments

2019
Increase digital transactions for the various products of the Poste Italiane Group

Number of digital transactions in financial, insurance and payment services

2020
Increase merchants enabled to accept payments with Code

Number of merchants enabled

2019
Dematerialisation of the Issuing/Payment/Refunding Process Counter money orders

% of POs in which processes are dematerialised

2020
Replacement of all PCL operating personnel uniforms

Number of PCL operating personnel uniforms replaced

40,000 (all staff) by 2024
2021
New
Increase Postepay Wallets

Number of Postepay Wallets

2019
Increase the level of automation of back office processes

% of back office resources supported by automated digital processes

2020
RDS-Digital Service Request Project
2020

Development of advanced software

Digitisation Customer Receipt

Digitisation customer receipt

Digitisation paper receipt

2020

Development of advanced software

Elimination of the paper slip for the products directed to the Distribution Centres

No. of A4 sheets of paper saved

2021
New
Development of pre-sale and sale channels of products and services in multi-channel

% of new funnels created in multi-channel

2020