HIGHLIGHTS

Poste Italiane entered the top five of the gender equality ranking of companies belonging to the FTSE MIB index of the Milan Stock Exchange, drawn up by Equileap
44.4% of the Board of Directors
of the Parent Company is
composed of women
46% of female incidence among
middle and senior women
managers in 2020
Participation of more than 700
employees in the MAAM project in 2020
The Company maintains a high level of attention to its own strategy for a correct valorisation of the different needs expressed by people. The exclusive promotion of diversity is an enabling factor for the involvement and engagement of people to achieve corporate objectives. In addition, increasing awareness in the management of diversity creates a competitive advantage for the Company and shared social value.
The Diversity and inclusion programmes carried out are therefore part of a broad context, in order to act simultaneously on culture and enhancement of individual differences and to reduce situations of individual fragility in support of balanced organisational models that enhance dialogue and the emergence of diversity.
Poste Italiane has subscribed to the Women's Empowerment Principles, the initiative promoted by UN Women and the Global Compact in support of gender equality worldwide as further confirmation of its commitment to supporting the achievement of the Sustainable Development Goals.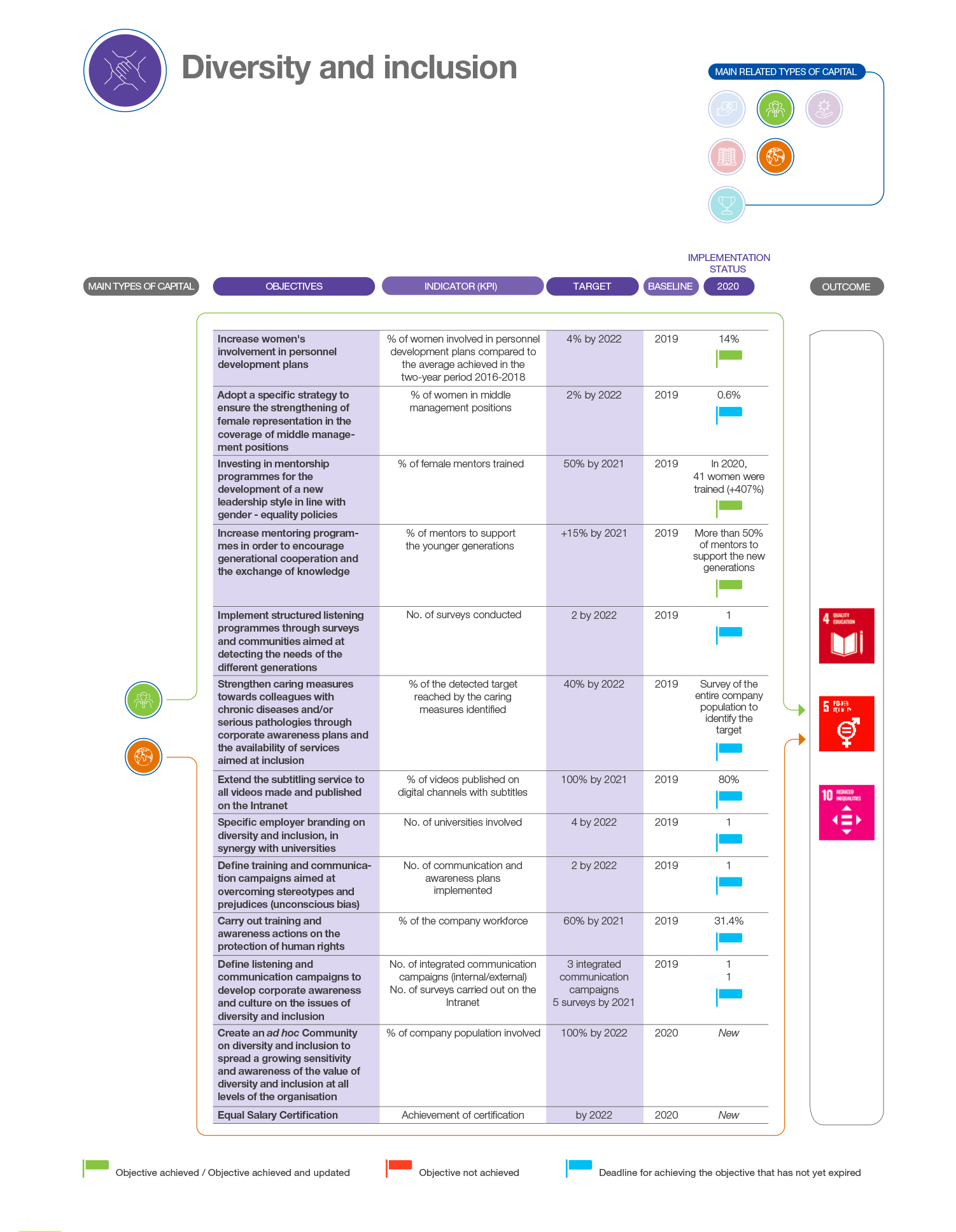 Objectives
Indicator (KPI)
Target
Baseline
Implementation status 2020
Increase women's involvement in personnel development plans
% of women involved in personnel development plans compared to the average achieved in the two-year period 2016-2018
4% by 2022
2019
 

14%

Adopt a specific strategy to ensure the strengthening of female representation in the coverage of middle management positions
% of women in middle management positions
2% by 2022
2019
0.6%
Investing in mentorship programmes for the development of a new leadership style in line with gender - equality policies
% of female mentors trained
50% by 2021
2019
In 2020, 41 women were trained (+407%)
Increase mentoring programmes in order to encourage generational cooperation and the exchange of knowledge
% of mentors to support the younger generations 
+15% by 2021 
2019
More than 50% of mentors to support the new generations
Implement structured listening programmes through surveys and communities aimed at detecting the needs of the different generations
No. of surveys conducted
2 by 2022
2019
1
Strengthen caring measures towards colleagues with chronic diseases and/or serious pathologies through corporate awareness plans and the availability of services aimed at inclusion
% of the detected target reached by the caring measures identified 
40% by 2022 
2019
Survey of the entire company population to identify the target 
Extend the subtitling service to all videos made and published on the Intranet
% of videos published on digital channels with subtitles
100% by 2021
2019
80%
Specific employer branding on diversity and inclusion, in synergy with universities
No. of universities involved
4 by 2022
2019
1
Define training and communication campaigns aimed at overcoming stereotypes and prejudices (unconscious bias)
No. of communication and awareness plans implemented
2 by 2022 
2019
1
Carry out training and awareness actions on the protection of human rights
% of the company workforce
60% by 2021
2019

31.4%

Define listening and communication campaigns to develop corporate awareness and culture on the issues of diversity and inclusion
No. of integrated communication campaigns (internal/external) No. of surveys carried out on the Intranet
3 integrated communication campaigns 5 surveys by 2021 
2019
1
1
Create an ad hoc Community on diversity and inclusion to spread a growing sensitivity and awareness of the value of diversity and inclusion at all levels of the organisation
% of company population involved
100% by 2022
2020
New
Equal Salary Certification 
Achievement of certification
by 2022
2020
New