Background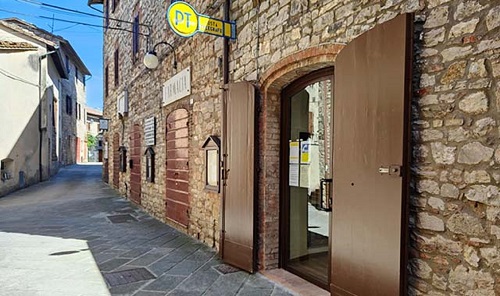 The simple truth is staring us in the face. It remains true in any place, any industry. We just have to be willing to see it.
The truth is that involving and valuing local communities in a new company venture, short- or long-term, significantly contributes to its success.
Without the active and genuine involvement of local communities, implementing any initiative often turns into a struggle and can lead to failure – no matter how much money is invested.
Poste Italiane's commitment
Our
commitment
to strengthening Italy's social and economic fabric is enshrined in our
Policy on Community Initiatives
and embedded into our Code of Ethics.
Thanks to our widespread network of post offices, we support local communities by promoting digitalization, citizen welfare and socio-economic development. We also promote social and financial inclusion by developing high-quality products and services.
Poste Italiane fosters an all-encompassing approach and constant dialogue with citizens, institutions, and not-for-profit associations, both locally and nationally, always striving to reconcile different needs and requirements.
Some examples of our actions (2022 data):

Areas of impact
We
generate economic value
not only for stakeholders directly affected by Poste Italiane's business but also for the entire country. Our activities directly or indirectly fuel gross domestic product (GDP), work income, employment, and taxes for public administrations, both locally and nationally.
The direct impacts of our operations plus the indirect effects of Poste Italiane's supply chain and those generated by employee spending on consumer goods and services are part of Poste's contribution to the economy.
Poste's Impacts over the last five years (2018-2022):

Financial and digital inclusion
Poste Italiane is committed to promoting financial and digital accessibility and inclusion for people who, due to personal or physical conditions, cannot directly access the products and services they need for their livelihood.
We also promote financial education, enabling citizens to learn and become informed, empowering them to make smart choices. During 2022, the Group participated in the fifth edition of the "Financial Education Month", #ottobreedufin2022, the largest Italian event on financial education, established and promoted by the Committee for the planning and coordination of financial education activities (Comitato per la programmazione e il coordinamento delle attività di educazione finanziaria - Edufin Committee) with information and awareness-raising activities and events on financial, insurance and pension.


Dialogue with institutions
Poste Italiane is actively engaged with the "Mayors of Italy" to support the first citizens of small municipalities and their communities. We are working to introduce new services dedicated to local jurisdictions with fewer than 5,000 inhabitants.
In addition to keeping our promise not to close any post office, recently we have:
installed 1,559 Postamat ATMs
activated home services and services at contracted businesses in municipalities without post offices
provided 2,645 municipalities with new green fleets
added 5,692 WI-FI hotspots in post offices in more than 5,000 municipalities
eliminated 1,104 architectural barriers in more than 1,000 municipalities
installed 11,962 new mailboxes, 303 smart mailboxes and 9,833 video surveillance systems.

Community support
In 2022, we supported 291 social and cultural initiatives, including the delivery of 10 renovated and furnished apartments to organizations that assist women victims of domestic violence and their children.
They house 200 women who will be able to regain their safety, dignity, and autonomy. This is a continuation of our efforts over the past few years, which started with a project that sought to help find jobs for women victims of violence.


Solidarity and circular economy
Thanks to an agreement with Caritas Italiana, we have renewed our "Found Values" initiative. Its goal is to allocate the contents of uncollected packages, or undeliverable ones, to the neediest families through the "Empori della Solidarietà" or "Solidarity Emporiums," a network of supermarkets that provides free necessities to disadvantaged families.

This project enables underprivileged families to receive goods, such as clothing, toys, small appliances, and household utensils, which they would not normally be able to afford. The initiative is currently operating at Caritas locations in Rome, Perugia, Pescara and Montesilvano, in the Abruzzo region, with the goal of expanding it to additional Solidarity Emporiums.


Financial Education
To make informed financial choices and find the most appropriate solutions, correct and adequate information is essential.

To this end, Poste Italiane has developed a simple, accessible financial education program to help everyone better understand financial, insurance and pension issues – from savings accounts to ESG funds. The program is tailored to different age groups, with the aim of promoting innovative solutions that can reduce the digital divide and increase the financial inclusion of even the most fragile and at-risk individuals.

Included in the program are three educational mini-video presentations, which help people navigate different financial, insurance and pension solutions to find the ones that best suit their needs. We also provide training and educational events, both online and locally, to further explore different financial issues and answer participants' questions with the help of experts.

To acquaint young people with the financial world, Poste has organized its "Il Risparmio che fa scuola" or "Learning to Save" initiative. The program is promoted in collaboration with the Ministry of Education and offers a free learning path designed to support financial literacy for the citizens of the future, encouraging them to reflect on their own savings behaviour.

In November 2021, Poste Italiane also achieved a UNI ISO 22222 Certification for the more than 8,000 financial advisors who help savers with their investment choices – the first major Italian company to obtain the certification.



TG Poste News