Poste Italiane: Highlights at 31 December 2021
12,761
Post Offices throughout the country
124.7 m
Digital channel transactions
Omni-channel strategy
The digital transformation undertaken by Poste Italiane in recent years has involved not only its own offerings, but also the distribution model which, through an omni-channel strategy, guarantees the Company the possibility to provide services that are in step with the needs of its customers.
The pandemic encouraged the acceleration of the transition to the new operating model, enabling the Company to respond quickly to changes in the market by leveraging its digital platforms that exploit the opportunities arising from technological innovation to create new personalised products and services and opening up additional channels of communication with its customers.
The Group's integrated omni-channel platform provides customer care and other services through three channels:
the proprietary physical network: the network of Post Offices, the specialist commercial service for business clients and the delivery logistic network for the delivery of mail and parcels;
digital infrastructure and remote contact points: all of the Group's digital properties & and its Contact Centre, able to serve the entire Italian population;
physical third-party networks: around 62,000 retail outlets and the result of commercial partnership agreements for the marketing of Group products and services.
Physical Network – Post Offices
The post office network is governed by the Private Markets function, which is divided into regional Areas, Branches and Post Offices and serves the entire country. From November 2021, the Private Markets function took over the management of the Commercial network for Small Economic Operator Clients.
31 December 2021

31 December 2020

Category
Personnel
Category
Personnel
Macro Areas Post Office Network
6
0.4
6
0.5
Branch offices
132
3.6
132
3.7
Post Offices
12,761
48.7
12,765
51.2
The number of resources (permanent and flexible) is expressed as full time equivalent employees (in thousands)
Geographical distribution of Post Offices and branches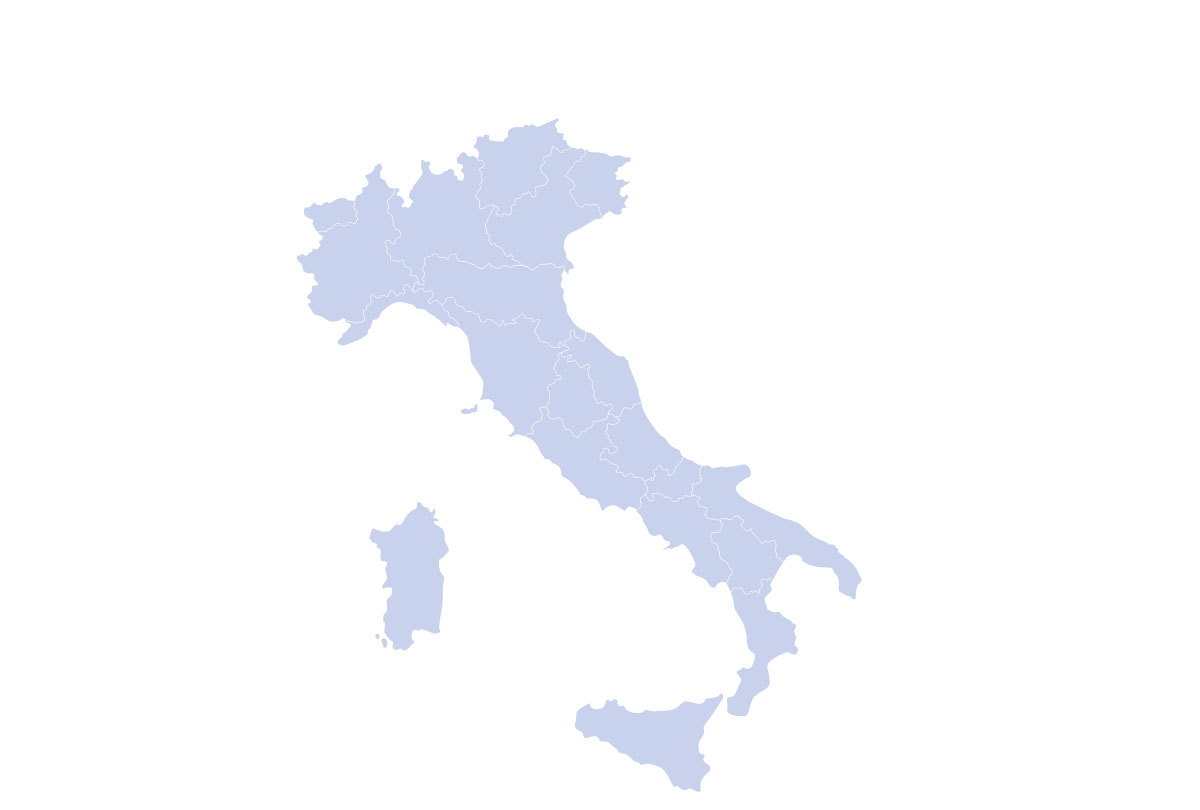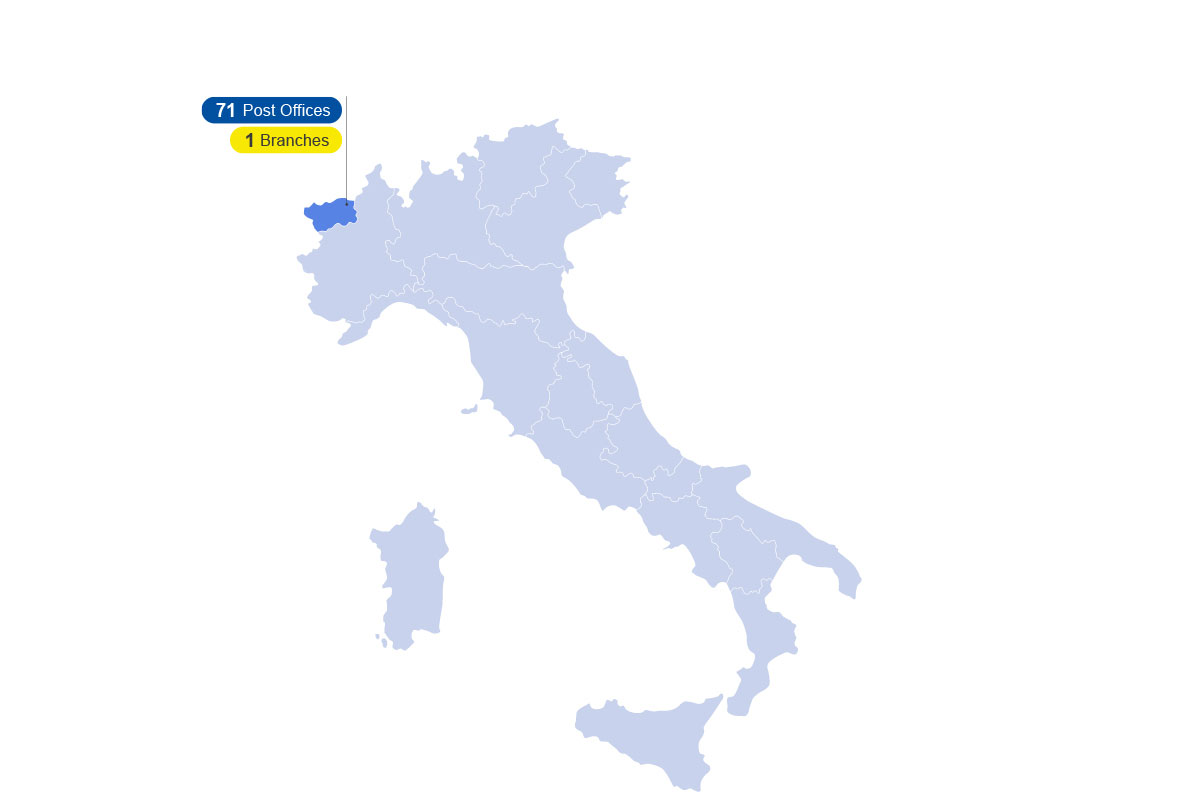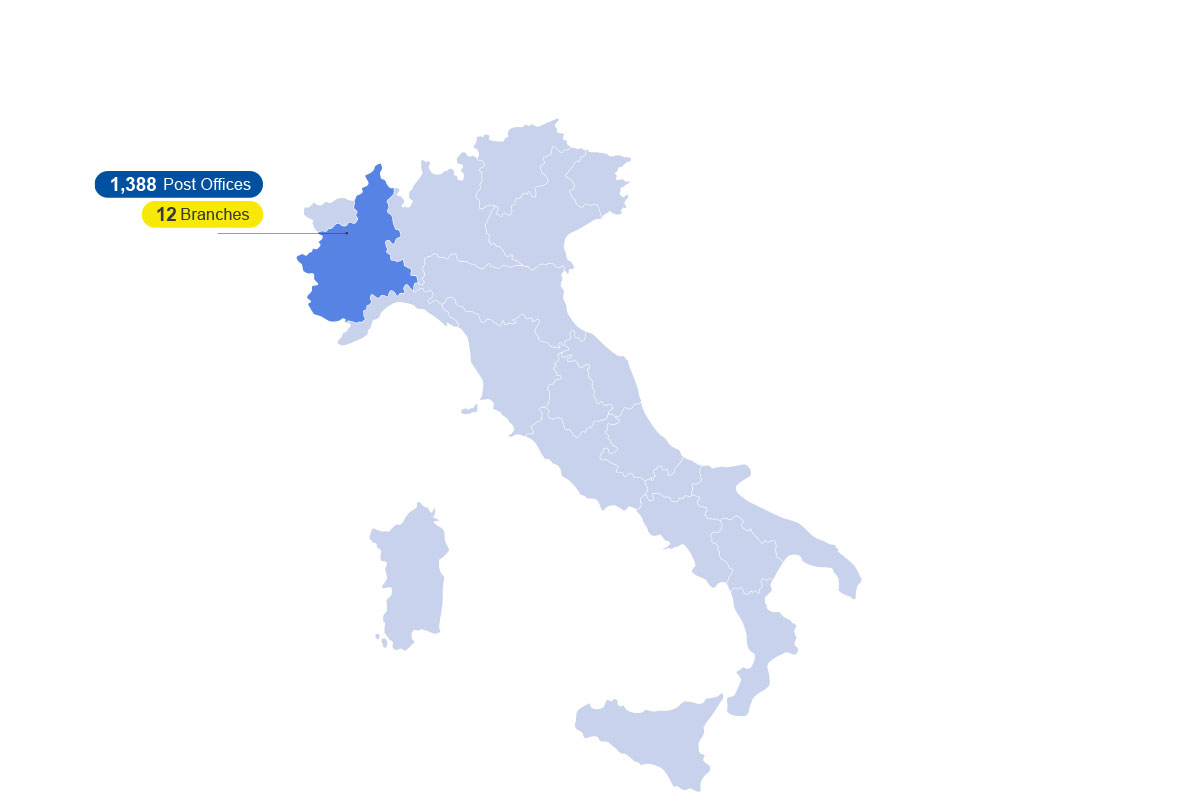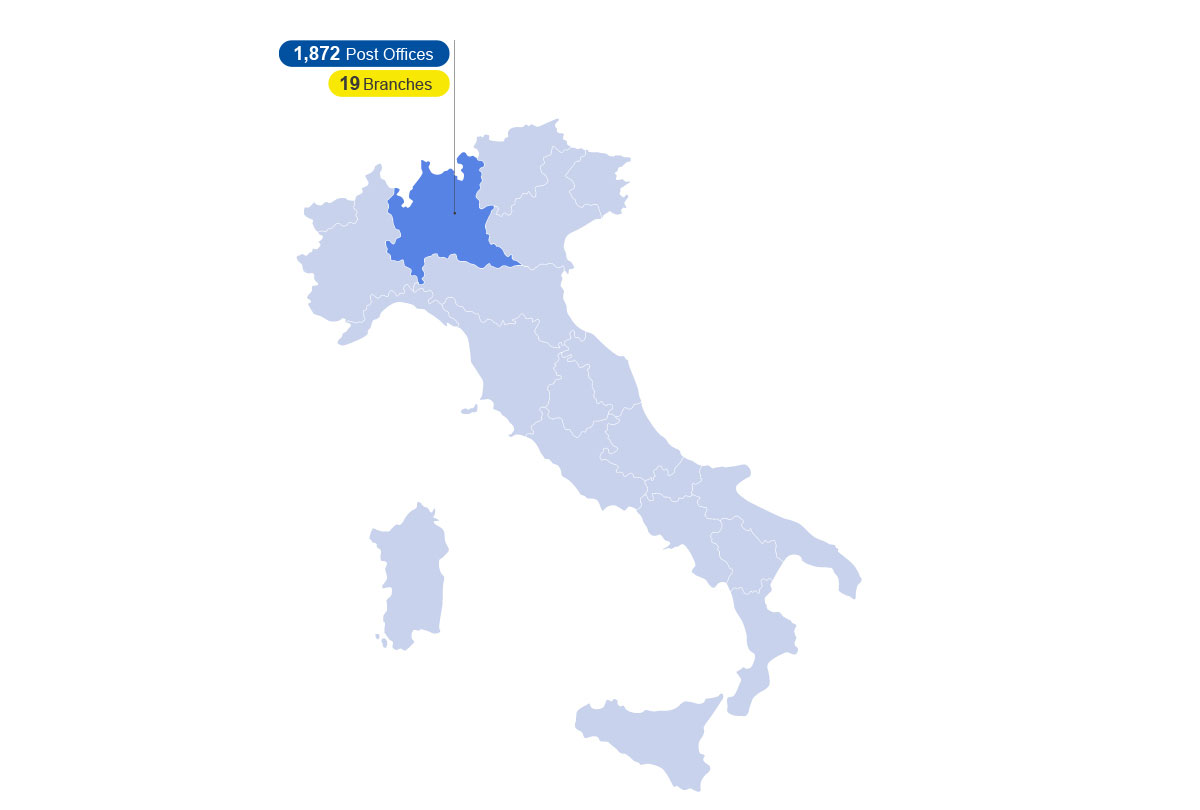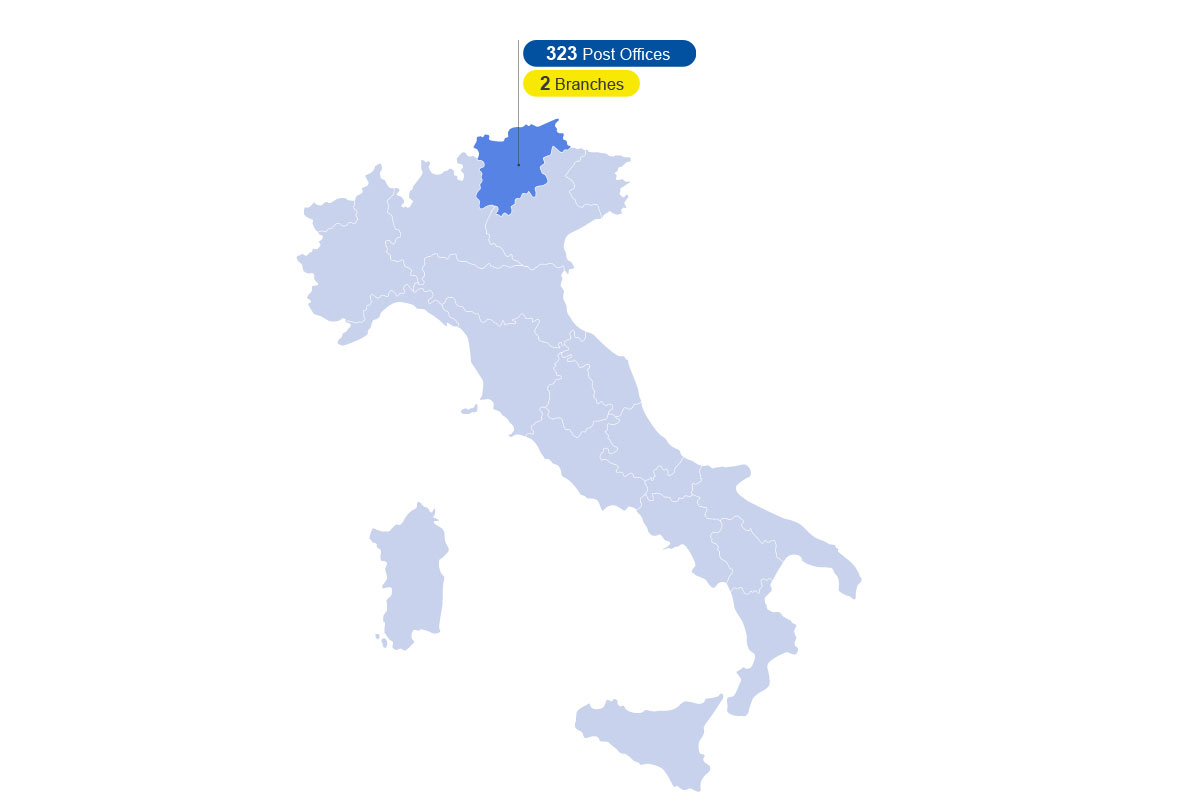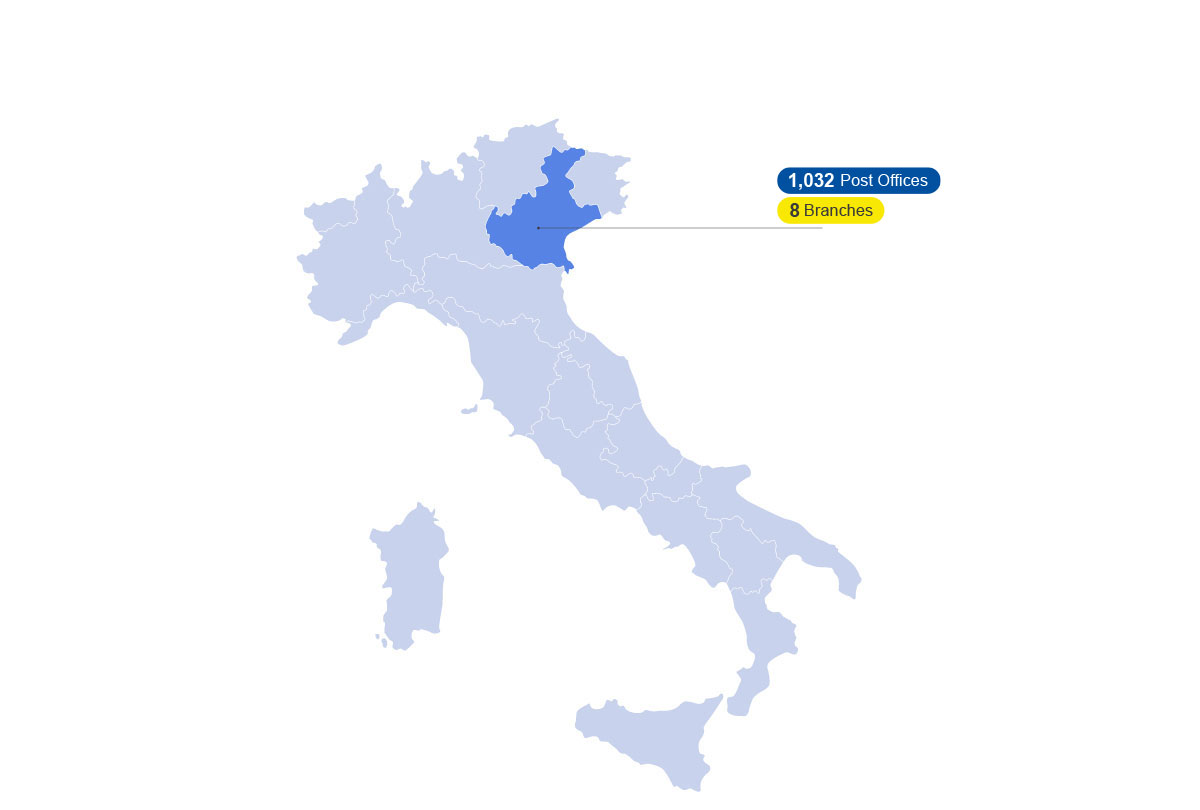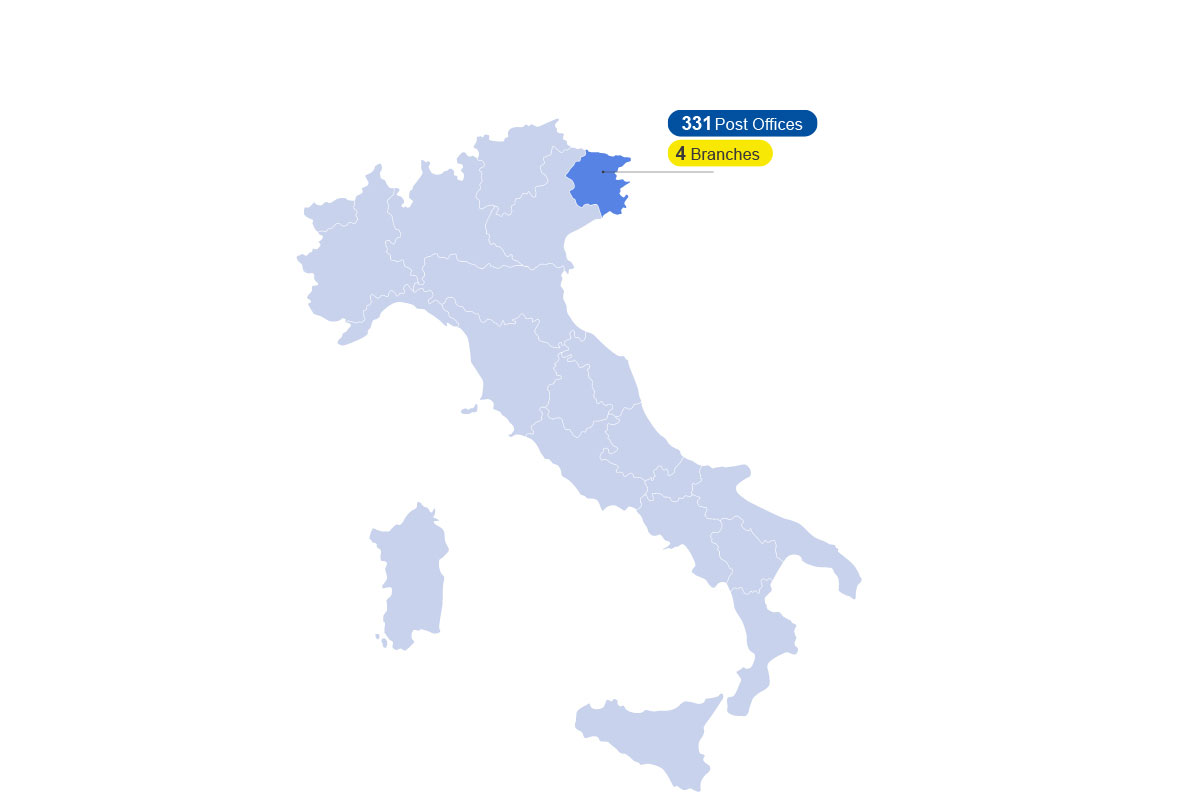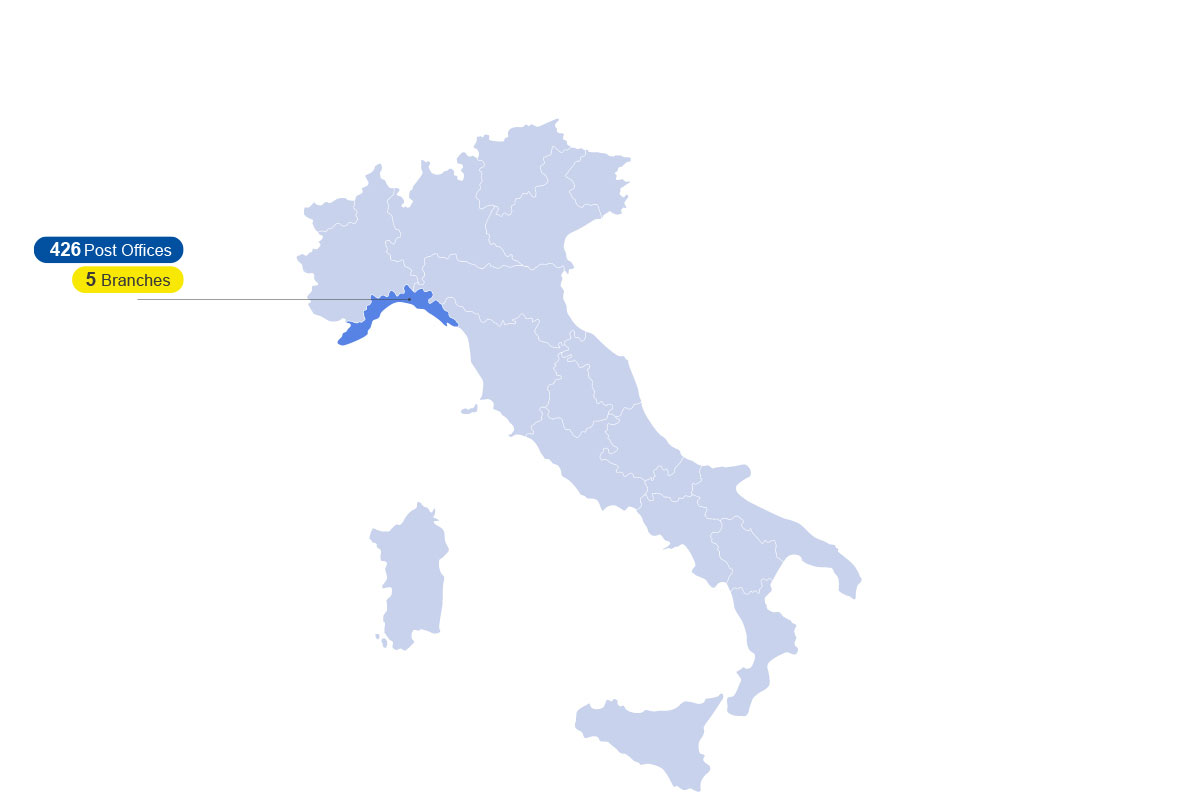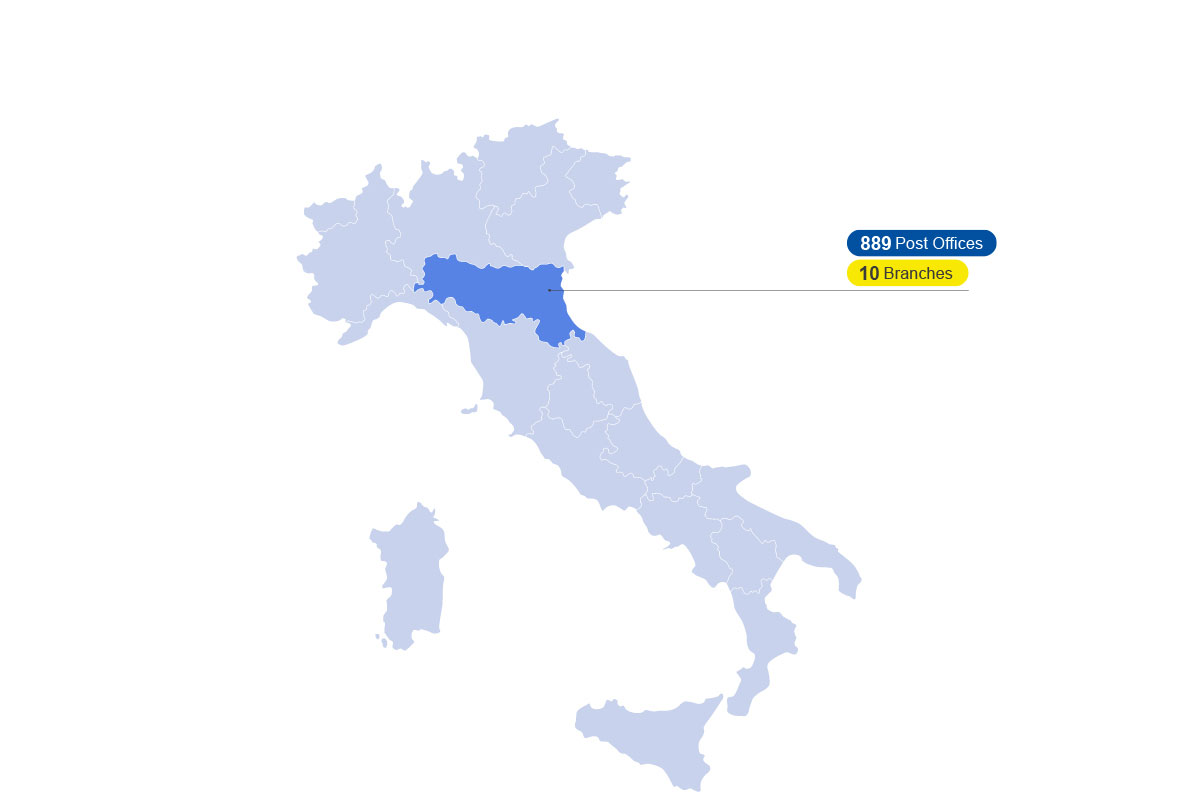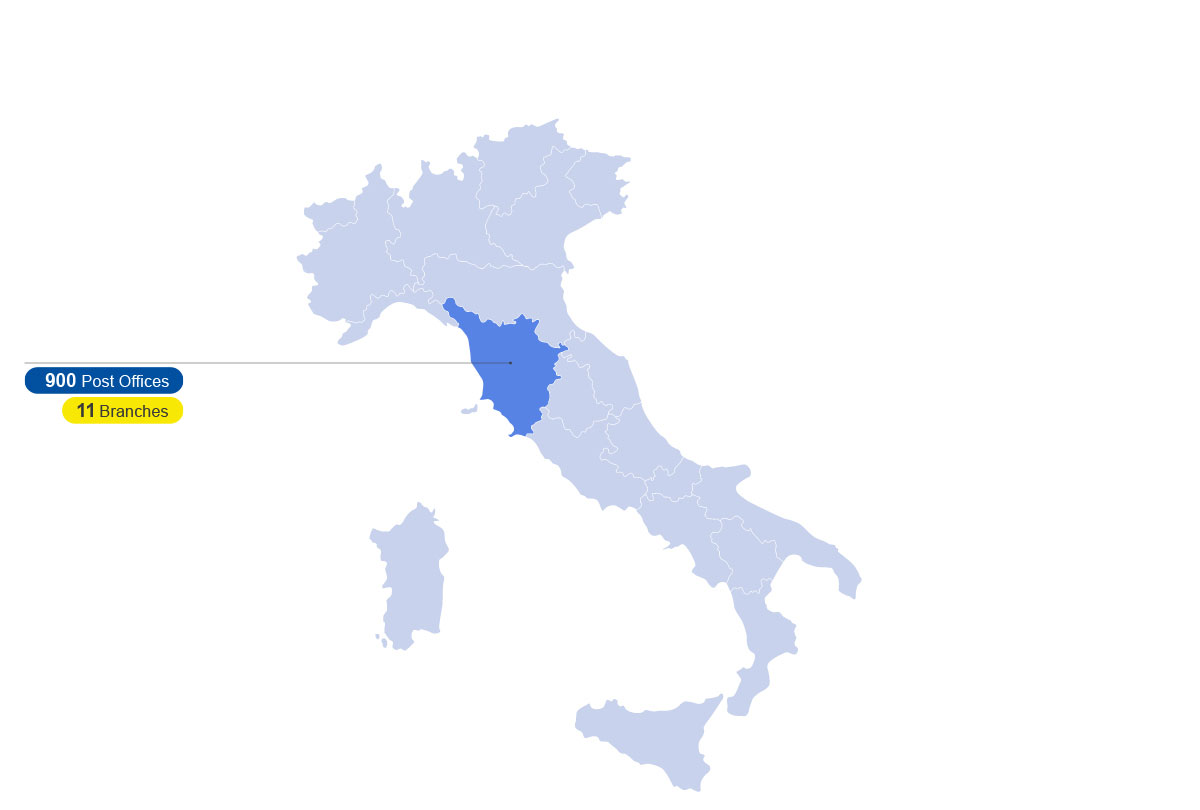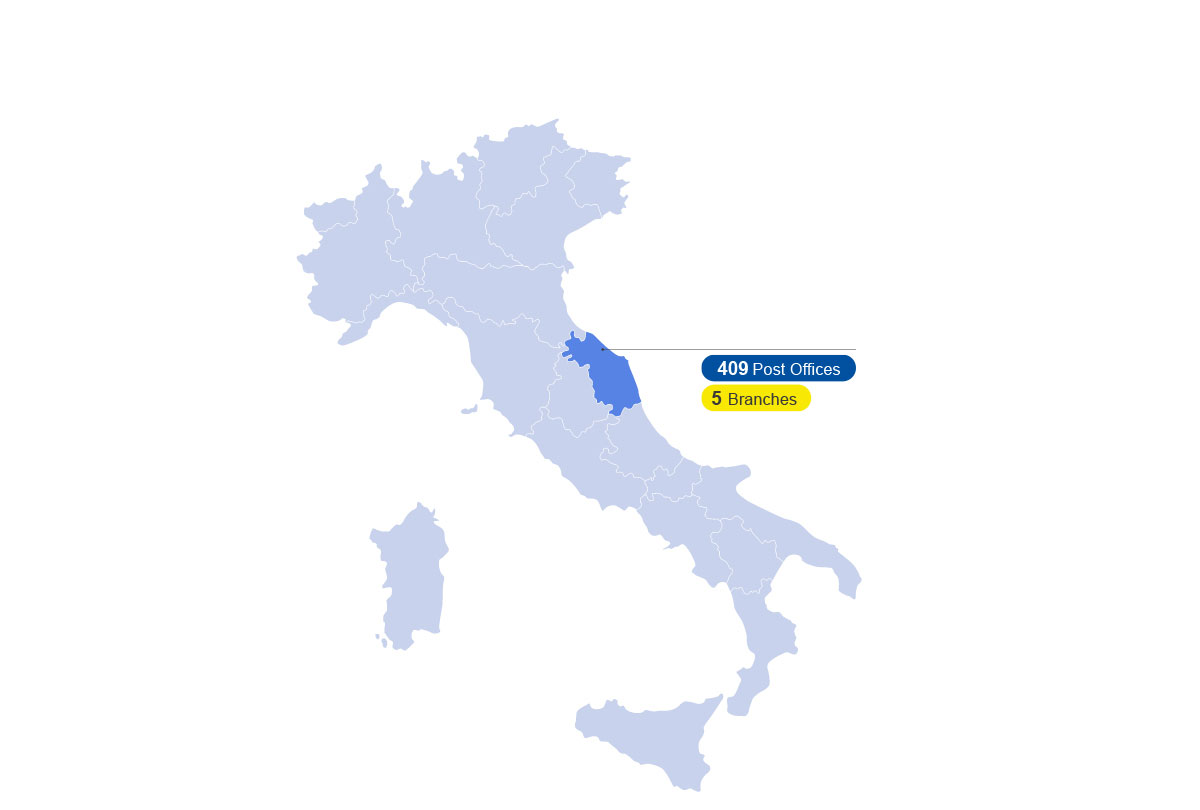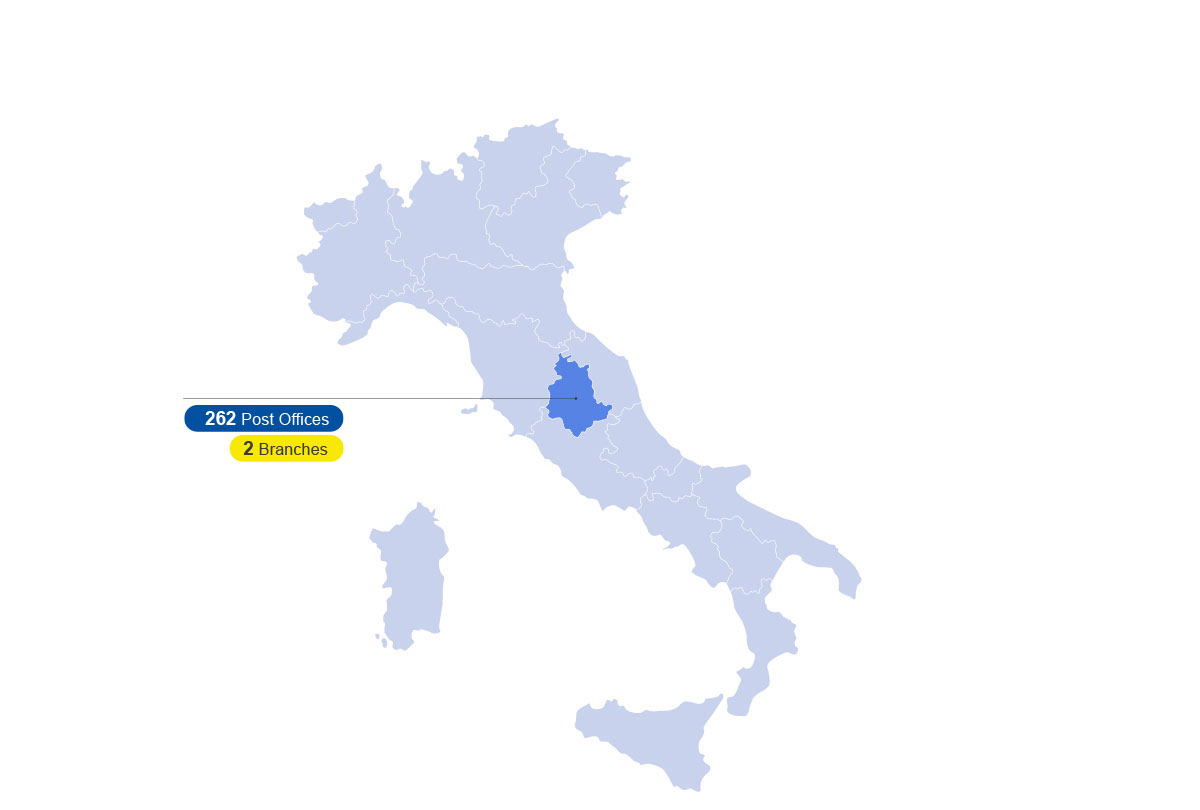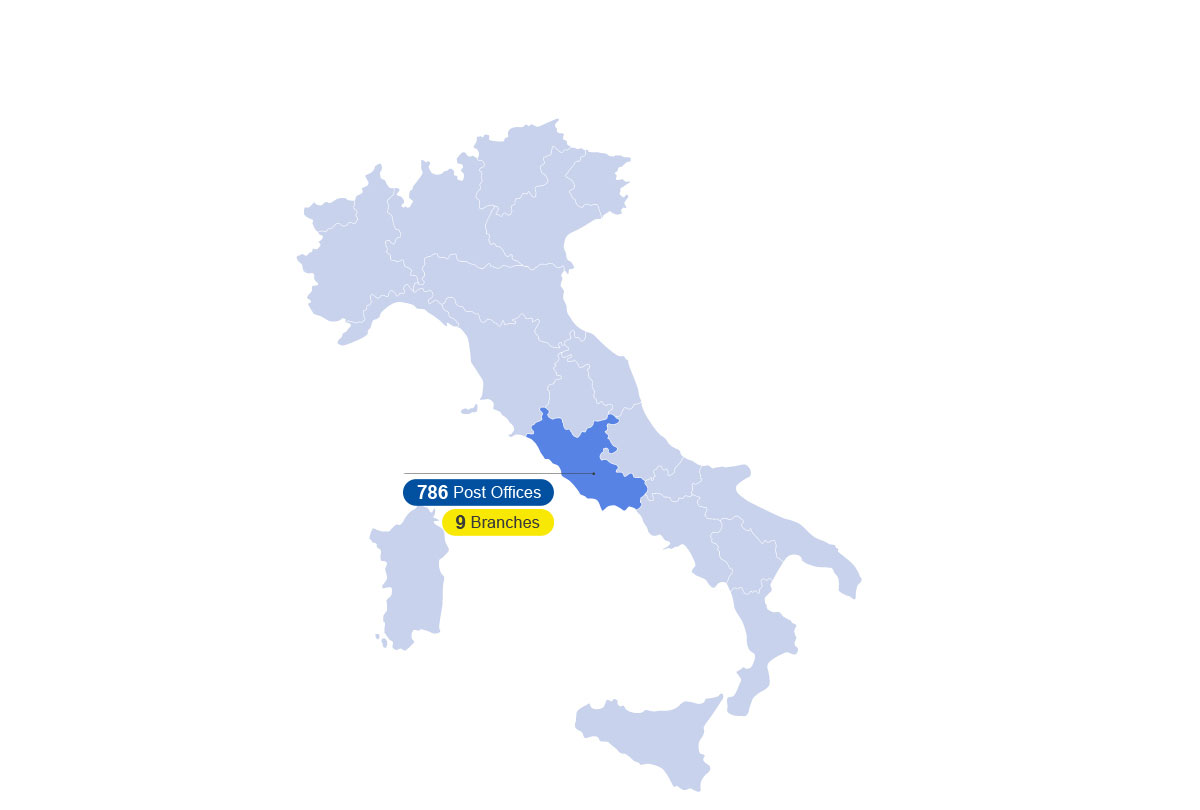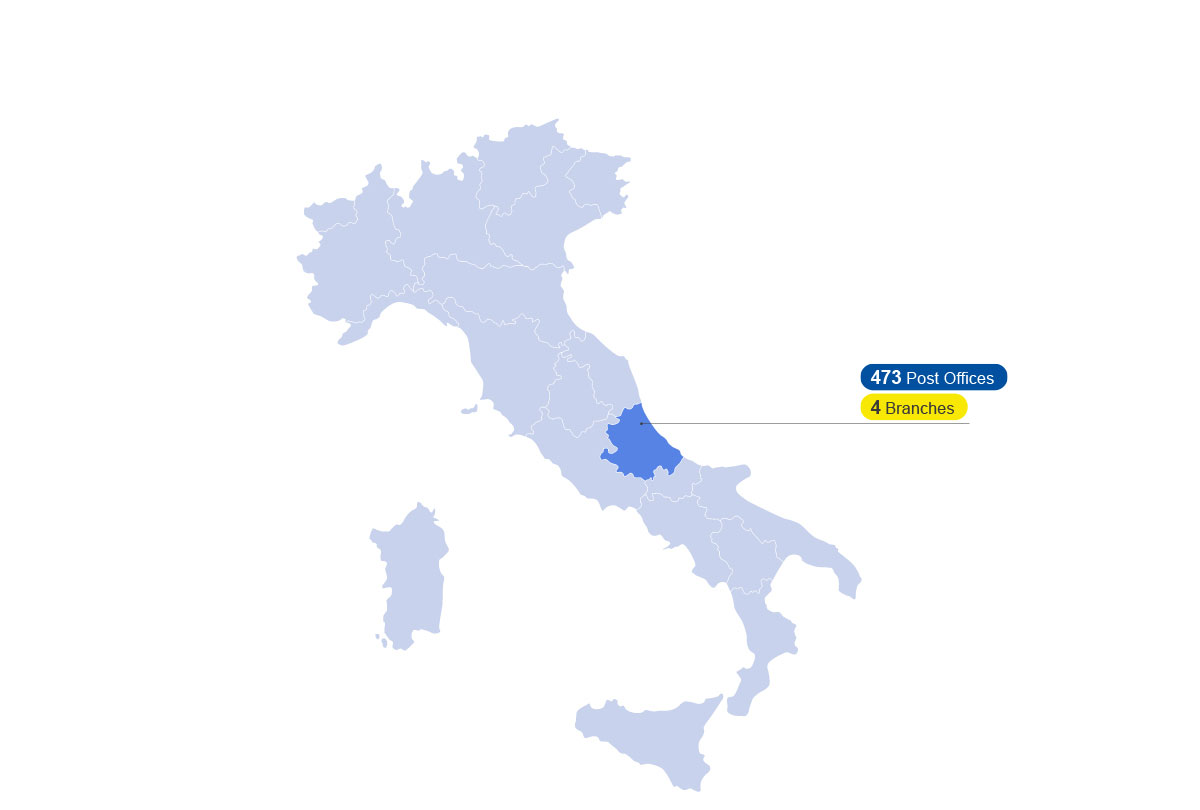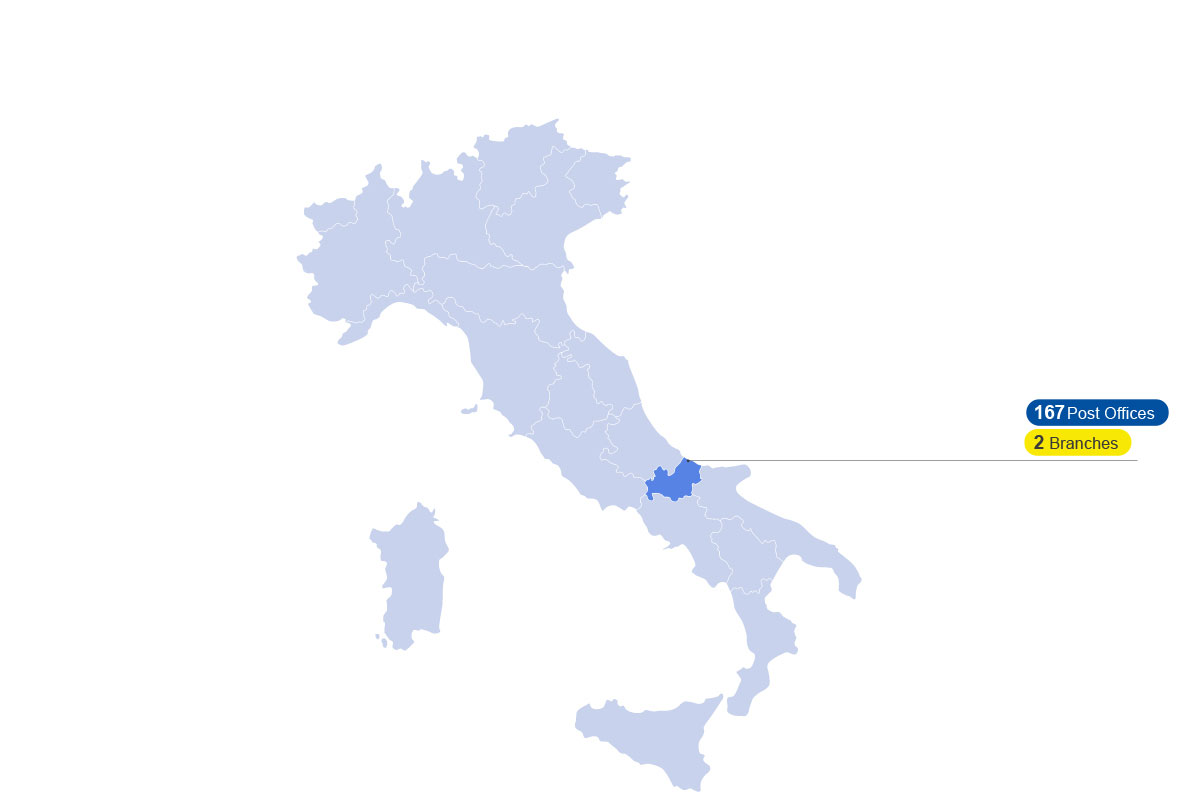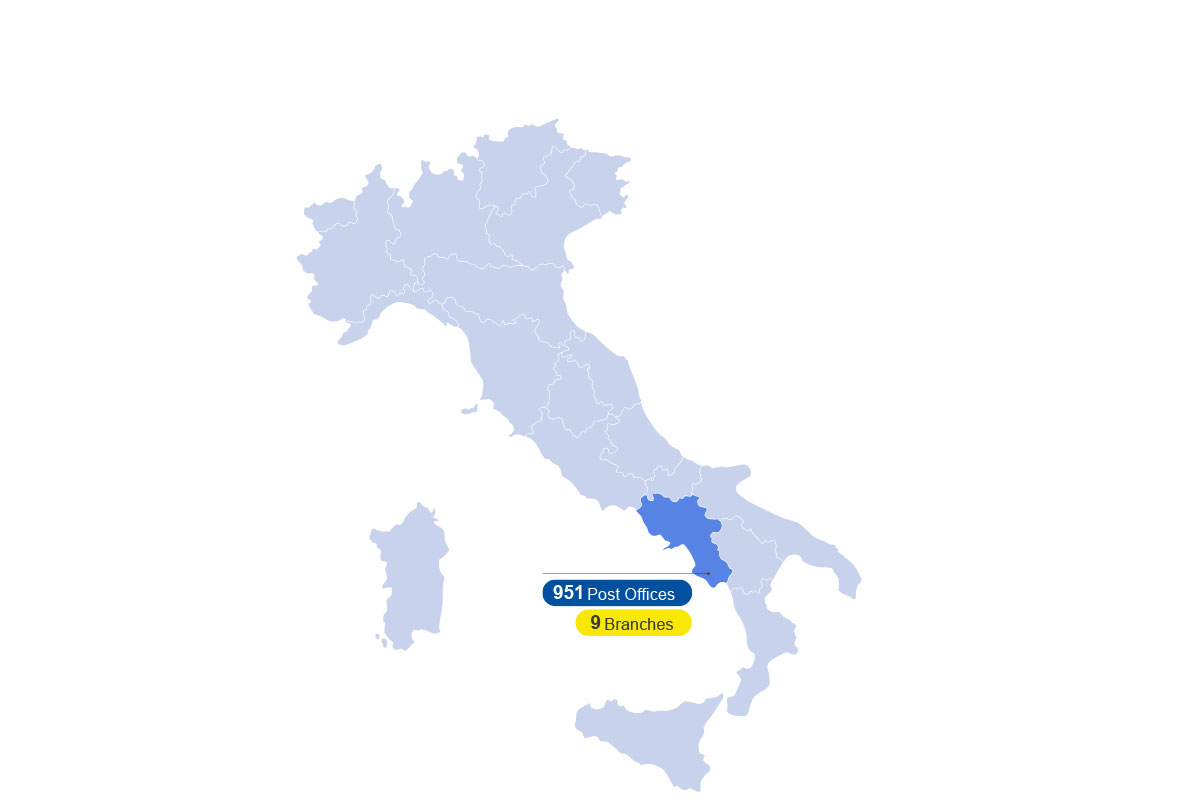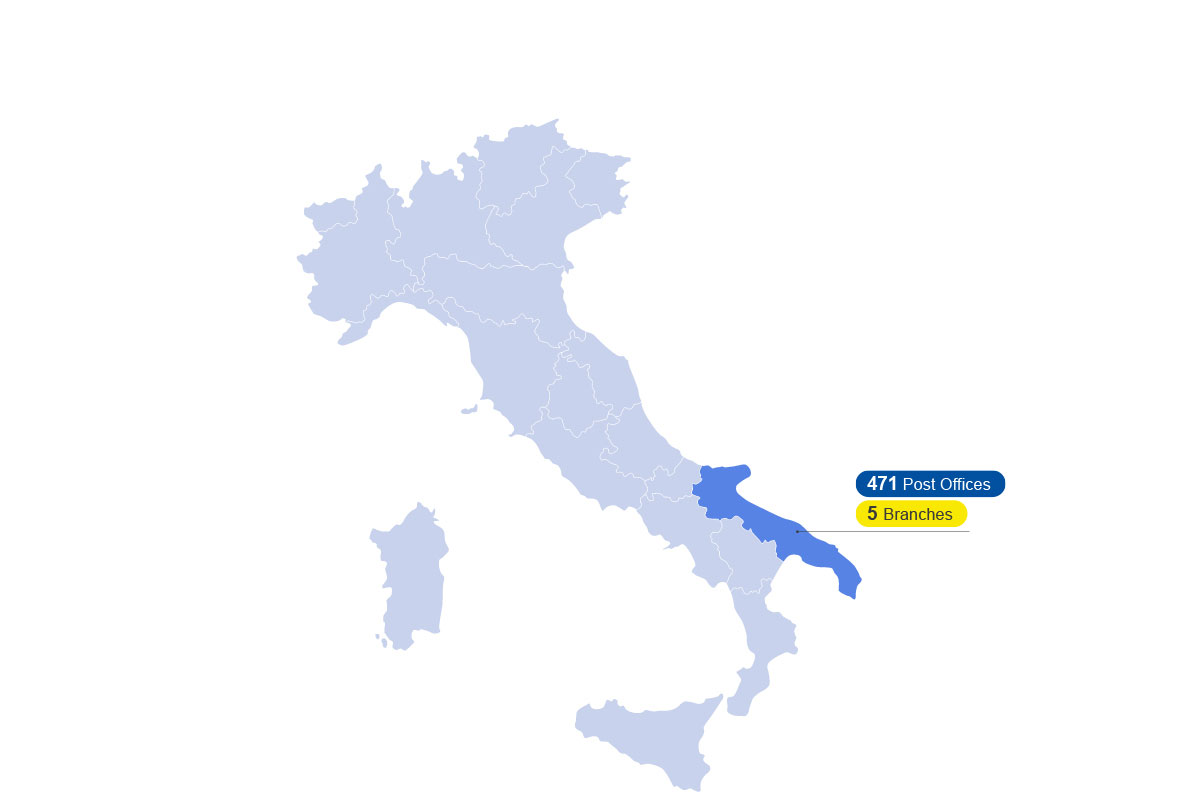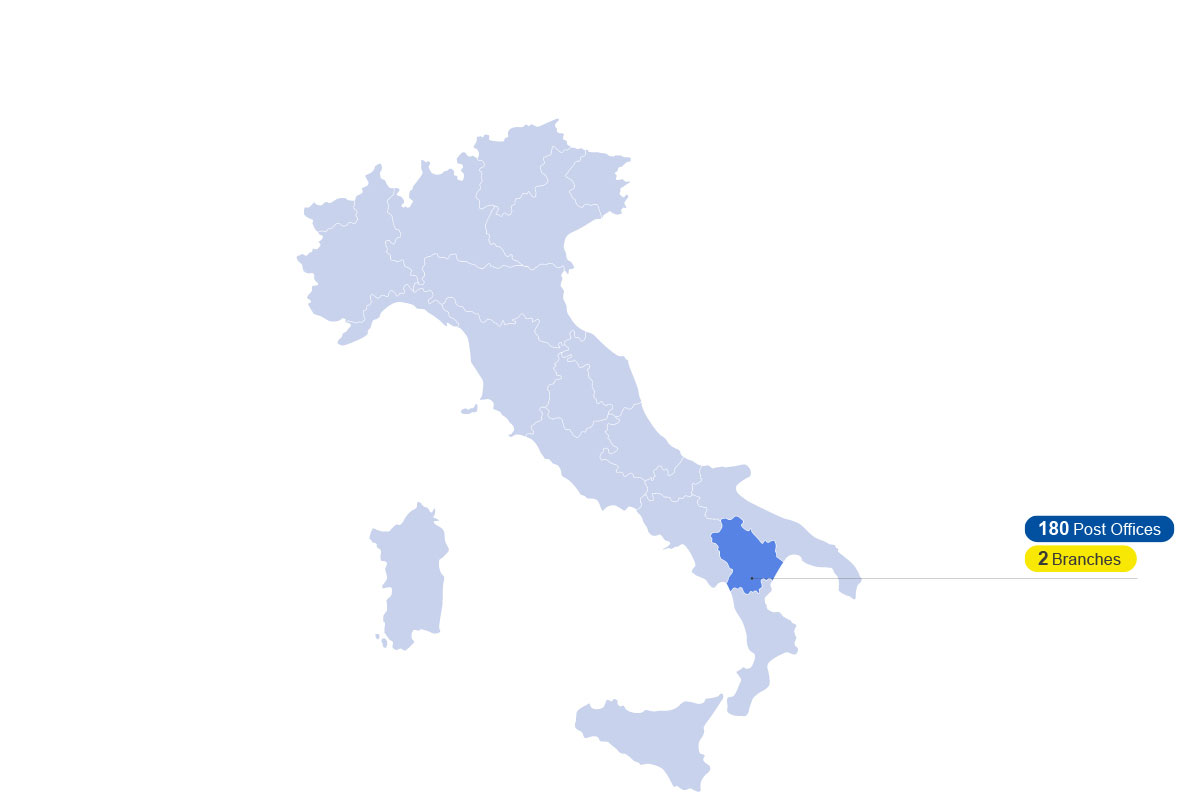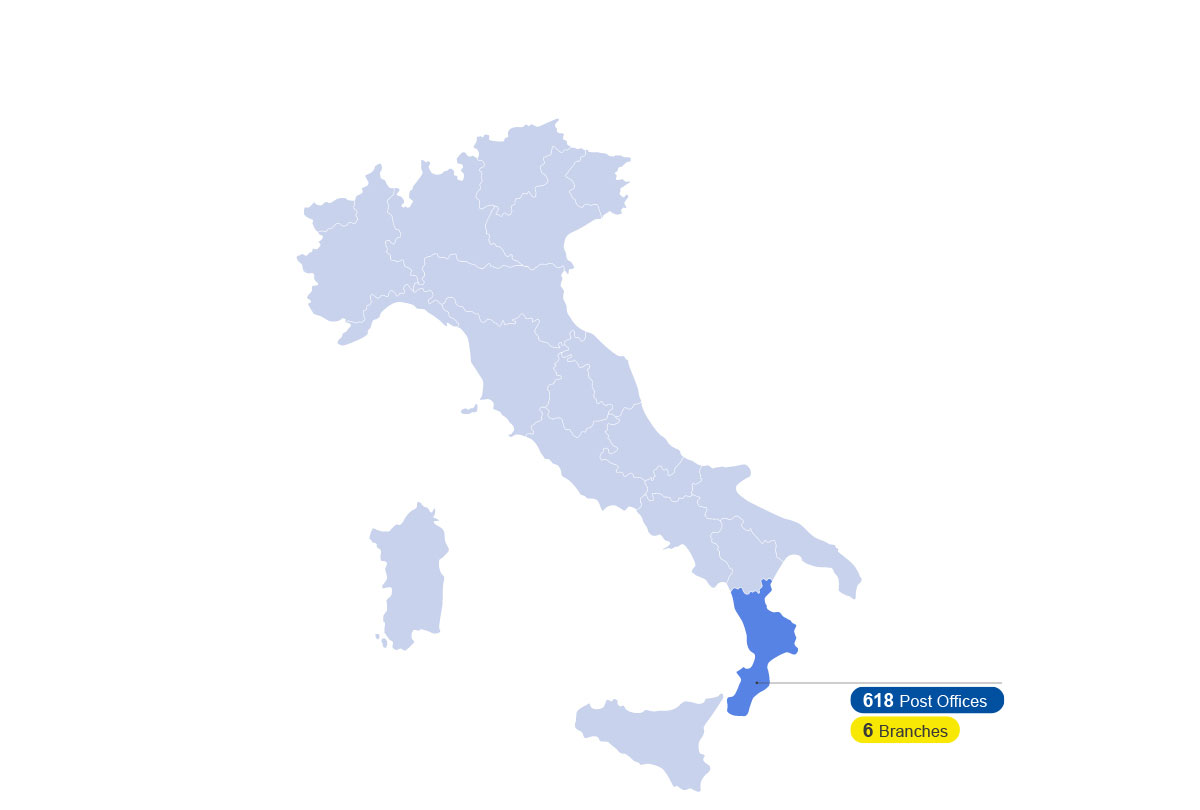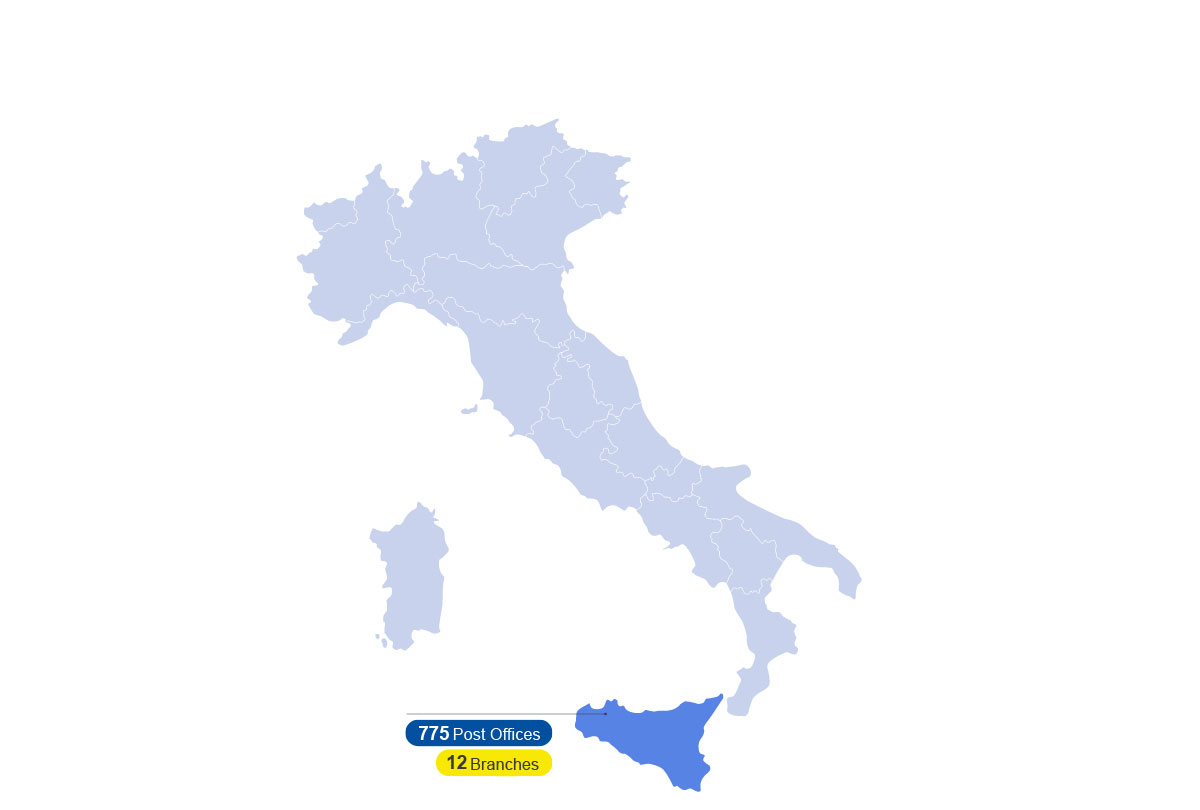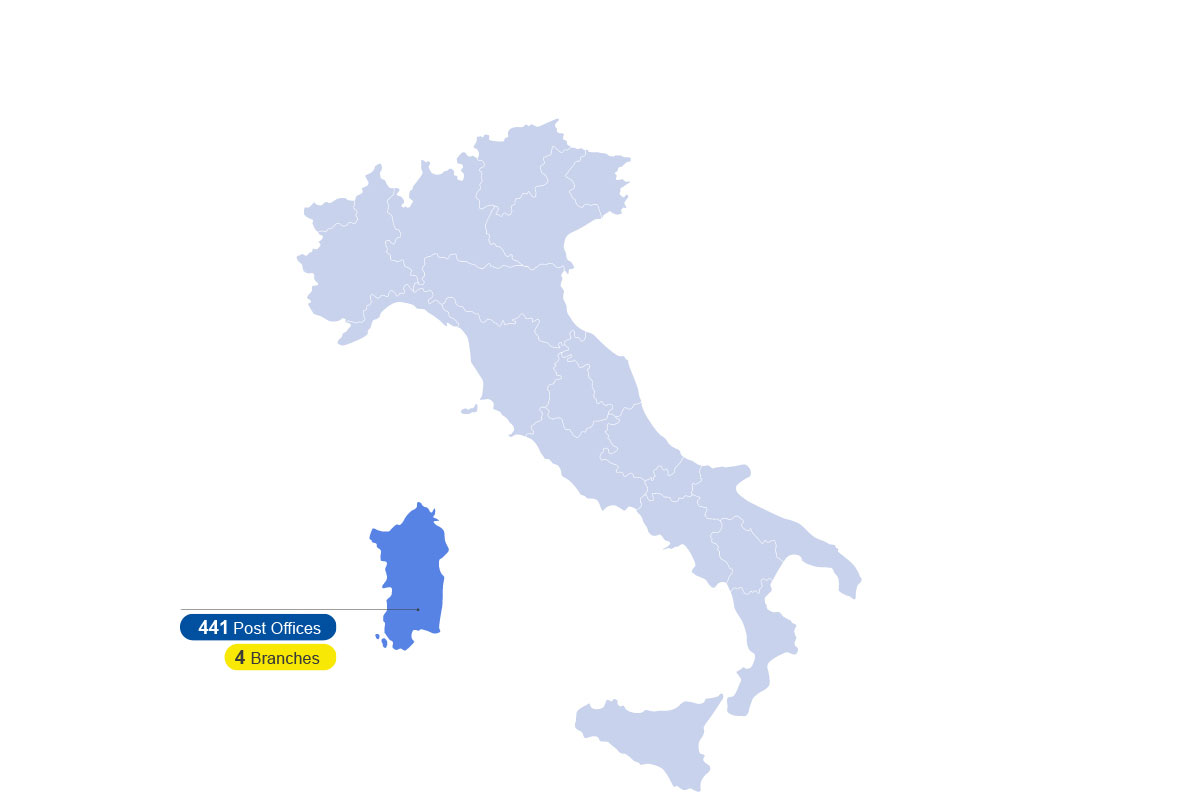 | Regions | Postal Offices | Branches |
| --- | --- | --- |
| Abruzzo | 473 | 4 |
| Basilicata | 180 | 2 |
| Calabria | 617 | 6 |
| Campania | 951 | 9 |
| Emilia-Romagna | 889 | 10 |
| Friuli-Venezia Giulia | 331 | 4 |
| Lazio | 787 | 9 |
| Liguria | 426 | 5 |
| Lombardia | 1,871 | 19 |
| Marche | 409 | 5 |
| Molise | 167 | 2 |
| Piemonte | 1,385 | 12 |
| Puglia | 471 | 5 |
| Sardegna | 441 | 4 |
| Sicilia | 775 | 12 |
| Toscana | 900 | 11 |
| Trentino-Alto Adige | 323 | 2 |
| Umbria | 262 | 2 |
| Valle d'Aosta | 71 | 1 |
| Veneto | 1,032 | 8 |
Macro Areas Post Office Network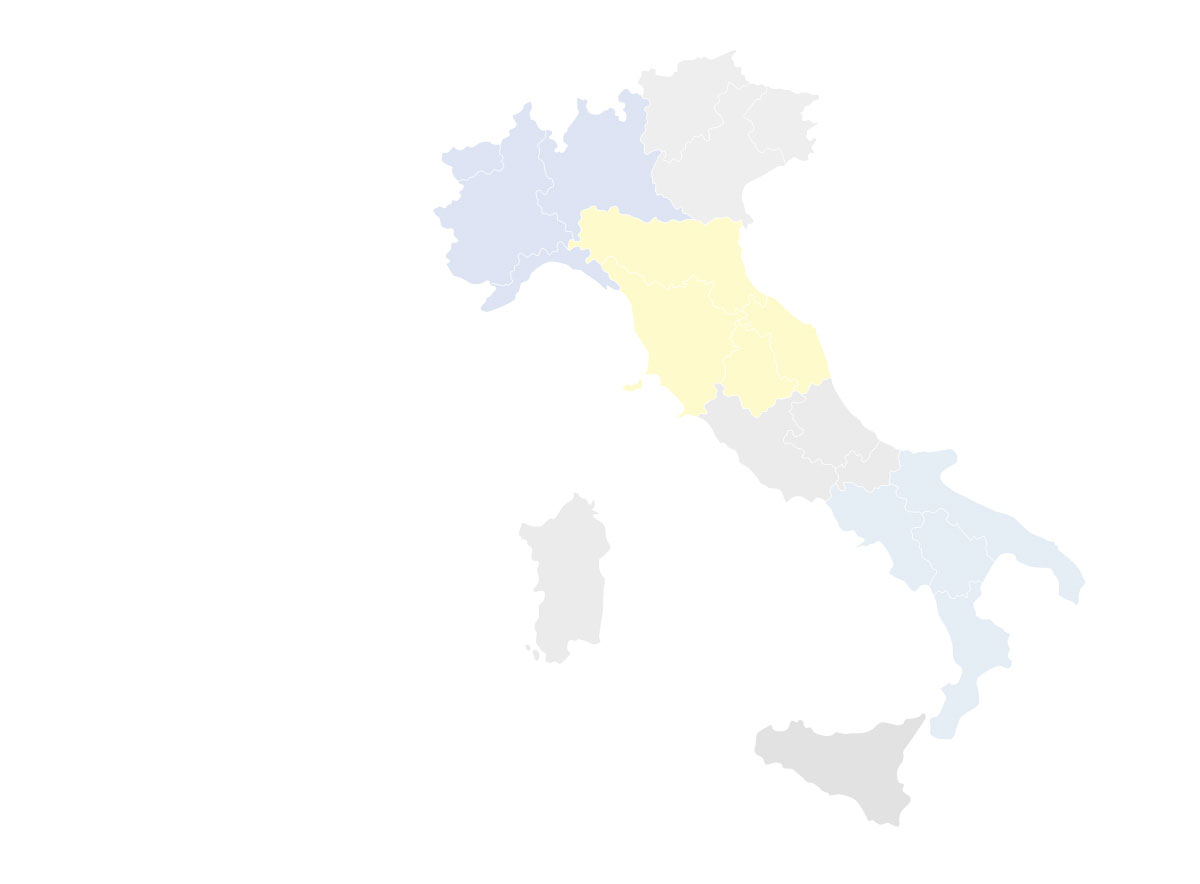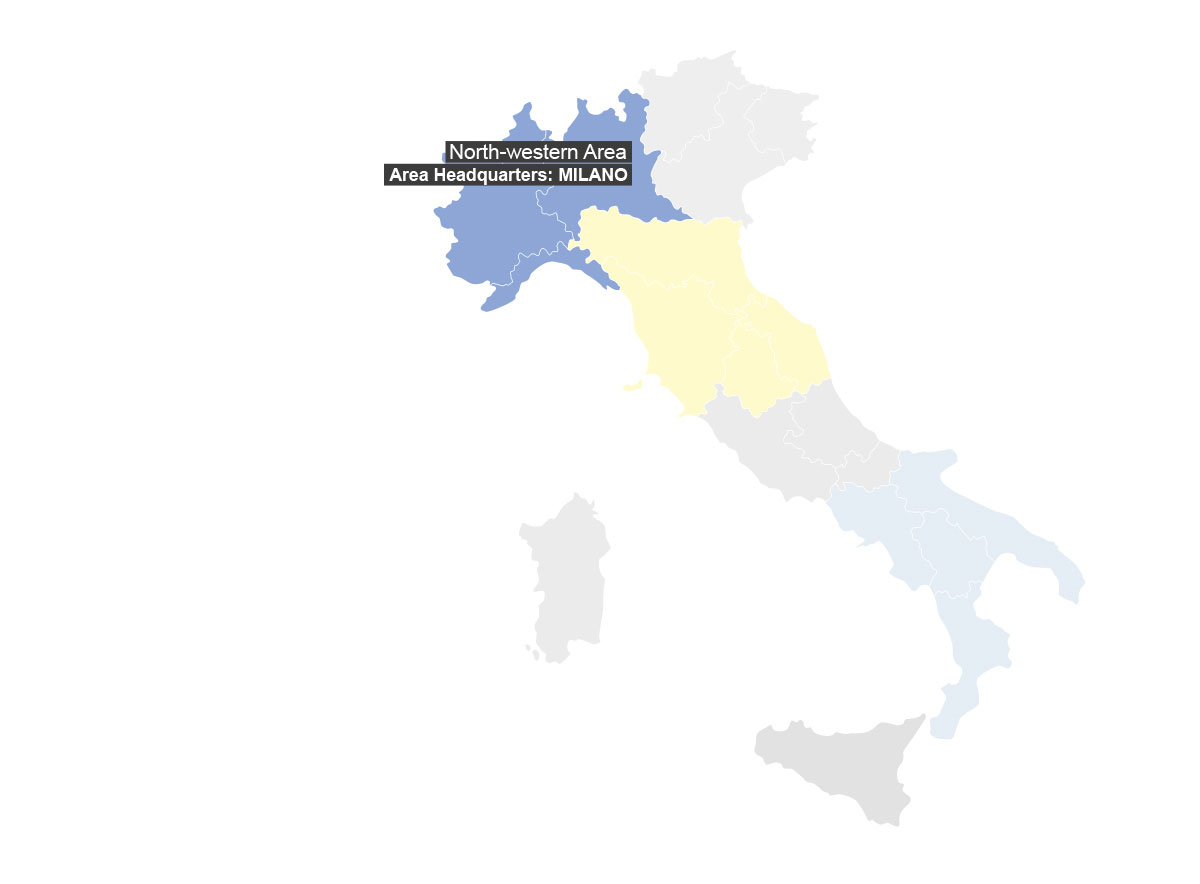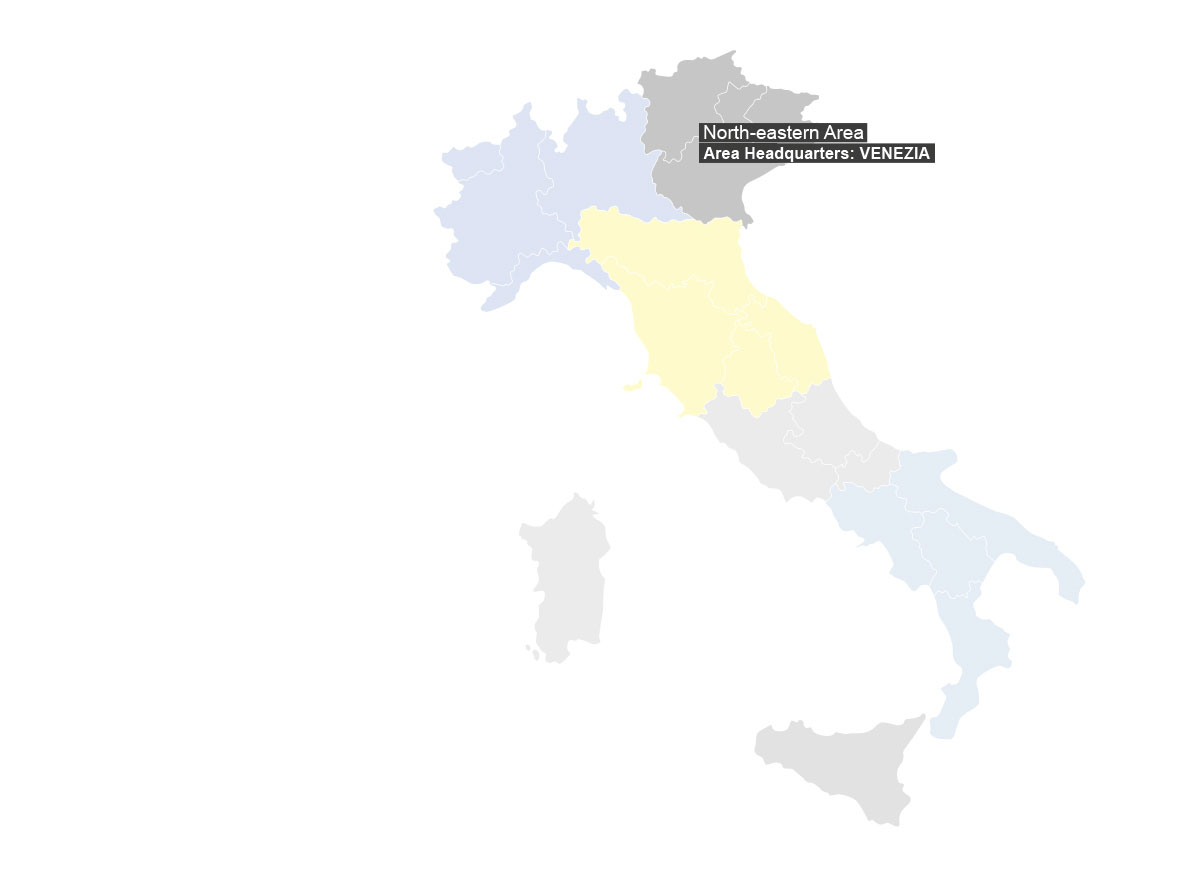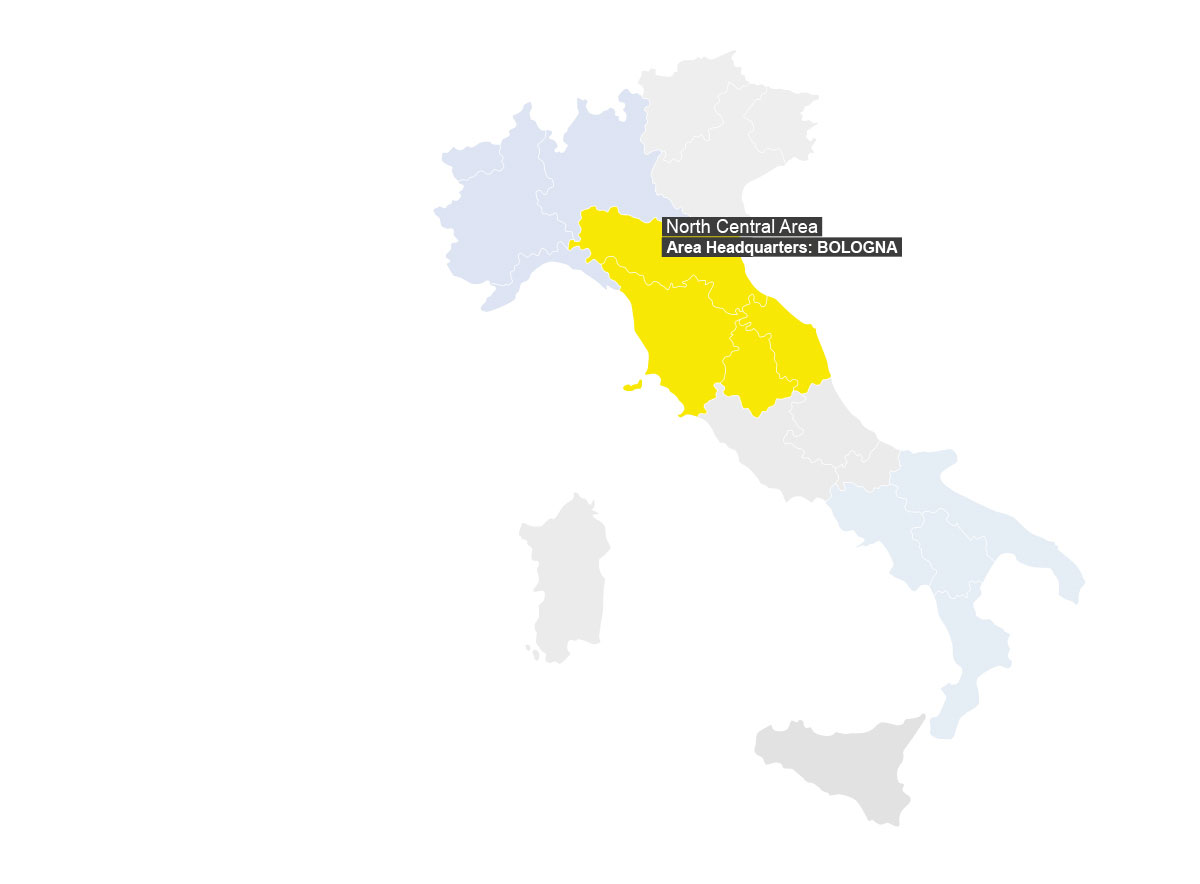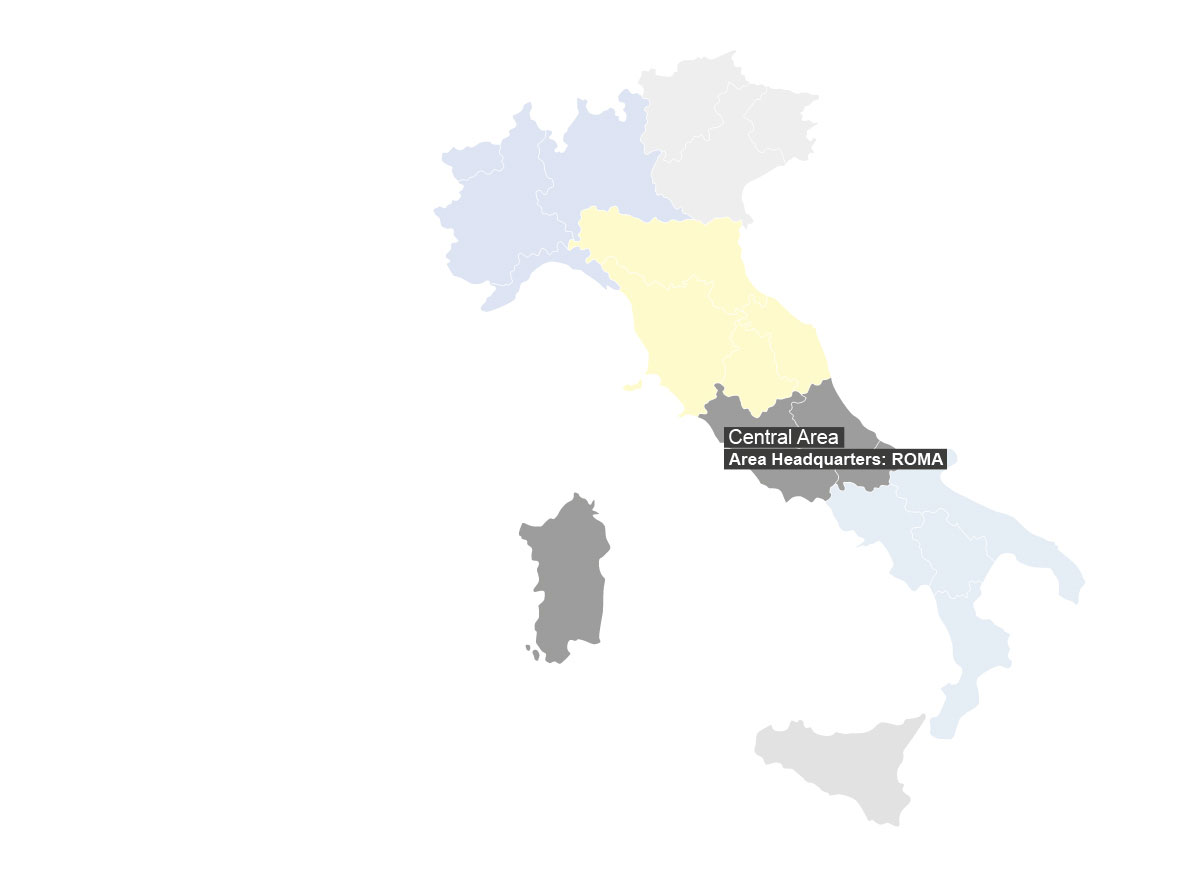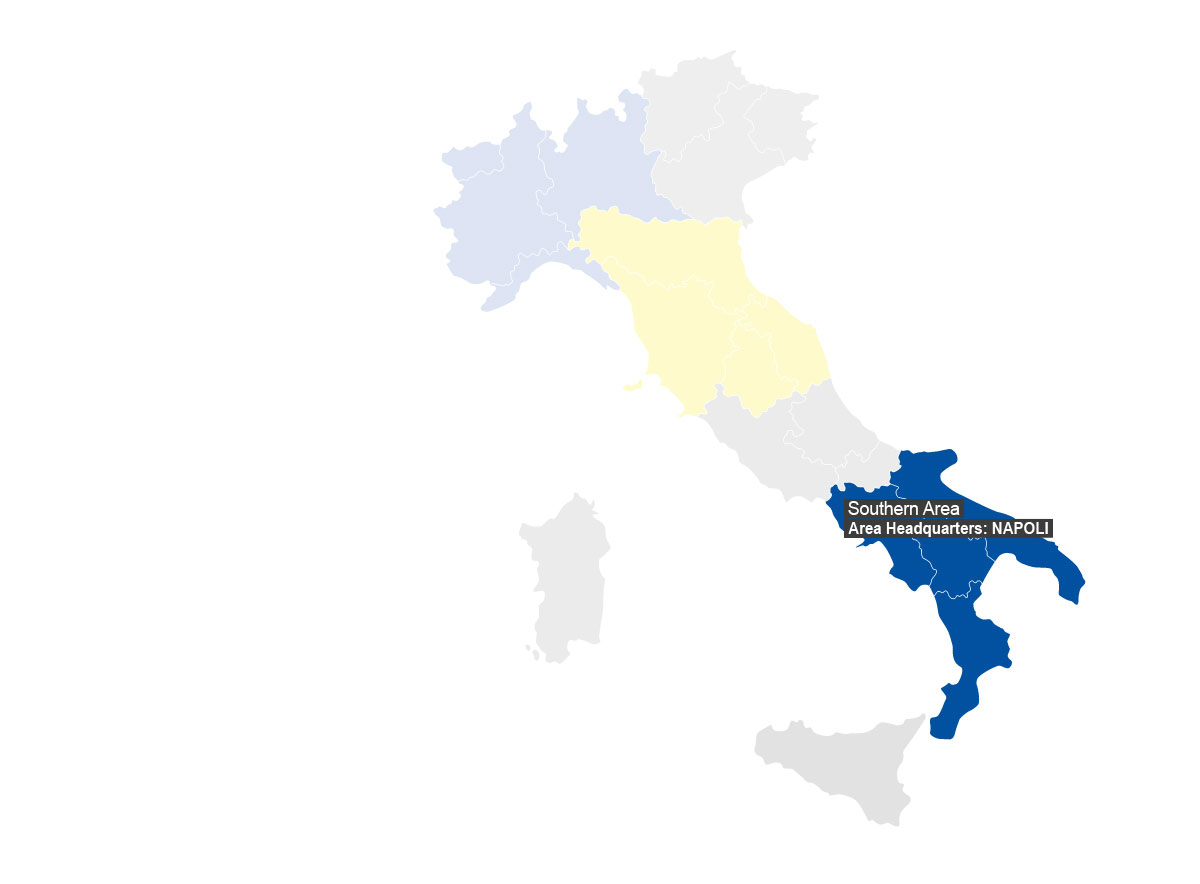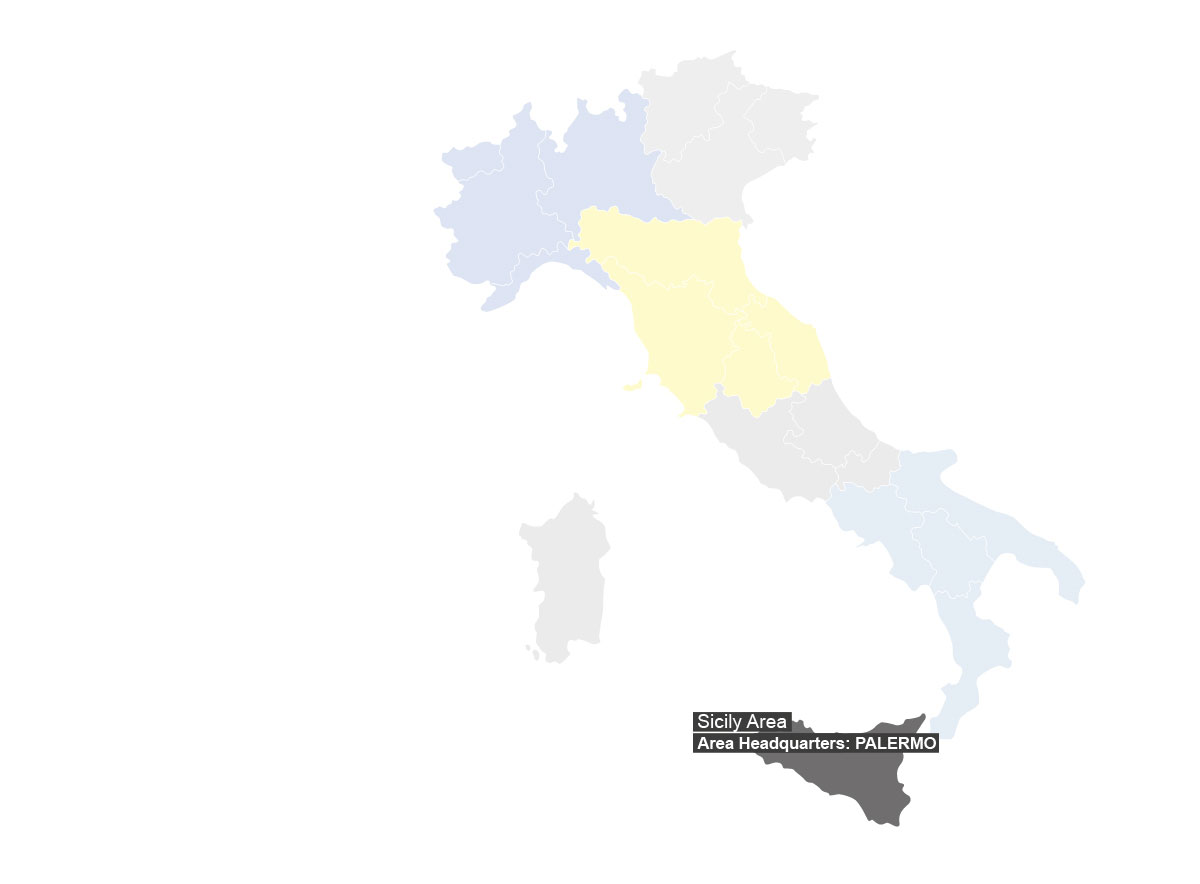 Some data from our territorial areas
| | |
| --- | --- |
| ATM Cashpoints     | 8,099 |
| Consulting Rooms | 7,776 |
| Sales corners for Poste Mobile telephone products/services | 493 |
| Post Offices providing public administration services | 5,717 |
| Post Offices with a queue management system for booking financial and mail products/services (also by App or website) | 3,834 |
| Post Offices with WiFi | 10,431 |
| Post Offices with dedicated staff for foreign clients | 32 |
| Post Offices with mail collection points | 12,307 |
| Post Offices with parcel collection points | 12,110 |
| Post Offices with Amazon collection points | 11,772 |
| Post Offices providing philatelic services | 487 |
| Post Offices dedicated exclusively to the sale of philatelic products | 10 |
| Post Offices open in the afternoon (from Monday to Friday) | 1,745 |
Macro Area
Regions
Main Area Offices
Size of Macro Areas in  Km2
Number of Communes  within the Macro Areas
Number of Branches
Number of Employees (FTE) 
at 31 December 2021
North West
Lombardy
MILAN
57,928
2,996
37
12,168
Piedmont
Liguria
Aosta Valley
North East
Friuli Venezia Giulia
VENICE
39,875
1,069
14
5,421
Trentino Alto Adige
Veneto
Centre  North
Emilia Romagna
BOLOGNA
63,306
921
28
9,325
The Marches
Tuscany
Umbria
Centre
Abruzzo
ROME
56,625
1,196
19
9,196
Lazio
Molise
Sardinia
South
Basilicata
NAPLES
58,507
1,342
22
12,259
Calabria
Campania
Apulia
Sicily Area
Sicily
PALERMO
25,832
390
12
4,399
 
 
 
302,073
7,914
132
52,768
Commercial network - Business and Public Administration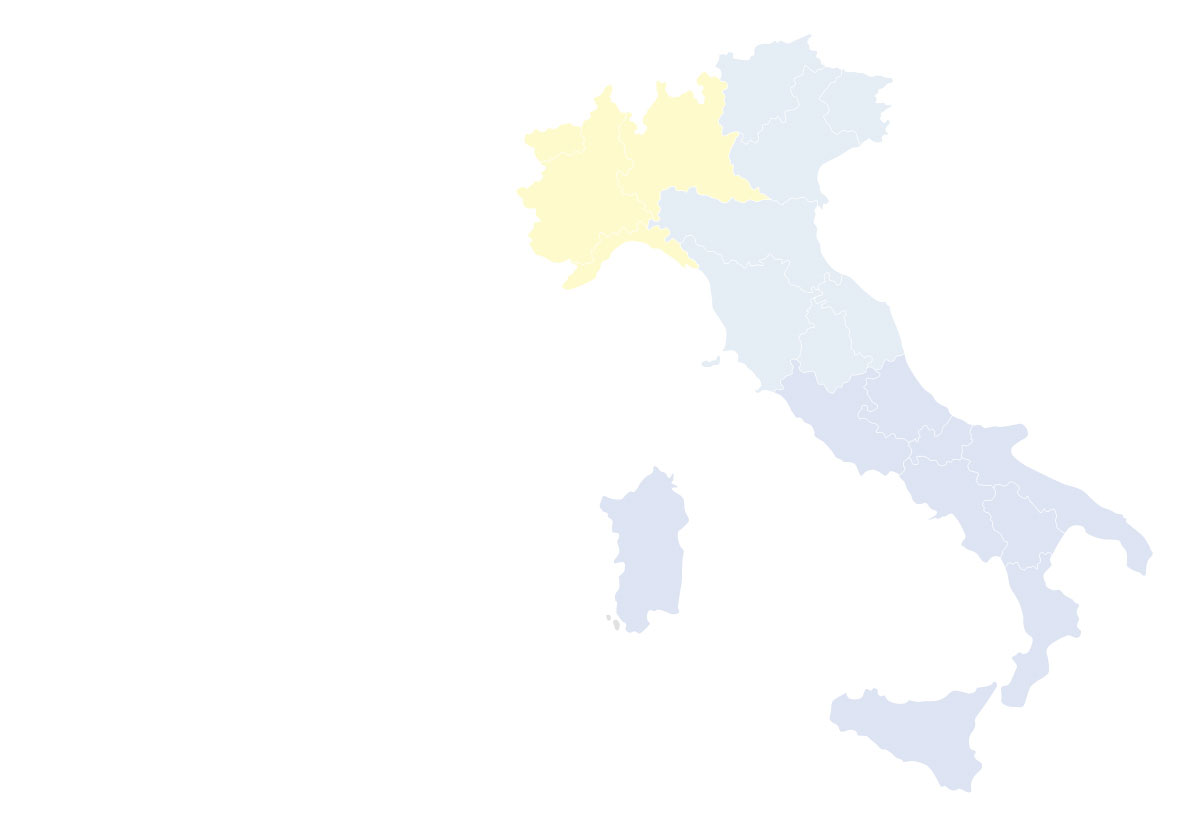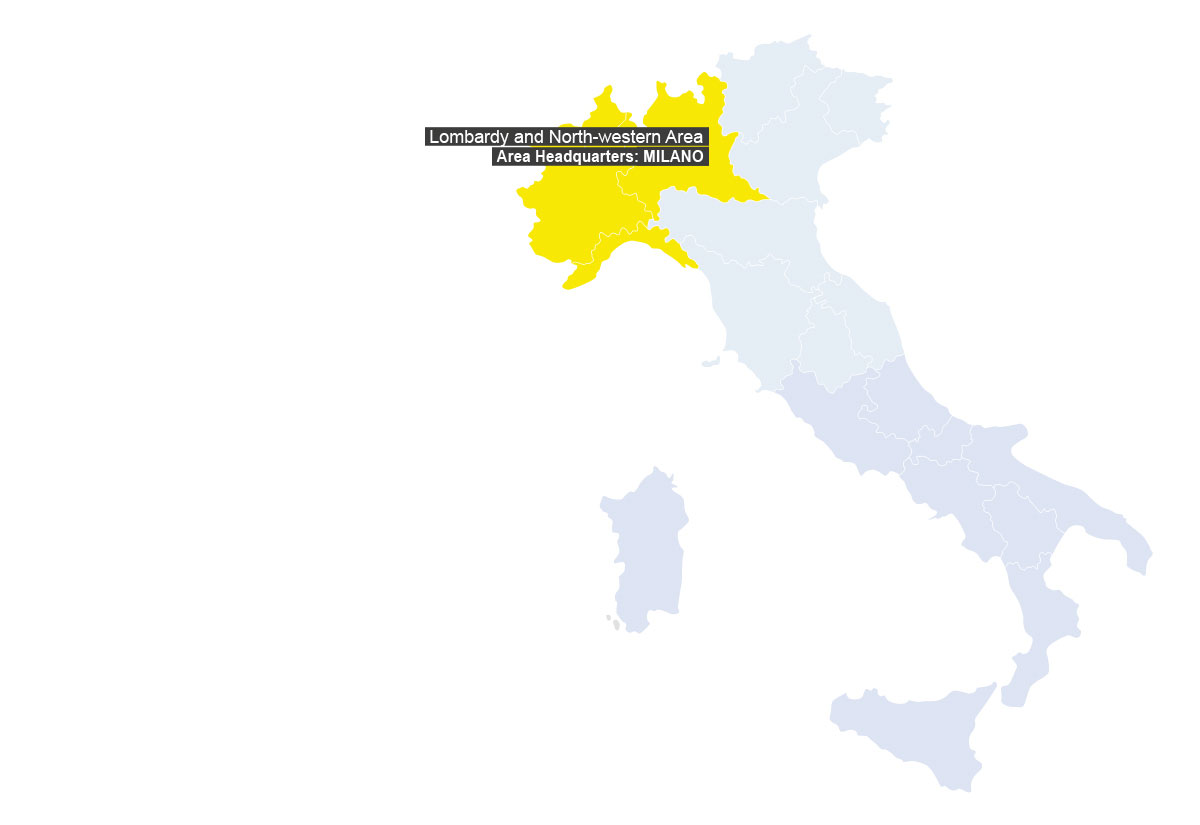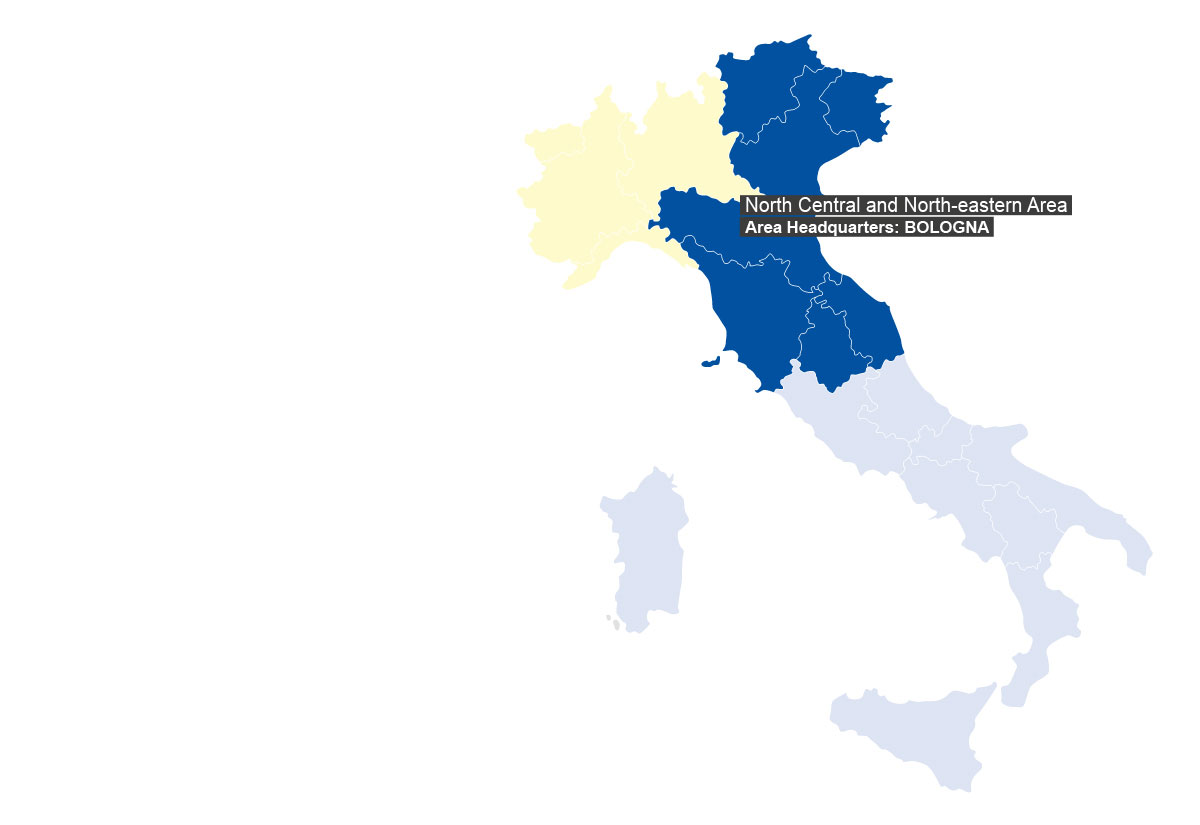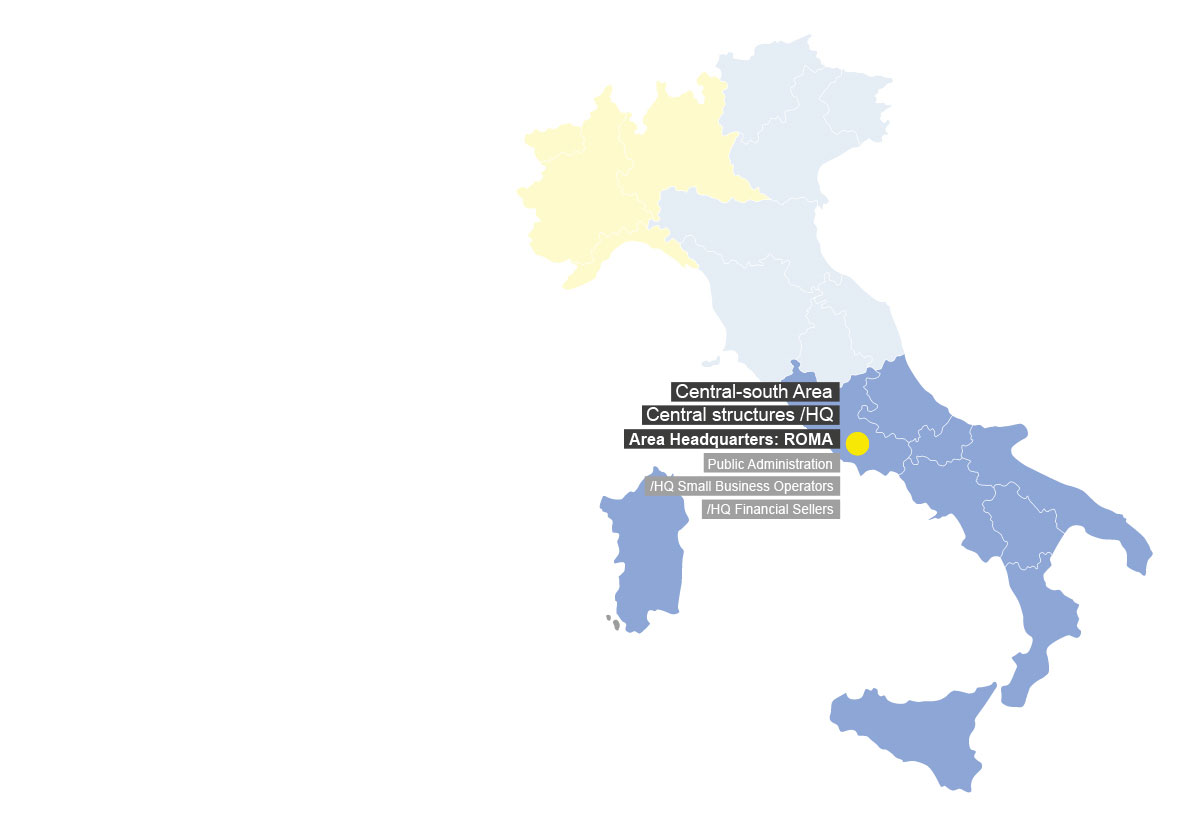 Macro Areas Business and Public Administration
The Group's commercial presence and the sale of products and services to businesses and the central and local public administration is provided by the Business and Public Administration function of Poste Italiane.
The organisation of the sales force guarantees territorial coverage focused by product sector, through:
3 Sales Macro Areas (Lombardy North West, Central North and North East, Central South), with exclusive commercial responsibility for mail and communication revenue and commercial support for the specialist sales force;
2 Sales areas dedicated to the commercial management of products/services of logistics and parcels and specialised by industry:
                - Industry 1: Health&Beauty, Electronics and IT, Other Sectors;
                - Industry 2: Food&Grocery&Pet, Homeliving&Fashion, Platform&Solution Players;
1 Commercial area specialising in the offer of financial and insurance products for large business customers and Public Administration;
1 Commercial area for Central and Local Public Administration related to Metropolitan Regions and Cities;
1 Commercial area devoted to the commercial management of partnerships with third parties and remote sales (from February 2022).
The Logistic Network
The Group's mail and parcel services are provided through two integrated and synergistic logistics networks: the postal logistics network for the management of mail, now evolved also to allow the management of small parcels and the parcel logistics network able to handle all types of parcel.
The integration between the two networks was strengthened in 2020 by increasing the interchange of small parcel volumes ( carriable parcels, i.e. under 5 kilos), using cost-effectiveness as the discriminating factor. The delivery of these products in Italy can be carried out indistinctly by the postal and parcel logistics network according to a dynamic approach, aimed at maximising efficiency for each area.
In addition to the two existing delivery networks (letter carriers and SDA couriers), a "last mile" network was added in 2020, operated by MLK Deliveries and focused mainly on parcel deliveries with value-added services (Same Day Delivery and Scheduled Delivery). With the acquisition of the Nexive Group during the first quarter of 2021 and the corporate reorganisation carried out in the subsequent months, an additional delivery network was added consisting of Nexive's current external delivery partners. As of 1 October 2021 this network is managed by Nexive Network, which has taken on the role of an operating company. It will increasingly focus on the delivery of packages and mail hand-delivered to the customer and not through the letterbox.
Digital infrastructure and remote contact points – web, app and contact centre
Outside of Post Offices, the Group's services are provided via digital channels (poste.it website and app), the use of which continued to grow steadily during 2021 with notable growth rates despite the gradual easing of restrictions linked to the health emergency.
The Group's Digital Properties are as follows:
BancoPosta App;
Postepay App;
Post Office App;
PosteID App;
Poste.it website.
During the period, the Group worked to strengthen the digital sales channel, optimising the "one click to buy" & purchasing process and expanding the range of products and services that can be purchased directly online through digital properties.
The Poste Italiane digital web and app channels provide access to online services for 33.8 million retail users (27.1 million at 31 December 2020) and operate as both direct sales and after-sales channels. The daily average of web and app users in 2021 was 4.3 million (3.0 million average daily users in 2020). Digital channel transactions also grew, and in 2021 amounted to 124.7 million for a transaction value of €32.7 billion (90.6 million transactions in 2020 for a transaction value of €22.2 billion).
On the Contact Centre channel, interactions handled in 2021 amounted to approximately 38 million, not counting interactions related to the vaccination platform, representing a growth of 19.7% compared to 2020. While the impact of daily interactions on this channel is still negligible compared to the other points of contact (0.5% in 2021), in 2021 there was a considerable increase (+6%) in such interactions compared to 2020.
Third-party Physical Network
Third-party networks play a crucial role in the Group's omni-channel strategy. They have been strengthened to provide Poste Italiane customers with a valid alternative to its own networks for access to transactional services, and have become particularly significant in the context of the health emergency. The objective is to create a platform for the integration of the Group's products with new third-party distribution channels and for the use of third-party services within the Group's commercial offerings, also introducing innovative services with high added value. Poste Italiane has affiliated a wide network of contact points.
In 2021 the Punto Poste Network7 was expanded with the activation of around 2,700 new points. As at 31 December the Punto Poste Network includes approximately 13,500 points of contact.